19 May

Brintia, Pressenger and Pledgeball are the winners of the FootballCan 2041 innovation challenge organized by Banco Santander in collaboration with GSIC powered by Microsoft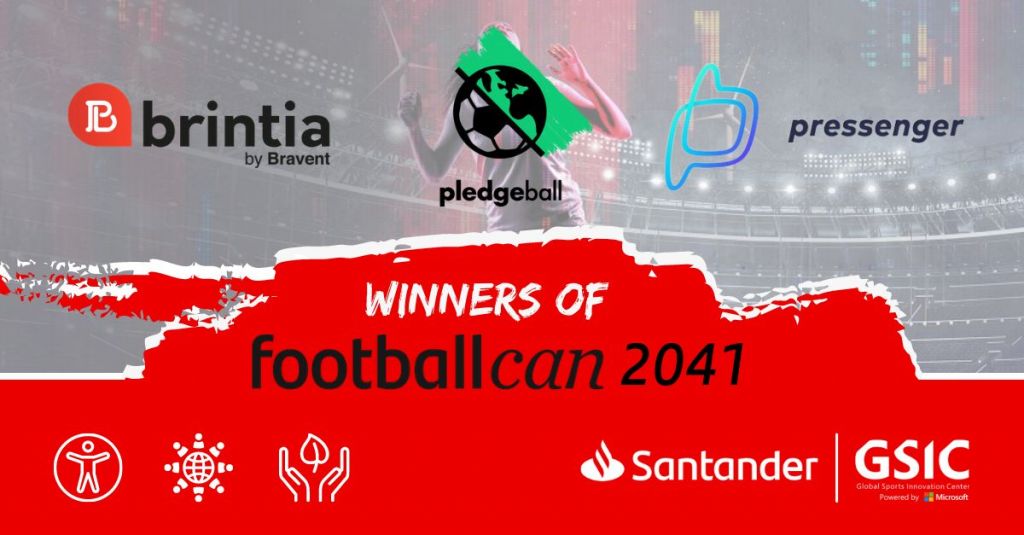 More than 155 companies from around the world have participated with innovative solutions and projects to help create a better, more inclusive, diverse and sustainable football.
The winners are Brintia, Pressenger and Pledgeball, three initiatives that will help bring to life the vision of FootballCan204, the football of the future.
The 10 finalists presented their projects during an event broadcast by Movistar + and with the participation of a jury made up of representatives of UEFA, LaLiga, CONMEBOL, Microsoft, Marca, ESPN, Twitter and Santander.
The 3 winners will get 10,000 euros in cash, the possibility of carrying out a pilot project valued at another 10,000 euros and a free membership in the GSIC.
Banco Santander (Santander) and the Global Sports Innovation Center powered by Microsoft (GSIC), have selected the 3 winners of the FootballCan 2041 innovation challenge, a project with great social impact born from Santander's philosophy of improving the lives of people and society through football. The winning projects are:
– Brintia (Spain), whose proposal is developed around an idea of intracutaneous chips with a virtual assistant / bot, capable of recognizing the person who is wearing it and giving answers to any type of question in a personalized way according to their needs or disability.
– Pressenger (Hungary), proposes to develop smart lenses will automate the creation of content through image notifications in which we will generate an impact on the news and data from the world of football.
– Pledgeball (UK) is an organization that encourages soccer fans to make sustainable lifestyle changes in support of their team. Gamifies the reduction of carbon emissions. On match day, supporters make one or more lifestyle promises in support of their team, such as cycling to work. The amateur team that manages to save the most emissions wins that match, and the cumulative amount they commit to save determines their place in the Pledgeball League.
FootballCan 2041 has analyzed more than 200 projects to identify the most disruptive solutions and latest technologies around the world that can transform the football of the future into a more inclusive, diverse and sustainable game.
Nominations have come from more than 30 countries: including Spain, United Kingdom, Brazil, Argentina, Trinidad and Tobago, Nigeria and Switzerland, among others, thus representing the 5 continents of the world, demonstrating the commitment and vocation of entrepreneurs globally to support initiatives that promote a more inclusive, diverse and environmentally committed sport.
A jury of 12 experts and professionals from the sports industry and the corporate world chose the 3 boldest projects at a special event broadcasted live on Movistar+.
The jury was integrated by leading professionals from different sectors such as Enrique Geijo, Director of Corporate Sponsorship at Santander; Sebastian Lancestremère, Global DT Partnerships & Sports Industry Managing Director at Microsoft; Iris Córdoba, General Manager of GSIC; Craig Hepburn, Head of Digital Transformation at UEFA; Juan Emilio Roa, Commercial and Marketing Director at CONMEBOL; Olga de la Fuente, Director of Fundación LaLiga; Ronaldo Nazário, former professional footballer and Santander ambassador; Sonia Viñas, Director of Fundación Universia; Chris Riedy, Vice President of Twitter in EMEA; Juan Ignacio Gallardo, General Manager of Marca; Juan Mata, professional footballer and cofounder of Common Goal and Belén Urbaneja, Director of CSR, Brand Management and D&I at ESPN.
For Banco Santander's Global Head of Corporate Marketing and Brand, Enrique Arribas, " At Santander we work to help millions of people prosper and achieve their goals. We also apply this to our sponsorships, grouping various initiatives under the slogan "FootballCan", to promote the positive impact of football on society. These innovation projects created through FootballCan 2041 are a step to reaffirm our commitment to the football of tomorrow, and our contribution to making it more fair, accessible and committed to the environment. Because we are convinced of its enormous power to evolve and improve society."
Furthermore, Iris Córdoba, General Manager of GISC, added that "Many startups in sport are born from the knowledge of a specific sport, from a need that turns into an opportunity and that opportunity into a business. This competition is a great opportunity to showcase new initiatives that solve the challenges proposed and generate social impact in football. The task is undoubtedly great, but it is also worth noting that the level of proposals from the winners is excellent, and we hope to be able to carry out their implementation".
The 3 winners will receive a cash prize of €10,000, the possibility to carry out a pilot project valued at €10,000 and a free membership in the GSIC.
See how it was