25 Mar

Digital impact of Latin American football teams

Sports Value, a Brazilian company specialized in sports marketing, trends and consulting for clubs and sponsors, in partnership with Zeeng Data Driven, specialist in digital brand analysis, has been studying the digital presence of football clubs around the world.

The digital impact of football clubs on social networks is huge. We are monitoring the data since football stops on behest of COVID-19 and its resumption. And monthly we update the growth of networks, but mainly interactions, the real gold of the digital world.

The brands that have been able to capitalize on the digital fan engagement will be the ones that will lead the future rankings of revenues and profits.

Digital presence LATAM football clubs

According to the analysis, the largest Latin American clubs together have 300 million followers on social networks.

Flamengo from Rio de Janeiro represents 12% of all Latin American fans on social networks.

The top of the ranking is dominated by Flamengo and Corinthians of Brazil, followed by América do México, Boca Juniors and River Plate from Argentina. They also complete the Top 10, São Paulo from Brasil, Chivas from México, Palmeiras from Brazil, Atlético Nacional  from Colombia and Santos from Brazil.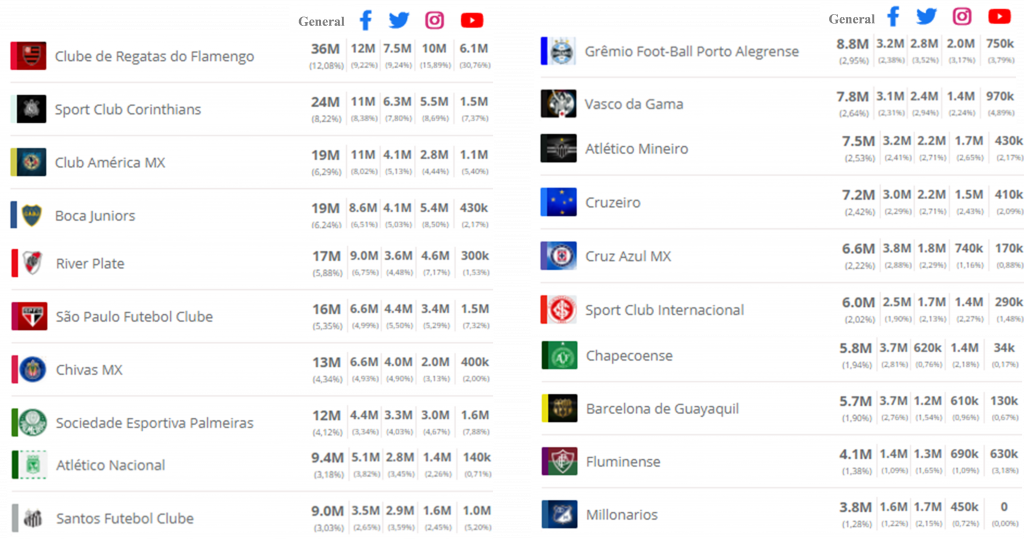 Chapecoense even in a city with low population, just over 220 K of inhabitants, since the tragedy of the plane crash, has grown a lot in followers.
Digital Interactions
While social assets are an important metric, much more valuable than just having fans on social media, is to be able to engage these fans. It is common for clubs with fewer followers, with higher engagement rates than larger clubs. And digital efficiency can reduce the distance between large and small teams, in digital marketing terms.
When a club manages to have high social media followers and high fan engagement rates, their numbers grow exponentially. A great example was Flamengo. The carioca club, with a huge fanbase, young and engaged supporter, won so many important titles, since 2019, which greatly boosted digitally the club.
To be able to analyze the clubs, we apart fan engagement by quarter, and were capable to identify the monthly average engagement of each network. Obviously, the sporting results skyrocket the numbers in some moments, when a team wins a title, or gets a big win over a rival. All of these generate greatly impacts momentarily.
This monthly average is important and helps in comparing clubs throughout the seasons, with their ups and downs.
According to our projection in 1 year, LATAM football clubs, with their 300 million fans on social networks produce about 3.1 billion total interactions with fans. Just as a comparison, Barcelona that leads globally this index generates nearly 2 billion interactions per year.
LATAM clubs have an excessive focus on their local markets and not enough global performance, quite different from European teams.
Total interactions per year – Top 15 LATAM clubs

In engagement Flamengo is close to European giants, even with "only" 36 million followers. A giant like Barça has more than 250 million followers worldwide.
An efficient club is Rver Plate from Argentina. With fewer followers than its rival Boca Juniors and other clubs such as Chivas, America MX, Corinthians, is ahead in engagement.
 Total interactions per year – From 16-30 LATAM clubs

LATAM clubs that focused on their communication and their business internationalization can grow greatly in fan base and obviously revenues in key markets and in foreign currency.
The comparison between the European powerhouses and Latin American giants shows that without internationalization of their business, it will be difficult to compete digitally.
Total interactions per yea- Europe X LATAM