04may4:00 pm5:00 pmMembers Solutions Showcase - New Ways for Fan Engagement Monetization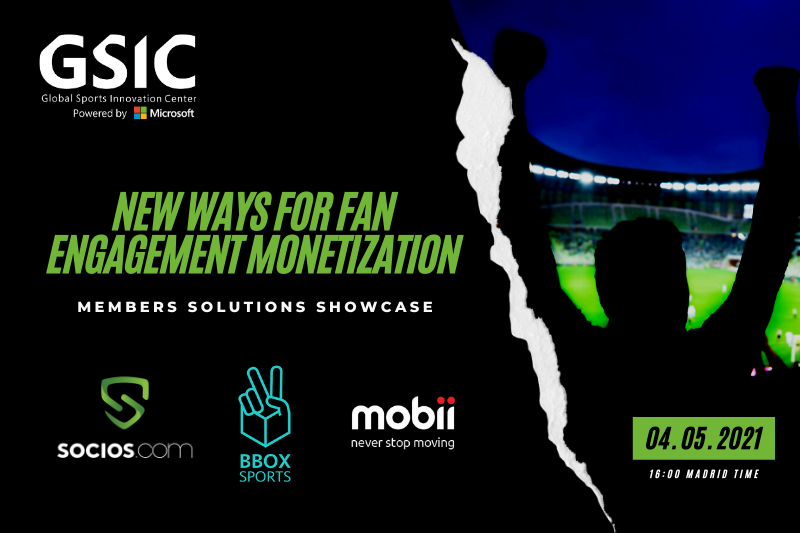 Event Details

While the concept of fan engagement is nothing new, the emergence of digital technologies and the way supporters interact with their mobile devices means that there are now countless ways for sports properties to reap the rewards of building positive, direct relationships with their global fanbases.

In doing so, sports properties are accessing richer data sets which not only help them to better understand their fans, but can also be relayed to sponsors who are now far more interested in putting their name to a piece of likeable, shareable content rather than a static pitch side billboard.

That's why, on May 4 at 16:00 (Madrid time) we invite you for our Members Solutions Showcase where we will meet solutions on New Ways for Fan Engagement Monetization and see how they are changing the industry.

In this session we will see different types of application developed by our members:

BBOX Sports – Bringing fans closer to sports teams through their app, BBox provides an augmented engagement platform that offers special tailored gift box sets of official products and experiential surprises. Great for engaging with fans, as a gift or as a tool for content and communications, BBox delivers a product that bridges the gap between official products and the digital world. They also offer a new concept where they bring replica figurines to life through Augmented Reality in the mobile app. Deliver official products and interact with fans through a new and unique data distribution platform with BBox.

Mobii advances sport experiences through technology. Providing leading edge solutions in team sport data and analytics, Live and Video on Demand content management and distribution. Creating 2nd screen fan engagement eco-systems that enable a true digital stadium experience.

We are leaders in high-performance server architecture and electronics design where simplicity and ease of use is core to our philosophy.

Socios.com is a blockchain-based fan engagement app that enables sporting organizations to engage with and monetize their global fan bases through digital assets known as Fan Tokens.

Fan Tokens are scalable, tradeable and generate new transparent revenue streams for football and sports organizations by tapping into the passion of millions of sport fans and crypto enthusiasts globally.

Fans who own the tokens can vote on club-specific decisions such as choosing a jersey design, in-stadium entertainment, or picking the next charity initiatives and player skills challenges. Additionally, fans can get access to rewards, merchandise and other experiences such as VIP invitations to a meet and greet with the players, to exclusive dugout access on matchdays, and receiving signed official jerseys.
Time

(Tuesday) 4:00 pm - 5:00 pm