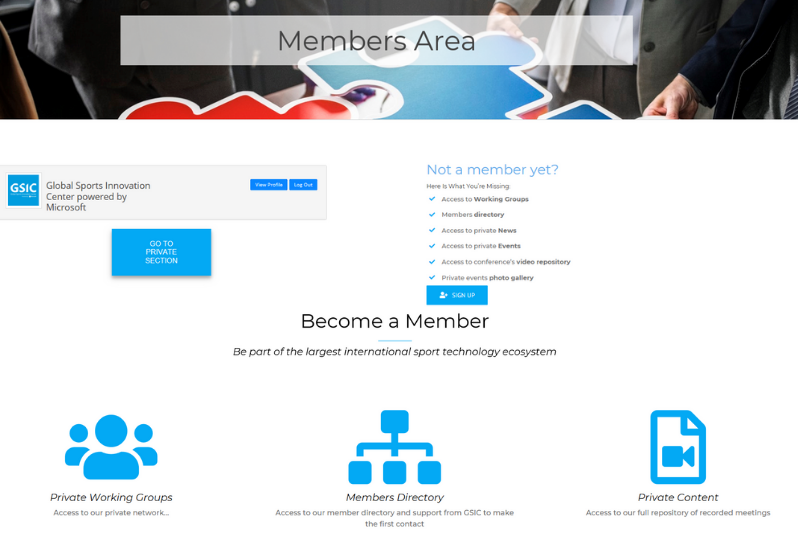 21 Mar

GSIC introduces its own digital platform for the members

On the past March 21st, during the 11th Networking session for its members, the Global Sports Innovation Center powered by Microsoft, had officially introduced a brand new Members Area, an intranet, where all the Center's members can get now more information about each other, share their content and get exclusive news from GSIC and its members.

The platform was developed by Digital Branding Ltd, digital consulting company, Microsoft partner, who implemented solutions such as Power BI and Microsoft Teams, all running on Azure Cloud in order to improve the communication and information flow for our members located now in 29 different countries.

If you are a GSIC members, within this week you will receive an e-mail with credentials (username and password) per company, which you can introduce on entering THIS LINK to access the intranet. There, among others, you will find:

– Virtual Meetings

– Members catalogue

– Content shared by members

– Working groups

– Photos of activities

– Microsoft Training

– Important documents

– Events

Attached to that e-mail you will find instructions on how to use the platform and what features it has.

We kindly pay your attention that for now we are at beta phase of the development, so we invite you to share all your suggestions and comments that will help us to improve our Members Area and make it as more useful and functional for you as possible. Contact [email protected] and we will work on the improvements!