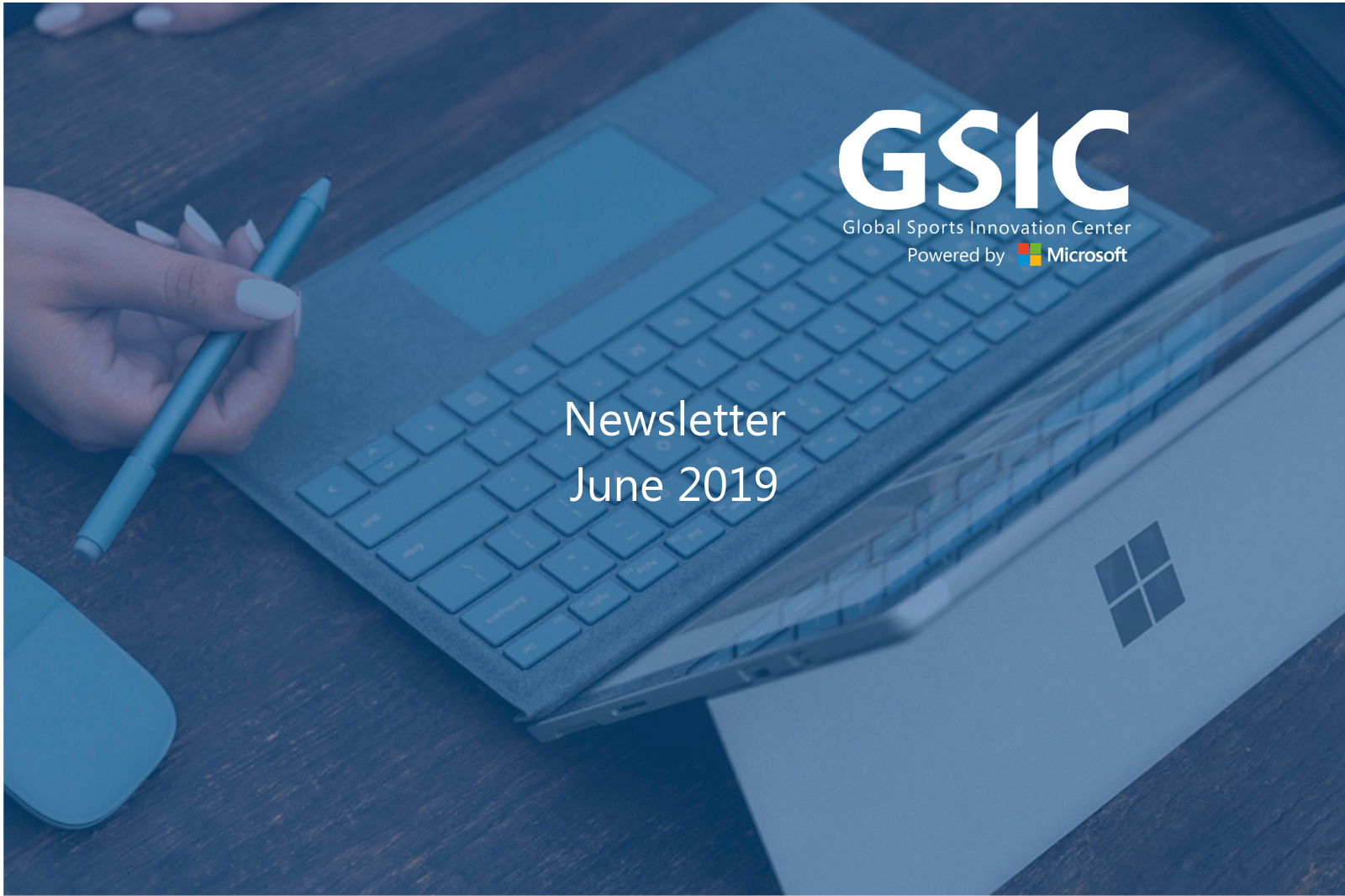 05 Jul

Newsletter – June 2019
We're inviting our members for GSIC Summit

GSIC Summit is on its way and with 10 weeks left to this big event, we are pleased to share with our members the agenda for the Day 1 of the Summit.

We invited more than 30 speakers from 16 countries to offer keynotes and interactive panels that will cover such topics as Fan Engagement, Smart Stadium, Business Insights, Team & Player Performance, eSports, European projects, international innovation hubs. We will also share and discuss GSIC Sport Thinkers projects and do a few networking sessions. Our members can check the agenda for Day 1 of GSIC Summit at the private

Members Area

.



We will inform you about the agenda for the Day 2 of GSIC Summit where European Leagues Innovation Day will take place as soon as it is approved.

This activity is exclusive for GSIC Members and you can register now filling this

FORM

.

*The agenda might experience some adjustments

GSIC Institute – Master on Digital Transformation of Sports Entities will start on October

GSIC Institute is moving forward and together with our members who signed up to be professors of the Master Degree in Digital Transformation of Sports Entities, we are preparing the program and the content of this educational program that will begin on October 2019.

If you are interested in signing up for this Master, we remind you that you can watch the recording of the Open Day session to get informed about the program here and if you are interested in entering this Master, contact

[email protected]

or

[email protected]

Impact and value of the brand in the sports industry

– July 10th

BRT News Media Training

– July 16th

12th Networking for GSIC Members

GSIC Let's Talk! – July 2019
Startup Competition 2019 – 10 finalists are chosen
The Startup Competition 2019 by The Original Inspiration Center by LaLiga supported by GSIC is arriving to its final part, in which a total of 279 companies from 55 different countries participated and represented the five 5 continents.
The 10 selected teams will be prepared, during the months of July and August, for the immersion week, which will take place in September with LaLiga and they will make their final presentations at the World Football Summit on the 24-25 of the same month. In this stage of preparation will receive sessions taught by executives of LaLigales will serve to better understand the organization and become familiar with the areas in which they will develop their pilots.
Virtual Meeting – Access Control for Sports Venues – June 11th
On June 11th at 15:00 (Madrid time) we held a Virtual Meeting on Access Control for Sports Venues talking about different kind of technologies that can help to improve security at stadiums and provide stadium management teams with better access control systems.
Our members G2K, Skidata, and SOLOS introduced their technologies for access control and security at the sports venues.
The G2K Group shared their development on Situational Awareness and Situational Awareness Builder (SAB), to gather data at different touchpoints like video cameras, transform these large and unstructured data into structured information and useful knowledge in order to react on dangers in real time.
Skidata explained how they control accesses with their gates and parking barriers for better security.
And finally, we heared from SOLOS about their project on Smart wareables for LaLiga for access control and fan engagement.
Workshop Women, Leadership & Sport in Rome – June 13th, 2019
The international workshop on "Women, Leadership & Sport" took place on June 13th in Rome at the School of Sport CONI/Italian Olympic Committee to give visibility to the international good practices, Pareto-efficient solutions, and communication, and with an aim to communicate a new message to the Sport System.
Our General Manager Iris Cordoba participated at Women & Sport debate table to share some data about the current positioning of a female professional in the sports industry.
The meeting articulated a new vision for the future and put the stakeholders in a position to discuss and reflect in perspective. The workshop aimed to bring out the "female and male voices of leadership" and engage in a public discussion that looks to the future.
GESx Tech by GSIC: eSports, Thinking for the future – June 13th, 2019
Technology in a digital native sector such as electronic sports is part of the day-to-day of the industry. However, despite being an obvious asset, there is still much to see, and, in the future, it must enable an evolution of the sector and help create more sustainable models.
On the June 13th, Global Sports Innovation Center powered by Microsoft, Global Esports Summit, and Esports Bureau, organized a GESx TECH by GSIC: ESPORTS, THINKING FOR THE FUTURE, an event to learn about some technologies and projects that will evolve the esports sector in the immediate future.
Our Business Development Manager, Iñigo Bonilla, spoke about the eSports working group that is being promoted from our Center, presenting some of the results that have already been obtained. He also talked about our case of success with Mediapro in the search for technological startups, where more than 50 companies participated and finally 3 were selected, with projects ranging from Chat Bot systems to gamification platforms, passing through collectibles with blockchain.

According to the agreement between GSIC powered by Microsoft and GES, these events dedicated to eSport will become periodical and will cover main topics related to this are of the sports industry.
European Sports Tech Conversation: innovation & business development in sports
The Global Sports Innovation Center powered by Microsoft (GSIC), the European Platform for Sport Innovation (EPSI) and Trentino Sviluppo organized the second European Sport Tech Conversations, exclusive online events that will help to disseminate knowledge on the most important and trending topics of the sports industry, provided by the most relevant stakeholders and experts in big data, IoT, blockchain, eSports, Cybersecurity, fan engagements and much more.
The second session focused on "Business Development Models in Sport: a universal or a sui generis approach?" with two complementary presentations by Ramiro Torres (Project Manager of The Original Inspiration Centre by LaLiga supported by GSIC – Spain) and Michele Napoli (Head of Business Development, RCS Sport – Italy).
GSIC Members can watch the recording of this session on our private Members Area.
Technological breakfast with Neodata: Fan Engagement monetization – June 24th, 2019
In the Global Sports Innovation Center powered by
Microsoft,
we are aware of the relevance that Data Analytics has in the world of sports, where the personal involvement of the individual is very important.
That is why on June 24 we carried out, in collaboration with our member Neodata Group and their partner Twotoforty, an event dedicated to the application of Big Data for the monetization of the relationship between sports entities and their fans.
The companies explained that both, for the fans of a certain club, and for the athletes, the link with the sports ecosystem is a blue ocean where they can start up or accelerate income, promoted by the knowledge about the fans, competitions, sponsors
etc
. For example, sale of high precision audiences,
a complement
of electronic stores, preparation of tours combining sponsors with staff preferences.
Neodata Group and Twotoforty are working with technology and science for:
Capture and traceability of digital audiences

Data analytics and predictive models

Creation of growth strategies (conversion, loyalty, digital advertising, etc.)

Data-Driven Buyer Person

Personalization of the Customer Journey

Generation of Insights

Segmentation of multivariable groups (interests,

behavior

, personality, sociodemographic, etc.)
Manchester City FC Innovation Day – July 22, 2019
ONLY FOR GSIC MEMBERS

Next
July 22
we will be holding an
Innovation Day with Manchester City FC
where the club's representatives will be looking for innovative technologies in Fan Engagement such as:
AI,

Chat bots

and Neuro-Linguistic Programming-based solutions

Tools for global fan engagement (helping fans to find each other, get organized, be together)

Voice applications for sports teams
Any of GSIC members with solutions applicable to Fan Engagement area can apply for the participation in Manchester City FC Innovation Day.

Contact to participate [email protected]

GSIC Research – Women in Entrepreneurship, Leadership, and Sports
Only 56% of startups have at least one woman in an executive position, and only 40% have at least on the board of directors. (According to the Silicon Valley Bank report "Women in technology leadership 2019")

Women lead 30% of startups in Europe (according to the European Commission) and in Spain the number positions at 17%. (According to Startup South Summit 2018)

In the list of Fortune 500 in 2019, only 6,4% (33 out of 500) of the companies are led by women.
These key facts encouraged us to start working on GSIC's own study about the situation of female positioning and leadership in the sports industry taking into account startups and small and medium-size companies. We are inviting you to answer this survey and study such important aspects as female CEOs segment, female entrepreneurship, leadership, decision-making positions and participation in the sports industry involving also tech sector.
Members Area is available for all GSIC members
All GSIC Members can already access the private Members Area using their unique credentials. Members Area is an intranet, where all the Center's members can find now more information about each other, share their content and get exclusive news from GSIC and its members.

If you are a GSIC member you can benefit on using this private area where you will find Virtual Meetings, Members catalog, Content shared by members, Working groups, Photos of activities, Microsoft Training, Important documents, Events.
Get to know new members who joined the GSIC in June 2019

A new way of using mobile notifications to catch app users'
attention
Granota Funclub Levante UD app is a loyalty app, that the club uses to engage with their fanbase This provides a great tool for communication, selling products, generating revenue through sponsorship and allows for greater visibility to both men's and women's sports. The Levante UD mobile app is utilizing the technology developed by Pressenger Ltd.

Through a partnership with Livescore, as a data feed provider; the Spanish first division cluband thу GSIC member made an agreement to launch the first app in the play store that sends, creative, data-driven animated goal alerts and news notifications. Pressenger provides unique, innovative mobile push notification content that users have never seen before – as a bubble or a content image banner depending on the app user's preference.

Their SDK can be integrated into any mobile app. Using this SaaS has been proven to increase opening rates, improve engagement and provides a great advertising platform for sponsors or third parties.
The WOW Challenge regatta is presented in search of empowering female leaders in the business world
The 1st Official Edition of Wow Challenge 2019

the Solidary Regatta of FemaleLeaders (Entrepreneurs and Directors) in Spain. The initiative was presented on June 13 with a great reception.

Ana Soler, CEO and Founder of SPORT Leaders & Co and promoter of the initiative, explained that Wow Challenge 2019 was born with the objective of empowering women inside and outside of business organizations. It aims to publicize their abilities, abilities and resources, both personal and professional, but also to serve as inspiration and drive for all others. In addition, in a unique natural scenario, the sea, and with a highly differential tool, sail boats.
IBV had participated in the second event of the Inno4Sports project in Eindhoven
The Valencian delegation has been the most numerous among the regions participating in this event which places the Community on the map of innovation in sport at European level.

The Dutch city of Eindhoven has hosted the second event of the Inno4Sports project, which has brought together for three days (June 11th-13th, 2019) the different actors of the sport ecosystem of the regions participating in the project. The sessions developed are Interregional Exchange (IE) or part of the Knowledge Capitalization Seminar (KCS).

Many aspects point to the suitability of Noord Brabant in the South of the Netherlands as an outstanding venue for an event with the aim of promoting regional development programs that can help deploy the innovative potential of sport.

As organizer of the René Wijlens event of Sport & Technology Cluster, he highlighted that "Eindhoven's offer is based on intelligent solutions: we are in the region with the highest concentration of technology in Europe". According to the Intelligence Community Forum, Brabant is perhaps "the Smartest region in the world" (2011) and Forbes defines Eindhoven as the "most innovative city" in 2013.

Among the initiatives promoted by the cluster, there are ten SportfieldLabs currently underway, seven of them in Eindhoven. These are support spaces for sports practice that arise in urban spaces equipped in the vicinity of existing sports structures and that seek interactions with active athletes, future promises or former competitors.

Enrique Alcantara, director of Innovation in Sports of the IBV, highlights the great social potential that these spaces can have "in terms of the promotion and care of sports practice at any stage of life in which people are, with independence of his sports talent. "
Interested in becoming GSIC Member?
Over 200 entities from 32 countries have already become GSIC members!
Join them and benefit on all our activities: Networking, Virtual Meetings, Working Groups, Business Trips, Innovation Days, Inspiration Days, Co-creation Workshops, participation at startups
competitionss
, attendance to the international events and more.
Fill the Form on a link below to apply for GSIC Membership
The digital transformation is the biggest growth driver of the future and fundamentally changes the sports industry. ISPO has been following this change by launching ISPO Digitize Summit, the first digital conference dedicated to the sports business. With renowned keynote speakers, practical workshops and expert discussions, the summit offers you the chance to benefit from new business opportunities enabled by digitalization.
ISPO Digitize Summit: 03.-04.07.2019 at ICM München
Netherlands Sports Analytics and Technology Conference, is taking place on June 4th at the Johan Cruyff Arena and it's the premier forum for industry professionals and executives interested in the role of data and analytics in the European and global sports industry. Join 500+ attendees from Sports Leagues, Clubs, Teams, Media, Entertainment, Telecommunications, Business Leaders and more to discuss the cutting-edge trends and future technology insights that will transform the global sports ecosystem.

GSIC Members can benefit on 20% discount for tickets.
Join 500+ industry experts from UK and global sports innovation discussing the future. From Sports Leagues, Clubs, Teams, Athletes, Media, Entertainment, Telco, Advertising, Esports, Game Publishing, Business Leaders and more to discuss what is pushing the needle and moving the industry forward. The trends, future technologies and insights that are transforming the global sports landscape and what it means for UK today and tomorrow.
Four events over two days
27 June – Investor day – limited to 25 start-ups and 25 investors
27 June – VIP Speaker dinner – minimal tickets available for purchase by request
28 June – Main Conference, speakers, panelists and interactive activations / exhibition area
28 June – Esports Tournament (more details to follow)
GSIC Members can benefit on 30% discount or tickets.