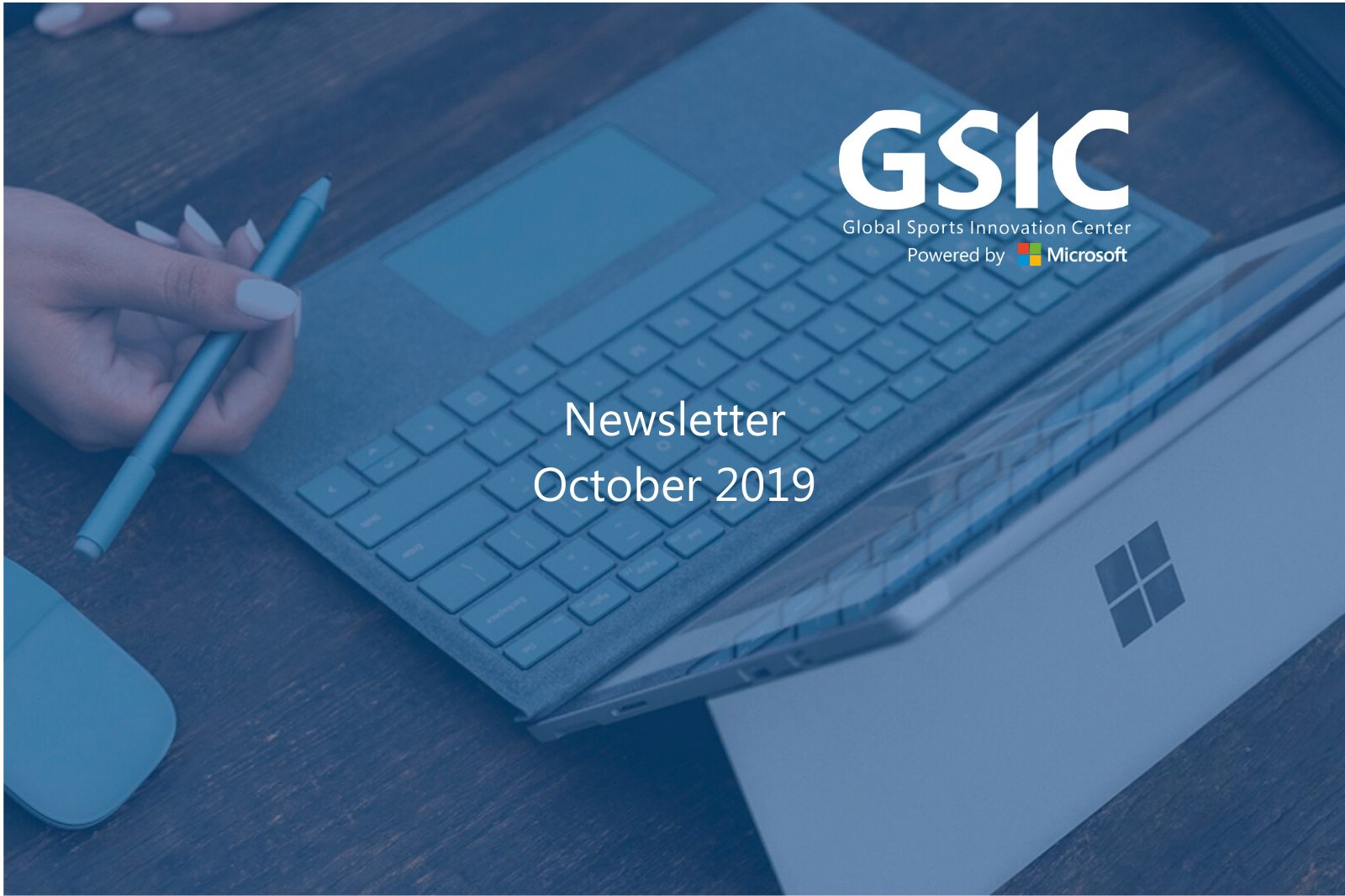 31 Oct

Newsletter – October 2019
GSIC Institute classes are taking off!

GSIC Institute's Master in Digital Transformation of Sports Entities began on October 31 with a welcome session for all the students enrolled in the program.

Students from Spain, USA, Ecuador, UAE, and Singapore started GSIC Institute's Master in Digital Transformation of the Sports Entities which will continue till the end of May of 2020.
The program of the Master includes 6 modules:

Sports Business Management

Business Insights & Productivity

Business Stadium & Smart Venue

Fan Engagement

Marketing and Communication

Final Project

Also, GSIC Institute included to this Master program special Introduction to Digital Transformation and Personal Branding sessions driven by Sebastian Lancestremere and Adrian Herzkovich, respectively.

The classes will be delivered by GSIC members who designed all of the module's programs to share with the students their industry's knowledge and experience first-hand. It will be also a great opportunity for the students to get in touch with the GSIC network and enrich their training with other GSIC activities, meet our members and participate in our initiatives.

This program is designed in a blended mode so most of the classes will be carried out through Microsoft Teams tool which allows sharing teaching materials, videos, documents, communicate in chat in real-time and create online meetings with professors, tutors, GSIC and ESBS stuff.

13th Networking for GSIC Members

GSIC members will have a new opportunity to generate synergies in a new edition of the GSIC Networking Meetings, to be held on November 13, starting at 10:00 am.

Virtual Meeting – Innovative technology enhancing players performance, November 13, 17:00

November 13 at 17:00

– Join us and our members

IBV

,

JUMP

, and Thermohuman for the Virtual Meeting where they will hare their innovative solutions that help to improve athlete's performance.

Virtual Meeting – Smart Stadium applied solutions, November 20, 17:00

November 20 at 17:00

– Meet Solos

,

and Snaptivity during our Virtual Meeting dedicated to solutions that improve Smart Stadium experience.
AI Solutions for the Sports Industry – October 8
October 8, we hosted a seminar on "Artificial Intelligence as an accelerator of the sports industry", offered by our member Nanfor Iberica, experts in training companies, professionals and individuals. This time we talked about the AI solutions developed in Microsoft Azure, project management with the use of Artificial Intelligence and how this technology is applied in the sports sector.

Our members can watch the recording of the session on our private Members Area.
European Sports Tech Conversation – Session 4 and Session 5
The Global Sports Innovation Center powered by Microsoft (GSIC), European Platform for Sport Innovation (EPSI) and Trentino Sviluppo joined forces with an aim to provide the sports innovation community across the industry with an added value.

Together we have launched a series of European Sport Tech Conversations, exclusive online events that will help to disseminate knowledge on the most important and trending topics of the sports industry, provided by the most relevant stakeholders and experts in big data, IoT, blockchain, eSports, Cybersecurity, fan engagements and much more.

In October we held 2 sessions. Session 4 on October 10, during which we discussed Sport, Innovation, and Sustainability of the Olympics with Octavian Morariu, Member of the IOC – Chair of the Evaluation Commission for the Olympic Winter Games 2026 and Fabrice Doreau, Head of Strategic Engagement for the Sports & Entertainment industry of Atos.

On October 29 we invited Oscar Mayora, Senior Researcher at Fondazione Bruno Kessler and John Gutierrez, Business Development Director at Bravent & Brintia for Session 5, to talk about different ways of application of Artificial Intelligence to the sports.

If you are a GSIC member, you can watch the recordings on our private members' area.
Virtual Meeting – Two sides of Virtual Reality solutions: improving fan engagement and enhancing players performance – October 22
On October 22 we held a Virtual Meeting "Two sides of Virtual Reality solutions: improving fan engagement and enhancing players performance" which was a great opportunity for our members to meet YBVR (USA), Sensorial Sports (Brazil) and SoccerDream (Spain) who showcased how virtual reality can be applied to solutions such as sports events streaming, football strategy training and even to improve brain functions and performance in sports.

The recording of this VM is available for our members
on
our private Members' Area.
Esports Teams Challenges – October 30
On October 30, the GESx Esports Club Challenges took place, the second of the four THINK TANK organized by the
GSIC and
Global Esports Summit. On this occasion, we brought up the topic of the "Challenges of esports teams".

The event was presented by Iñigo Bonilla, Director of Business Development at GSIC, and by
Antonio Lacasa, Director of GES, who also moderated the discussion.

During the event we counted on professionals like Marcos Eguillor,
Co-founder
& CCO of Mad Lions E.C.; Virginia Calvo, Director of Institutional Relations and co-owner Vodafone Giants; Antonio Catena, General Director of Team Heretics and Alberto Raya, General Manager of Cavaliers Team.

For more than two hours, very interesting topics were discussed in the landscape of esports teams nationwide, such as financing, the relationship with brands, the relationship with the fan and its monetization and also on the sports aspects when it comes to player management.
Leader Week London, October 7-10 Festival
dello
Sport, Trento, October 10
First Innovation and Technology Applied Workshop with SuperLiga Argentina
,
to Sports Congress, Irun, October 17
Buenos Aires, October 18
Second International Congress

on Football

ISPO Brandnew Jury Meeting,

Munich,
by Atletico Nacional de Medellin,
October 24-25
October 30
Join the Microsoft Partner Network!
Connect with the largest customer base and marketplace in the industry.
At the GSIC we continue developing our 5th pillar, which as you all know is related to Microsoft Solutions, working closely with Microsoft Sports Team who was supporting the GSIC since its creation in 2015 in all its initiatives and activities, as well as our members' solutions.
Now, we want to offer you the value of the Microsoft Partner Network, a program designed by Microsoft to enhance technology-based companies' businesses by facilitating the access to the market, providing free MS technology and services, as well as the power of a network of thousands of partners worldwide.
With Microsoft Partner Network you will have more visibility to the sports industry ecosystem as this will allow you to be included in our MS Sports Solutions Offering, meaning that your solution will be promoted by MS Sports Team to the sports organizations worldwide. Also, you will have priority when participating in some of GSIC's activities, like Innovation Days, Workshops and Sport Thinkers.
And, above all, you will be provided with a set of:
training resources,

i

ncentive programs

marketing materials

access to software for internal use,

personalized support.
There are 4 different models of partnership from which you can choose the one that suits your business the best. You can easily start with the Basic Membership, completely for free, by just registering on this link. Enroll in by completing your company information and start exploring all the resources and possibilities that Microsoft offers. Besides, we can also help you to enroll in Microsoft for Startups program that provides companies with free Azure and technical support.

If you have any doubt, don't hesitate
to contact
our team for assistance.
New private LinkedIn group for GSIC Members!
If you are a GSIC Members, join our brand new private LinkedIn Group for GSIC Members which will be a space for your open communication with other members so you can share your activity, news, offers, do networking, etc.

This initiative comes up after our Design Thinking session held during GSIC Summit on September 11 and 12, where our members offered different ideas on how to improve GSIC's activities strategy. We are happy to collaborate with you and to implement your ideas!

Members Area is available for all GSIC members
All GSIC Members can already access the private Members Area using their unique credentials. Members Area is an intranet, where all the Center's members can find now more information about each other, share their content and get exclusive news from GSIC and its members.

If you are a GSIC member you can benefit from using this private area where you will find Virtual Meetings, Members catalog, Content shared by members, Working groups, Photos of activities, Microsoft Training, Important documents, Events.
Get to know new members who joined the GSIC in October 2019
ONTIER'S IT-Sport Entertainment practice
ONTIER puts its 25-member international team and startups sub-division to all GSIC partners' disposition to provide them with innovative and business-oriented solutions that adjust to the strict requirements of any jurisdictions of interest.
All GSIC members are granted five (5) free hours per year to make up to five consultations on any legal matter that deem significant for their project. The scope of consultations also includes Legal consultation sand/or revision of contracts.
Matters regarding the drafting of agreements, company registration and/or M&A transactions are excluded from the hour bag. Nevertheless, all GSIC partners are granted a 20% discount on any matter that falls outside the scope of the hour bag as to optimize potential and ensure the rapid and prosperous development of all partners.
"Laliga Top Cards", the official football card game from LaLiga, now available worldwide
Developed by The Breach Studios (MEDIAPRO Group) the videogame allows players to collect all the top footballing stars to compete against other players online.

Fans of the world's greatest league are in luck. "LaLiga Top Cards", the game for Android and iOS devices, is now available worldwide. Developed by The Breach Studios (MEDIAPRO Group), published by LaLiga and in association with Panini, the first ever LaLiga Santander card game for mobile devices was launched worldwide on 21st October after the prelaunch version reached over 200,000 downloads in a month in six countries. "LaLiga Top Cards", which has been nominated for a prestigious TheAwards prize in the Best Spanish Apps 2019 category organized by PickASO and TheTool allows the user to create their own team from the LaLiga Santander stars to compete with other players.
NBN23, first Spanish company validated by NBA
Valencian company obtains the validation of the NBA to be able to make commercial use of the BIG DATA.
NBN23 technology has achieved for the first time for a Spanish company the validation of the NBA, the most important league in the world that starts today with the Toronto Raptors-New Orleans Pelicans. This new milestone of the Valencian startup means having the approval of the NBA, which brings together 30 franchises from the United States and Canada, to make proper use of its technology related to BIG DATA. At the same time, NBN23 will be able to negotiate with NBA franchises to obtain and implement in its equipment the advances that it has been developing since 2015.
Performance, a product validated by the NBA, allows obtaining all kinds of data related to players during a match or training thanks to a 2-centimeter chip implanted in the shirt, pants or shoes, which transmits the information through repeaters of frequency installed in the pavilion. Areas of influence, average speed, jump power, fatigue, etc., are just some of the data that can be collected and that serve to improve the performance of a team, take advantage of resources and even prevent injuries.
Interested in becoming GSIC Member?
Over 230 entities from 35 countries have already become GSIC members!
Join them and benefit from all our activities: Networking, Virtual Meetings, Working Groups, Business Trips, Innovation Days, Inspiration Days, Co-creation Workshops, participation at startups
competitions
, attendance to the international events and more.
Fill in the Form on a link below to apply for GSIC Membership.
Xbox fans have an appointment between November 14 and 15 for XBOX Fan Fest that will take place at GSIC's headquarters. The event coincides with the celebration of the X019 in London, where Microsoft will present news regarding its upcoming releases and future inclusions in the Xbox Game Pass.

Returning to the Madrid event, this will be divided into two days. The first one will be reserved for a select public, celebrating an "exclusive party". On the other hand, on November 15 the doors of the event will open to everyone. There we can see a preview of what Microsoft has prepared for the end of the year, as well as the possibility of testing its "Project xCloud" streaming service, which is still in beta.
Colosseum Sports Tech Nation is the international summit of the sports tech industry, gathering prominent leaders to discuss the latest trends, and providing investors and key players unique opportunities to get acquainted with the most disruptive ventures from the industry.

Our General Manager Iris Cordoba and Head of Business Development Iñigo Bonilla will be participating as speakers at this event.
Building on the huge success of Mass Participation Asia which was founded by Chris in 2015 that has already attracted industry leading speakers and delegates from 21 countries to events in Singapore and Bangkok, plans are underway to expand into a network of global and regional conferences across the world. Mass Participation World's conferences are designed and curated to foster collaboration and best practice in the mass participation industry.

Our General Manager Iris Cordoba will be attending this event as a speaker.y.