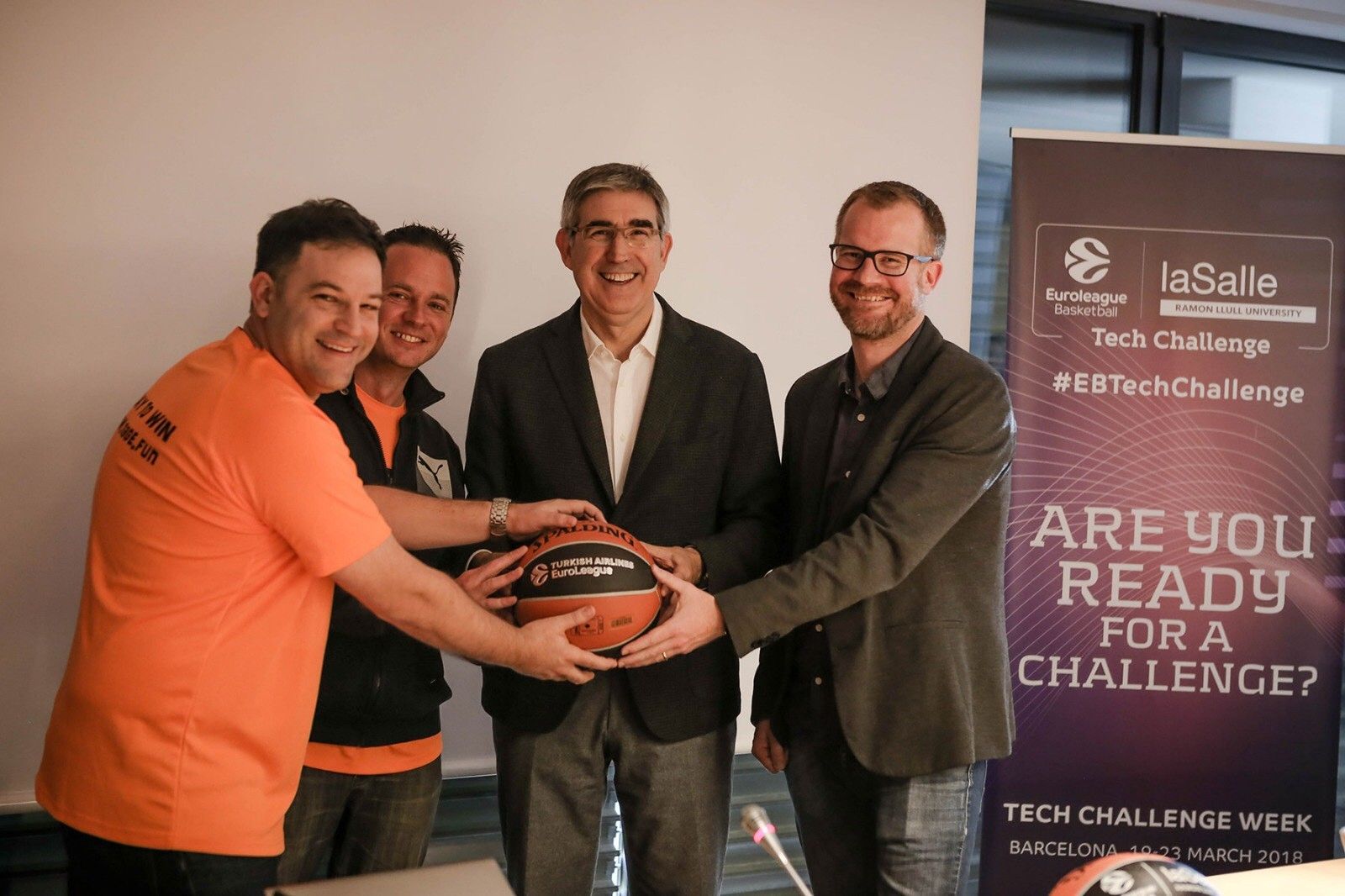 30 May

Ngage receives a special mention award at the Euroleague Basketball Tech Challenge for their remarkable entrepreneurship spirit

04/18/2018. – The Israeli startup NGAGE, associated to the Global Sports Innovation Center powered by Microsoft, has been awarded a Special Mention Award after impacting the jury of the contest with their great entrepreneurial spirit.

The Tech Callenge counted initially only with three prizes: Tech Challenge Overall Winner, Most Disruptive Solution and Best Pitch. The brilliant presentation of NGAGE solution and their high level of motivation throughout the competition, led to the creation of a Special Mention Award to highlight the commotion generated by this company both in the organizers of the competition and in the members of the jury.

This first edition of Tech Challenge organized by Euroleague Basketball in collaboration with La Salle – URL, brought together 62 startups that applied to participate in the contest from 17 different countries. At the final of the competition that took place in Barcelona, on March 23th, only 9 companies had the opportunity to present their initiatives for the solution of the existing challenges within the professional sports industry or create new revenue generation and fan engagement opportunities.

The winning projects are:
Tech Challenge Overall Winner: NFCSound
Most Disruptive Solution: NFCSound
Best Pitch: Pico GP
Special mention: NGAGE
Finalists got the opportunity to work all week long together with Euroleague Basketball executives in further developing their solutions to ensure it better solves the concrete challenges of Euroleague Basketball, its clubs, its partners, and other sports organizations. Participants attended lectures from La Salle-URL professors and top Euroleague Basketball management on entrepreneurship and sports business, in addition to being able to connect with industry leaders in networking events.
About the Global Sports Innovation Center powered by Microsoft (GSIC)
The main objective of the Global Sports Innovation Center powered by Microsoft (GSIC) is to improve the value chain of the sports industry. With more than 175 members in 25 countries, the GSIC has become a worldwide reference that promotes innovation and the use of advanced technology for the sector and facilitates networking between all types of companies.
From their headquarters in Madrid, the GSIC generates opportunities, solutions and programs that satisfy the needs of all types of audiences, including startups, companies, governments and industries. It is a non-profit organization that funds itself with the payments of its partners.
About NGAGE
NGAGE is a powerful cloud-based Fan Engagement and Sponsor Management platform which enables both teams and sponsors to create fun, fan-centric, mini-mobile tournaments using virtually any game.
The platform collects information from a multitude of data sources and provides valuable insights and in-depth fan analytics.
Press Contact
Sofiya Goncharova
Telf: +34 655 57 66 81

http://www.sport-gsic.com

@Sport_Gsic