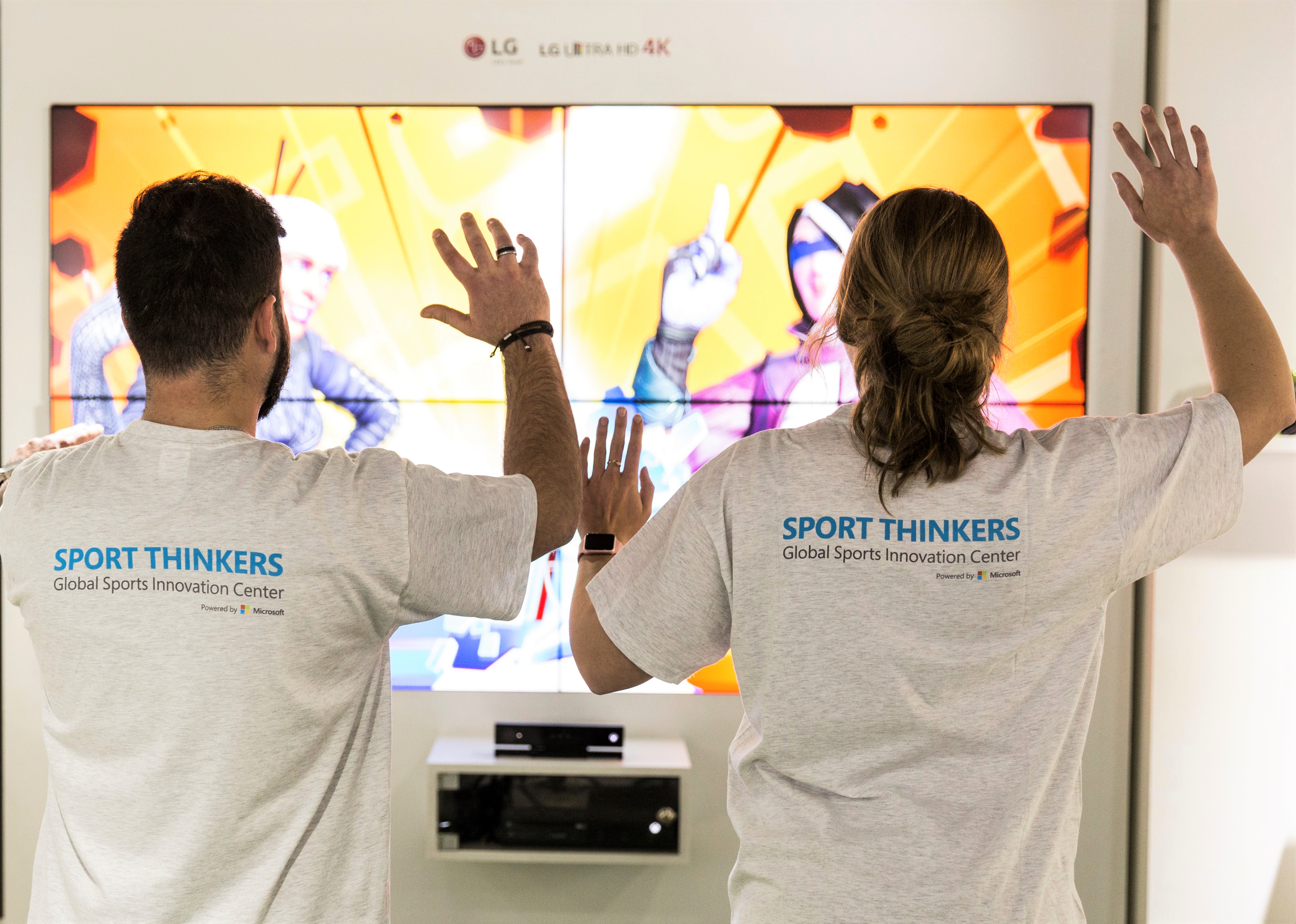 Startup acceleration program that contributes to economy and tech-based companies' development
3 months dedicated training, formation and mentoring program with top sports executives, possibility to access Microsoft technology, sports network, co-working space and venture capitals. This acceleration program powered by GSIC will take your startup to the next level!​ ​
Benefits of Startups
The GSIC creates its own acceleration program for technology-based startups with solutions that enhance sports industry. Our Sport Thinkers Hub joins forces with the best promoters to offer you a number of benefits











Privileged Access to global startups
Benefits for the Promoter
Sport Thinkers creates bridges between large and small organizations to spark the innovation, build a strong local ecosystem and make a social impact through the local hubs
STARTUP CALLS

OUR INDUSTRY EXPERTS NETWORK
Our program will provide you with support of more than 200 international companies, sports entities and a growing mentoring network composed by industry professionals.
Sports Business Managing Director at Microsoft Corp.
Sebastian Lancestremere
Senior Executive with 25 years of international experience in the IT Industry at Microsoft and startups in developed and emerging markets in Latin America, Europe and World Wide. Well-rounded Managing Director who has consistently delivered outstanding performance: setting up new business units, growing market share and developing talent, leading innovative and strategic projects for the company and expert in digital transformation. Business leader who focuses on how Information Technology can help organizations take advantage of the Digital Economy while contributing to a better society.
Senior Board Advisor Sports & Entertainment - Fouding Partner Monorca Millenials
Javier Martínez
More than 18 years of experience in management teams (Havas Media, The Walt Disney Co.) with important results in the design and execution of strategies in the areas of marketing and sales in entertainment, leisure, tourism, theme parks, content and sport (soccer), both in the analog and digital channels. Javier is a leader in the generation of networks and alliances, and participates as a lecturer in prestigious international events and business schools. He has been the Business General Director at Atlético de Madrid, where he has led the expansion of international business and the design of the Fan Experience.
CEO of Sports Tech.ai Advisors
Ryan McCumber
Ryan is CEO and Founder of Sports Tech.ai a consultancy and advisory firm focused on enhancing the fan experience through innovation. Ryan is a global sports analytics and tech evangelists having previously led KPMGs Global Sports Analytic practice.  While at KPMG he completed projects such as game scheduling for the NBA, National Basketball League of Australia.  While at KPMG, Ryan also co-founded with Vumero Sport the Sports Analytics World Series, which is an innovation and sports tech conference series currently in six countries with plans to expand to ten countries by 2020.  Ryan is a Global Ambassador helping to organize and promote the Series. SportsTech.ai supports a portfolio of 5-10 sports tech start-ups from strategy, business development, implementation and investments.  Specifically, Ryan is the EMEA lead for two companies in particular; Solos and LAVA.
Innovation and Global Development at LaLiga
Minerva Santana
Digital Technology Responsable for Real Sociedad de Fútbol
Juan Iraola
In charge of defining and implementing the digital strategy across all the areas and business within the club, with the main goal to be closer to people and fans, improving the processes and business operations and identifying new revenue streams.
MA degree in Industrial Engineering obtained from the University of Navarra. Consultant and project manager during more than 25 years in different sectors as sports, advertising, software development and consultancy, aerospace, machine building, automotive, retail; leading projects mainly focused on ERP, CRM, Business Intelligence, defining and implementing Marketing Online and Digital Transformation Strategies.
New Business & Innovation Manager EMEA at ASICS Corporation
Daniel Dümig
Daniel is working hand in hand with entrepreneurs from all around the world to combine their creative spirit and drive with the scale and expertise of a corporation to grow projects that will move people across the world.
Apart from his work at the ASICS TENKAN-TEN Sports & Well-Being Growth Catalyst where they combine the startup founders' drive and energy with the expertise, resources and reach of a large global corporation he's honed his skills working for the some of the best sports lifestyle corporations. In the past decade at VF Corporation, Quiksilver and ASICS he repeatedly led and successfully implemented New Business & Innovation ideas for projects, services and processes.
Developing creative strategies and transforming them into tangible and measurable results comes naturally to Daniel. He achieves this by following one simple rule: "Teamwork makes the dream work!"
General Manager of the Global Sports Innovation Center powered by Microsoft
Iris Córdoba
She has developed her professional career linked to enterprise development and the support of SMEs from the public and private side, with special focus on culture sector, Spanish language-related economy, entertainment and sports industry, both in Latam and in Spain. Specializing in project management, networking creation and business development. Since the beginning of 2015, she has launched the Global Sports Innovation Center promoted by Microsoft, a collaborative initiative between the public, private and academic sectors, which aims to promote innovation in the sports industry, creating an ecosystem composed by nearly 200 companies and institutions that generate synergies and value projects in the sector.
Iris actively participates as a speaker, mentor and jury in startup competitions and in events linked to sports and technology on national and international levels such as Sports Analytics World Series, The SPOT, TEKAN TEN by Asics, WFStartcup by GSIC, among the others. In 2016, she was recognized as one of the 10 most influential women in the sports industry according to the ranking published annually by Metadeporte magazine. Likewise, in 2017 she was a candidate to be one of the top 100 women leaders in Spain of the magazine Mujeres y Cía. She is an active member in various forums, such as the CSD woman, the Sports Committee of the Spanish Association of Women Marketing, Soccer in Words from the Miguel de Cervantes Virtual Library or Engagement de Mujeres y Cía. She is also a member of World Football Summit Advisory Board.
General Manager of Football and Travel
Francisco Calvello
Entrepreneur, businessman, former football player and journalist with a track record of over 16 years in the world of football and 9 in the world of business and sports management, Francisco is an expert in the development of global business with a focus on football and tourism. Working experience in diverse markets and cultures, such as Argentina, Spain, England, Germany, Italy, USA, India, South Africa and Kuwait, among others.
At 25, after having worked as an international football specialist in Argentina's Diario Olé, he decided to focus on his passion: making ideas come true with a global outlook. In 2011, already residing in Spain and amid a voracious economic crisis, he founded his first company, Astorini Media, to later dedicate heart and soul to the world of football by creating Spocs Center Madrid – the first private training centre in Spain for team-less football professionals, which was attended by more than 150 players from 35 different countries. Since that moment, he has been linked to innovation and the development of global football-related projects.
He is currently in charge of the Football and Travel company, where he helps professional football clubs expand internationally through the development of tourism-sports experiences aimed at fans across the globe.
Holder of Elea Chair of Social Innovation
Vanina Farber
Dr. McGladrey teaches graduate courses in the Athletic Administration program, and undergraduate courses in both sport coaching and sport management. He also serves as the Department's coordinator for the Sport Coaching minor, and for the Sport Management major. Dr. McGladrey's professional background includes 14 years as a high school baseball coach, currently coaching at Ellensburg High School. He is an NSCA Certified Strength & Conditioning Specialist, and has worked with both high school and collegiate athletes in the role of strength and conditioning coach. His research interests include teacher/coach knowledge specific to resistance training, and pedagogy specific to the high school weight room.
Associate Professor at University at Pittsburgh
Konstantinos Pelechrinis
Kostas is an Associate Professor at the School of Computing and Information at the University of Pittsburgh. He holds a PhD degree in Computer Science from the University of California, Riverside and his research interests include network analysis, data science and applied machine learning with an emphasis on applications in urban informatics and sports analytics. He is a recipient of the prestigious Young Investigator Award from the Army Research Office for his work on heterogeneous networks, while his research is also supported from the National Science Foundation. He has collaborated with professional sports teams.
Co-Founder of Torrent Road Capital & Menorca Millennials
Ricard Garriga
Ricard Garriga, co-founder Torret Road Capital & Menorca Millennials, the first startup Decelerator for Series A global companies│prev. YouNoodle, 22 Barcelona City Council│Inspired at UCBerkeley │Proud Investor of 8fit, Bulletin.chat. Trappit, AragonProject, 3DdigitalVenue. Passionate about start-ups, investment and talent attraction. He has 12 years' experience in the entrepreneurship ecosystem, starting at La Salle university in Barcelona where he helped raise capital for tech start-ups and spinoffs, then in 22 Barcelona City Council to implement public policies, and subsequently in California as head of strategy and growth in YouNoodle, a Silicon Valley start-up, where he was in charge of open innovation projects for large corporations and talent attraction programmes for 7 countries, then founding the new concept of "start-up decelerator" MenorcaMillennials which detects global talent in order invest with it's own funding company, TorretRoad.
To date 2 failed companies, €27m raised by 16 of them and 2 companies acquired.
Business Development Architect
Jesús Serrano
Jesus is a +15 year experienced professional specialized on Customer experience and UI Development Technologies. He is Business Development Architect in Sports and member of UX Worldwide Leaders at Microsoft. He's frequently required as speaker about UX design & UI development for both national and international events.He has designed and led the Customer experience and Design Teams in many Lighthouse, Tier 1, BMC and Consumer projects across different technologies for some of the most important global companies. He's absolutely passionate about simplifying the use of technologies and bring them closer to the users. If you have an UX problem, if no one else can help and you find him, maybe you should speak with him
Chief Project Officer
Guillermo Morales
With 15+ years of experience on the technology business, working with banking, energy, telco, industry and public-sector clients, envisioning and defining technology strategies, digital services and solutions to help to realize business value. Joined to Microsoft in 1998, he has worked for the top WW consulting companies and currently working as Solution Architect at Microsoft.
Marketing & Sales professional
María Barberá
What defines me is the motto "Make things happen". Marketing and Commercial professional with a solid experience in the design of new business & commercial offers, marketing and communication strategies, CRM Planning.
Global Vision | Experience in coordination of local and international teams and projects.
Business Growth | Focus on Projects oriented to results, ROI, market share growth and brand awareness.
Marketing Plans | Integrating all elements in effectives strategies to reach target audience (media, events, promotional campaigns, digital, in-store, PR and CRM) develo- ping outstanding strategies.
New Trends | Activation of new out of the box ideas, blogging, video content, events, e- commence and new technologies.
Experience in several sectors | Retail, TELCOS, Sports, Automotive, Bank, Financial, Consumer goods and Services.
Expertise in developing Worldwide Sports Sponsorships proposals.
Stadium Director at Levante U.D.li
Luis Cervera
Currently Luis is Director of New Projects and Operations Levante UD SAD; member of the commission "Marketing, financing and federative management" in the Spanish Olympic Committee; member of the Board of Directors of the Sports Managers Association of the Valencian Community; vocal Territorial Board Lift IESE. His previous experience includes the positions of Director of Operations Valencia CF SAD (2015-2017), General Director of Valencia CF SAD (2013-2015), Director-Manager of the Valencia Municipal Sports Foundation (2001 -2013).
CEO and Co-Founder of TTSPRTS
Adrian Herzkovich
Senior Executive with over 25 years' experience in international multi-media, sports, eSports, entertainment, digital and mobile business. 18 years leading FOX International Channels (a 21st Century Fox Company) in different regions of Latin America & Europe. Dealmaker with strong & solid negotiations skills, with a long and verified record of successes. Angel Investor participating in different startups, investing, building & scaling companies. Personal Branding Consultant. He works with CEO's, Presidents, and C-Level Executives to enhance their Personal & Professional Brand and guide them on how to build a strong and relevant Digital Identity.
General Manager IT Innovation at Melbourne Cricket Club
Rey Sumaru
An IT professional with over 25 years' experience in managing Technology and Innovation departments and delivery of Technology projects globally across various environments.Responsible for the Strategic directions, Innovation and day to day operations of the IT & Innovations department and the Smart Stadium Initiative, which includes, a fully Converged Network, Stadium Wide Wi-Fi, IPTV, CCTV, Audio, Video, Broadcasting , Digital Assets and Innovative Technologies. In a past: Senior Director – Global Infrastructure (IT), CSL Biotherapies, Director IT Asia/Pacific, CSL Biotherapies, IT Manager – Sigma Pharmaceuticals
CEO & Co-Founder of Blinkfire
Juan Luis Hortelano
Former co-founder and Director of Plug and Play Spain, where they accelerated and invested in +70 startups during 5 years.With +18 years experience in different Internet companies, before Blinkfire and Plug and Play, Juan Luis was responsible of the internationalization and launch in Spain of different successful projects like Feedburner (bought by Google), Zumodrive (bought by Motorola), Qype (bought by Yelp) or 9flats.com (bought by Wyndham Hotel Group).  He is also a private angel investor in different tech startups and also an active member of the tech ecosystem in Spain, being a regular speaker in tech and internet related events.
CTO-Innovation Director of Global Sports Innovation Center
David Rosa
He has been working and learning in the sports industry for more than 15 years. He has played a leading role as Business Intelligence Manager in Valencia CF and also worked for INESPORT, the Spanish National Sports Council and Instituto Biomecánico de Valencia. Holds a degree in Industrial Engineering and a post degree in Sports Biomechanics
Ph.D., CSCS, assistant professor in the Department of Physical Education, School Health, and Movement Studies at Central Washington University.
Brian McGladery
Dr. McGladrey teaches graduate courses in the Athletic Administration program, and undergraduate courses in both sport coaching and sport management. He also serves as the Department's coordinator for the Sport Coaching minor, and for the Sport Management major. Dr. McGladrey's professional background includes 14 years as a high school baseball coach, currently coaching at Ellensburg High School. He is an NSCA Certified Strength & Conditioning Specialist, and has worked with both high school and collegiate athletes in the role of strength and conditioning coach. His research interests include teacher/coach knowledge specific to resistance training, and pedagogy specific to the high school weight room.
Chief Executive at Gains Group
Steve Gera
Steve Gera is a former officer in the United States Marine Corps who has gone on to coach and scout in the National Football League, run multiple businesses, and teach at top universities. Steve is the Chief Executive at Gains Group a sports technology agency. He has worked with a number of world-class organizations, such as FC Barcelona, WWE, IMG Academy, TeamSky Cycling, Chelsea Football Club, Saracens Rugby, Army Special Forces, and the United States Marine Corps. He has also advised at the league level in the NBA, Premier League, and Major League Soccer.
Prior to working in industry Steve served as the Head of Innovation for the Cleveland Browns and as an Assistant Coach and Analyst for the San Diego Chargers. He teaches at San Diego State University, Wharton, Universidad Europea de Madrid, and Torrens University Australia. He resides in Los Angeles, California with his family.
Doctor in CC AF and Sports. Professor at Camilo José Cela University. PF and retradapter in Madrid CFF
Blanca Romero
Managing Director at WWP Weirather Wenzel & Partner
Rayde Luis Baez
Born and raised in Dominican Republic, relocated to Barcelona over a decade ago. Rayde is a passionate partnership narrative builder, and steers the operations of the WWP Group in the Iberian Peninsula since 2016, leading the agency work with brands and properties such as Audi, FC Barcelona, Real Madrid, Red Bull, MotoGP, BMW M, SEAT, TAG Heuer, LaLiga and Santander Private Banking. Trained as an Economist with postgraduate education in Banking & Finance, and Sports Management, prior to his role at WWP oversaw the strategic business of Euroleague Basketball's digital output and content marketing initiatives, the sponsorship sales and relationships with its partners in a joint creative effort that continuously delivered return on investment.
President and Managing Partner of Embedded Knowledge
J.Eduardo Campos
J. Eduardo is a seasoned strategist who designs sustainable solutions by building bridges across diverse groups. After creating business growth opportunities on four continents through his leadership roles at PwC, Embraer, and Bell Canada, he spent thirteen years at Microsoft, first as a cybersecurity advisor, then leading innovative Microsoft projects at the highest levels of government in the US and abroad. Today, J. Eduardo is realizing his dream of building a better tomorrow by leading his consulting firm, Embedded Knowledge, Inc., to develop value propositions, customize business strategies, and form partnerships that enable organizations and entrepreneurs to design creative solutions for their complex problems.
Director, Digital Projects and Emerging Technology of United Soccer League
Vincent Wiskowski
Managing Director at N3XT SPORTS Inc
Mounir Zok
Mounir Zok joined the U.S. Olympic Committee as a Senior Sports Technologist in 2012. He is responsible for championing, setting up and running high-performance technology programs that increase the medaling chances of Team USA athletes at the future Olympic and Paralympic Games; such programs usually lie at the intersection of emerging technology and human-centered design to deliver the next generation of data-driven tools that Olympic and Paralympic programs can utilize. In this role, he leads and manages a group of internal and external individuals (technologists, engineers, data scientists, hardware/software developers, designers, business partners) as well as work very closely with the US Olympic Committee's leadership to ensure alignment with organization policies and strategies. Given the innovative topics that he deals with on a daily basis, he is very firm in adopting lean & agile approaches that allow for iterating small-scale tests to validate all concepts at every point of development. Prior to joining the USOC, Zok helped grow a sports technology start-up company in Italy into an internationally renowned firm in technology development. Specifically, he led and coordinated staff and assisted in developing businesses in foreign countries.
CEO & Founder at Streetfootballworld
Jürgen Griesbeck
Serial social entrepreneur. Enthusiastic about system change and football (soccer) as a force for social good. With streetfootballworld we gather the best in class social enterprises that promise to increase and/or accelerate impact significantly by integrating football into their local solutions. Now trying to build an entrepreneurial ecosystem and mobilise the football industry to contribute efficiently to sustainably scale the impact.
Managing Director at SD EIBAR
Patricia Rodriguez Barrios
I have been working at PwC more than nine years, last of them as a assurance manager. In 2014, I started working at SD Eibar as a Finance Manager and two years after, in 2016, I assume the role of Managing Director of the Club. During two last years, I have reached an increase in revenues of 85% and the reinforce of the image and notoriety of the SD EIBAR brand in countries like Japan.
Sports Marketing Master Director in Escuela Real Madrid at Universidad Europea
Ricardo García-Viana Brookes
Sports Marketing Master Director in Real Madrid – Universidad Europea School. With a background in tourism and event management, has been working as a lecturer for Universidad Europea for 23 years and directing different master programs for 17 years now. Former professional indoor soccer player.
President & Founder at FanWide
Symon Perriman
Symon Perriman is FanWide's President and Founder, and leads the company's overall strategy and development. He is an internationally recognized business leader, industry expert, author, keynote presenter and technology personality, whose content is viewed by millions of technology professionals each year, across digital, print, online and social media. Symon holds numerous patents and contributed to several technical books, along with hundreds of articles and webcasts. He graduated from Duke University with degrees in Computer Science, Economics, and Film & Digital Studies, and also serves as a technical advisor for several startups.
OUR WORKING GROUPS NETWORK
Complement your training with assessment of those who are ahead of latest trends in sports industry. Our working groups will help you understand better market demands, challeges and insights
Business Insights
The combination of the Microsoft Sports Digital Platform with our partner solutions provides fans with full access to apps, social media, the web, live-streaming, video-on-demand, multi-angle cameras, news, statistics, sports feeds and more, on any platform or device, at any time
Smart Stadium
With Cloud Services, the Microsoft Sports Digital Platform and the support of ISV partners, Microsoft provides a myriad of solutions. It includes a large set of fan services and experiences for the venue, including retail, food and beverage, cashless payments, digital ticketing, access validation, 360 ° video, IoT, and more
Athlete & Team Performance
Through the consolidation of team and athlete data from almost any source into the Microsoft Cloud, teams can get a 360 view of their players and gain the data-driven insights that will help increase performance and prevent injury. Microsoft Sports Performance Platform provides training staff with the necessary tools to score an on-field advantage
Fan Engagement
The combination of the Microsoft Sports Digital Platform with our partner solutions provides fans with full access to apps, social media, the web, live-streaming, video-on-demand, multi-angle cameras, news, statistics, sports feeds and more, on any platform or device, at any time
Digital Transformation
Working toward reducing the gap between small companies and sports entities we have created a working group devoted to the digital transformation of sports entities. This working group is focused on analyzing how to use different technologies within sports sponsorships, analyzing two fundamental points, innovation, and activation. This working group reviews real cases from the technological point of view such as performance and optimization of a sports sponsorship, the ROI of a sponsorship in Social Media, brand recognition and measurement on TV and web data management. In this working group, we aim to explore new digital assets, examine the expectations of the technological applications and innovation in sports sponsorships and understand the pricing of this market. In order to be successful, we have selected some of the most experienced partners in the vast GSIC ecosystem to form this working group.
Esports
As esports become increasingly popular around the world, at GSIC we decided that creating a working group was not only necessary but essential. Our Esports working group was created with the aim of reflecting on the industry and providing solutions to problems that exist or arise within it. GSIC has partnered with several companies associated with the center (Mediapro, Atos, Freedom and Flow Company, MC Saatchi Sponsorship, Real Madrid, Banco Sabadell, among others) to promote the implementation of this working group that seeks to address issues that involve key issues within esports such as the creation of specific digital content, the transformation in the consumption of these contents, challenges in gaming devices, monetization of the participation of fans and their communities, or the role of technology companies, distribution channels and sponsors , among others.
AR/VR/MR
Augmented reality, virtual reality, and mixed reality are all new technologies that are rapidly increasing in popularity, every day new and more practical uses are being discovered for this technology. At GSIC we have created a working group comprised of some of or invaluable partners with the intention of focusing this technology on the sporting world to holistically improve the sports industry in anything ranging from fan engagement to practice.
Health
Health has always been and will always be not only a crucially important part of sports but also a main focus of technology. For this reason, we at GSIC have created a working group focused primarily on Health. This working group not only focuses on physical health but psychological health as well. The aim of this working group is to promote and ensure long-term health through technology with the intention of keeping players and fans healthy so that they may play longer and harder and enjoy their sport to its fullest.
Marketing & Sposorship
Sports entities are in a process of continuous progress and growth and in the Global Sports Innovation Center powered by Microsoft we are aware of the difficulties experienced by these entities when it comes to establishing progress in their digital transformation.
For this reason, in GSIC we work to reduce this gap, and we have created this working group focused on analyzing how to use different technologies within sports sponsorships, analyzing two fundamental points: innovation and activation.
We will review real cases from the technological point of view such as: performance and optimization of a sport sponsorship, the ROI of a sponsorship in Social Media, brand recognition and measurement on TV and web data management.
In this working group we will explore new digital assets, discuss the expectations of the technological applications and innovation in sports sponsorships and we will understand the pricing of this market.
Get in touch to know more about Sport Thinkers