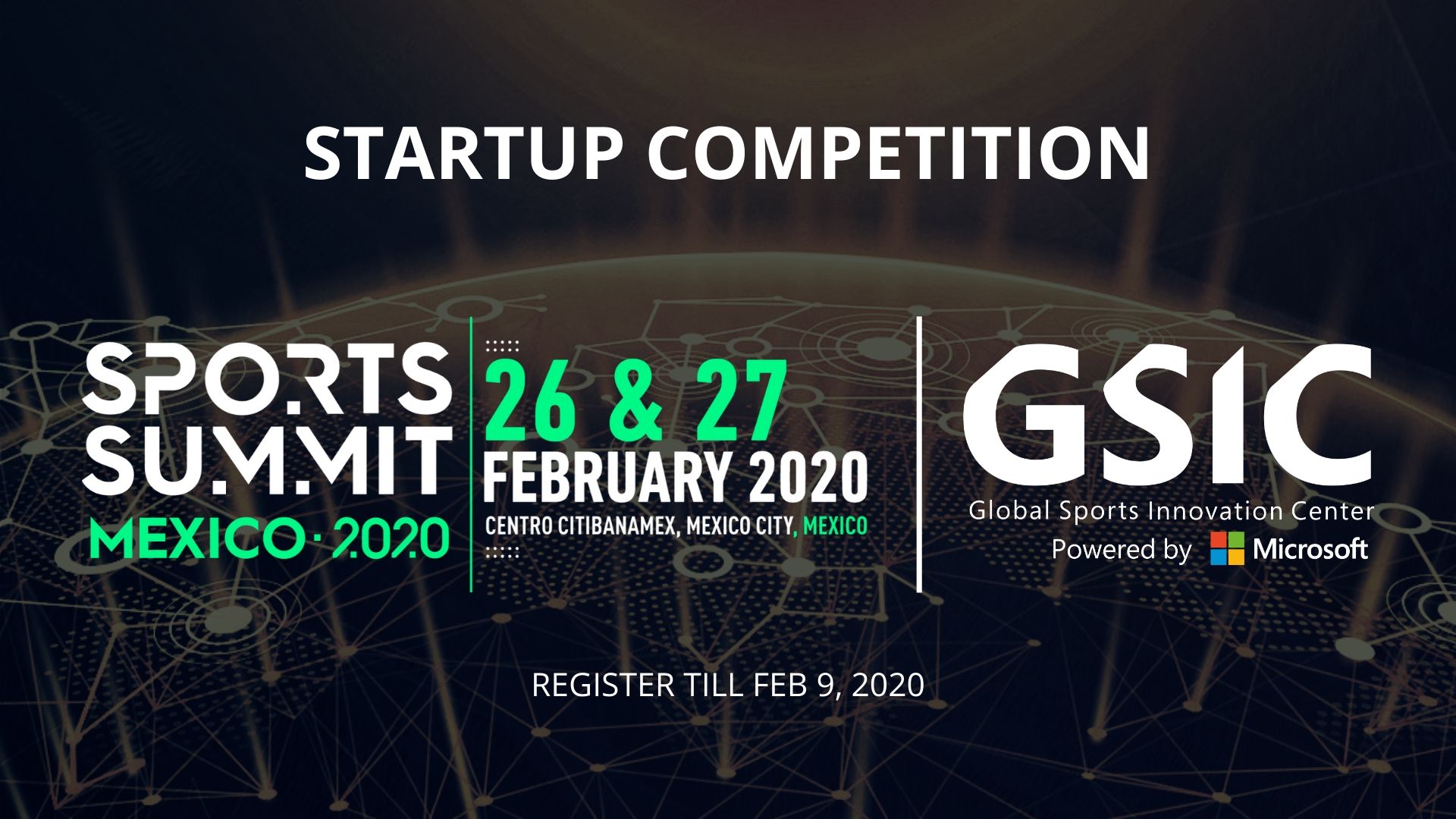 14 Jan

Sports Summit México 2020 and GSIC organize a competition for solutions applied to the sports industry developed by startups located in Latin America
The initiative seeks to detect the best technology-based startups in Latin America with solutions applied to the sports industry
The 3 winning startups will benefit from 1 year of free membership in the GSIC powered by Microsoft
The call will remain open till February 9. The finalists will be announced on February 18 and the 3 winners will be awarded by the jury during Sports Summit Mexico event on February 26 and 27
Sports Summit México 2020 launches its Startup Competition co-organized with the Global Sports Innovation Center powered by Microsoft (GSIC). This initiative aims to create a meeting point before, during and after the Sports Summit for Latin American startups and SMEs that are developing innovation solutions applied to the sports industry. The finalists will present their solutions to the public, media and national and international sports entities. The projects will be evaluated by a jury of the sports industry professionals during a pitching that will take place at Citibanamex.
The launch of this Startup Competition reinforces the commitment of Sports Summit Mexico 2020 with innovation, Latin American entrepreneurs, investors and sports entities.
The competition will be open until February 9. The solutions must be applied to the sports industry in its different scenarios, including:
Media: OTT, transmission, social networks, digital content, new media, digital marketing, second screen, graphics, analysis, piracy.
Fan Engagement: amateur profiles, social networks, gamification, social listening, community, marketing, VR / AR / MR, digital games.
Business Insights & Analytics: Big Data, Social Media Management, Social Media Analytics.
Esports: new business models, content generation, profile enhancement and user experience.
Smart Venues: security, access, control and operations centers, parking, VIP services, cashless payments.
Team & Player Performance: prevention and recovery of injuries, monitoring and monitoring devices, sports equipment, smart clothes, wellness ..
Iris Córdoba, general director of the GSIC, comments that "we have been supporting Sports Summit since its first edition and we have strengthened our agreement with a startup competition that provides the opportunity for new Latin American companies and SMEs to achieve international visibility, and their winners benefit from Be part of our global ecosystem that exceeds 240 partners in 36 countries, where training activities in digital transformation, networking and business can accelerate its expansion processes. We believe that the finalists will benefit from being present at the event and sharing their innovations to the speakers and attendees in a unique space and with an international jury that will give them their assessments and knowledge in the sector. "
For his part, Sebastian Lateulade, founder and CEO of Sports Summit Mexico, stressed that "this year we wanted to offer added value to the event with differential support for entrepreneurs, startups, investors, and clubs. The event will not only be the ideal framework to generate fundamental networking instances for entrepreneurs, but they will also be able to make known and project internationally, ventures that today can become fundamental for the sports industry as a whole".
STARTUP COMPETITION
The application process will conclude in the selection of up to 10 finalists that will be evaluated by a jury composed of experts from the sector, during the event.
The 3 winning companies will receive a free membership in the GSIC until December 31, 2020 with all the services and advantages provided by the center to its ecosystem: networking, participation in activities aimed at innovation and applied research, B2B contacts, visibility in international media and events, among others. The winners will also be interviewed during the event by national and international media.
You can consult the Basis of the competition and the Frequently Asked Questions.
To register, you need to fill in the following form: REGISTER
About TTVMedia Group and Sports Summit Mexico
Founded in 2004 with more than 16 years as a leader in the entertainment business in Europe, Latin America, the US and the US Hispanic, TTVMedia Group was born as a specialized media company. Owners also of Unik Media Solutions, Drumyn International (creative agencies), Brands + News, TodotvNews (news about intellectual property and the TV and entertainment industry) and the Anti-piracy Summits in LatAm. As organizers of Sports Summit (www.sportssummit.mx), we have the support of 23 previous editions in the last 5 years with a strong focus on content piracy in the audiovisual industry and all that entails, with the support of LaLiga Spain from day one. Sports Summit Mexico is a fundamental meeting point for key players in the international sports industry in a variety of disciplines, guaranteeing a high level of networking and a unique brand exposure. Sports Summit Mexico, has the support of an advisory board formed by some of the main executives of recognized companies and associations of the international sports industry such as Emilio Garcia Silvero (FIFA), Seong Sin (UEFA), Alejandro Irarragorri (Orlegi Group) , Carlos del Campo (LaLiga), Ignacio Arrola (Mediapro Group), Iris Córdoba (GSIC, Developed by Microsoft), Julio Senn (Senn Ferrero and Associates), Quentin Paquelier (Facebook) and Mariano Elizondo (Argentine Super League).