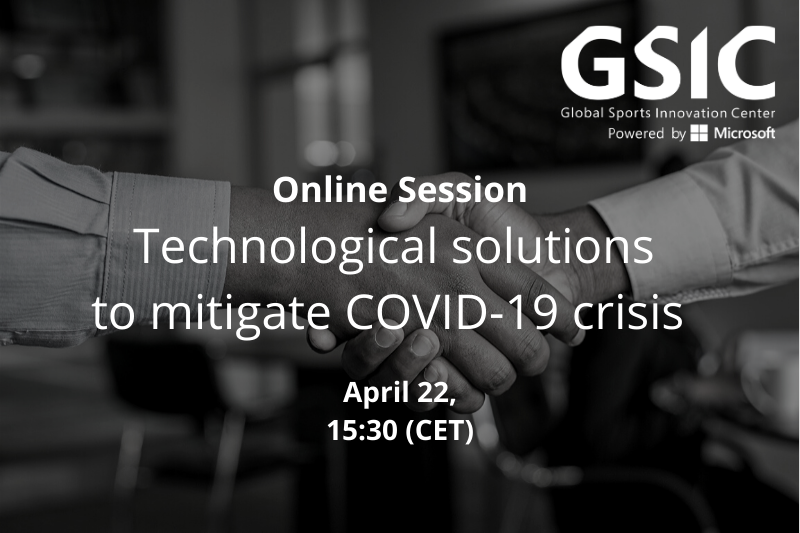 17 Apr

Technological solutions to mitigate COVID-19 – Online conference – April 22, 2020

Following up with previous communications about the current climate all over the world, from the GSIC powered by Microsoft we wanted to do our bit and provide all the support we can in this situation to all the sports tech ecosystem. For this reason, we opened a special call for our members to analyze tech solutions they can offer to the sports entities in order to help them mitigate the COVID-19 crisis.

As the outcome of this call, we created a catalog that gathers 17 innovative solutions offered by startups and SMEs from different countries to help you in areas of Public Health and Wellbeing, Team and Player Performance, Fan Engagement, and Business Insights and Analytics.

Next Wednesday, April 22 at 15:30 (CET) we will hold an online session where all the sports entities can see the presentations of those 17 solutions.

Each company will deliver a 5 min pitch and you'll have an opportunity to ask them your question and establish personal contact in case you are interested in some of the solutions.

It's a great opportunity to learn about what tech-based companies have developed in this difficult time with an aim to help clubs, leagues, and federations, so if you are interested in participating in this activity, please register in THIS FORM and we will send you the calendar invite.

Or you can join the meeting directly on using THIS LINK.