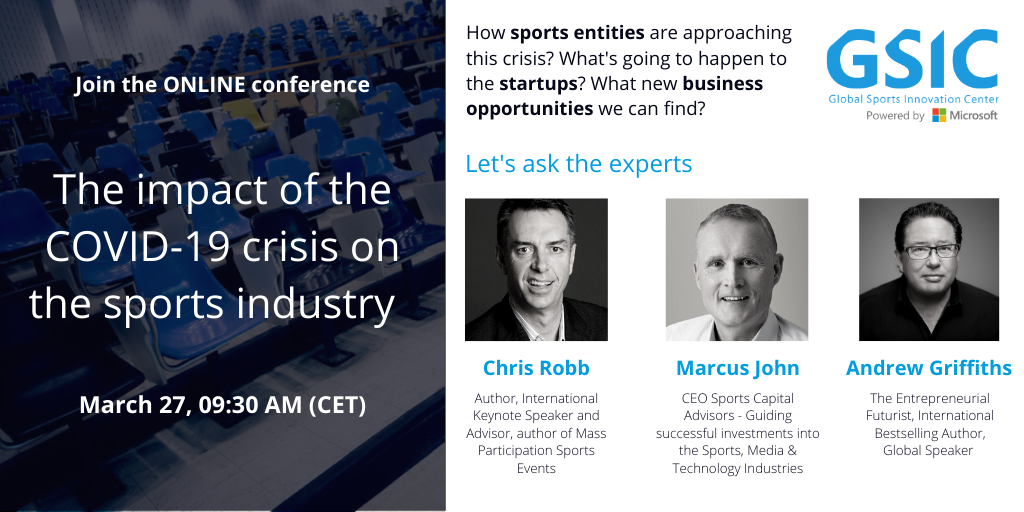 25 Mar

The impact of the COVID-19 crisis on the sports industry – March 27, 2020

Dear friends,

For the past two weeks, we all have experienced a significant change in our personal and professional life. Over these past days many industry events were cancelled or postponed, competitions suspended or re-scheduled, leagues and clubs announcing important numbers of revenue losses. As well as many startups and tech companies had to find new ways to adapt their business models and strategies to survive in this difficult period.

Nevertheless, many could manage to reinvent themselves and resist this crisis, many have come up together to face it. We have seen a bunch of great initiatives rising across the sports industry and this Friday, March 27 at 09:30 am (CET) we want to bring up an open discussion about everything that's going on right now in the world and how it is affecting our industry.

You can also register on this LINK to get the calendar invite to this conference.

We have invited top-ranked experts to discuss the current impact on the sports organizations and sports tech, as well as to explore what business opportunities we all can discover in this crisis.