28jan5:00 pm6:00 pmMembers Solutions Showcase - How best to apply AR and VR solutions in sports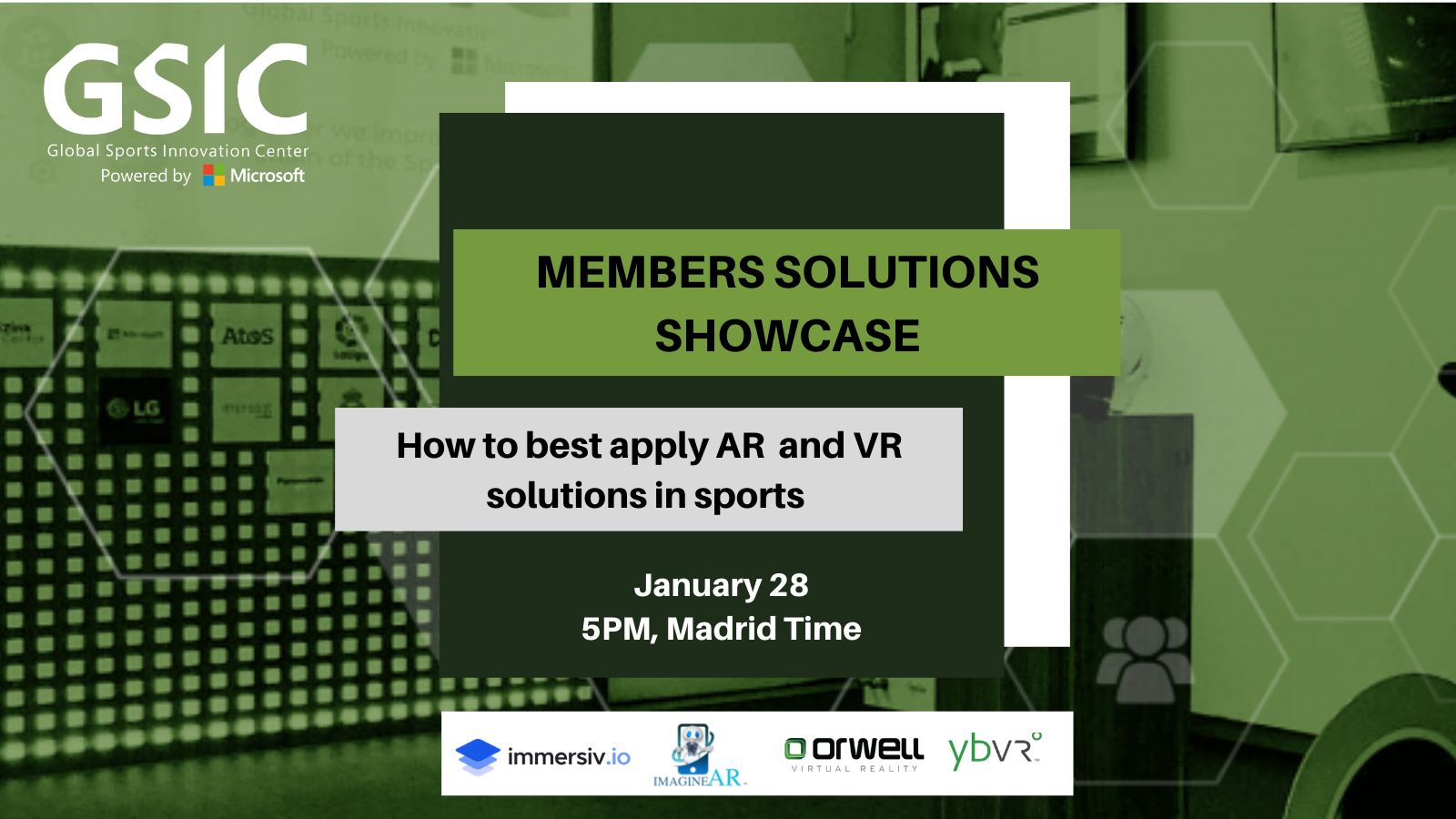 Event Details

Sports is one of the domains where AR and VR technology is being put to use in very different ways and we already become used to its presence in sports such as football, basketball and tennis.

Now, with the sudden leap that VR has taken recently, the sport experience is being amplified and becoming more immersive in nearly every possible field, ranging from consuming content to training and recruiting athletes.

That's why, on January 28 at 17:00 (Madrid time) we invite you for our Members Solutions Showcase where we will meet AR and VR solutions applied to the sports industry and see different ways of doing it.

In this session we will see different types of application that use AR and VR technology, developed by our members:

ImagineAR is a certified Microsoft Azure partner providing an augmented reality platform that enables sports teams the create and implement their own AR campaigns with no programming or technology experience. Every professional sports franchise can develop interactive AR campaigns that blade the real and the digital world. Customers simply point their mobile devices at logos, signs, buildings, products, landmarks and more, to instantly engage videos, information, advertisement, coupons, 3D holograms, and any interactive content all hosted in the cloud and managed using a menu-driven portal. Integrated real time analytics means that that all customer interaction is tracked and measured in real time. The AR Enterprise platform supports both iOS and Android mobile devices and upcoming wearable technologies. The AR platforms is available as a SDK Plug-in for existing mobile apps.

Immersive.io is a startup working in the field of augmented reality to enhance the sports fan experience. They rely on the latest innovations (like machine learning, computer vision, real-time data) to design new ways for teams and leagues to engage their audience by sharing immersive and interactive experiences with their fans.

Their team has acquired an in-depth knowledge of the sports and gaming industries, their stakeholders, issues, and opportunities. Immersive.io has built a cohesive team of diverse profiles with a strong team spirit and a common shared goal: Build the future of the fan experience!

Orwell VR is an innovative startup and at the same time is a spin-off of AttuStudio, very famous 3D production and rendering studio.

It is a Milan based indie games studio. They make XR/VR/AR videogames and immersive experiences focused on sportification.

Virtual Soccer Zone is Orwell's main product, the first soccer Esport in virtual reality designed for Fan Engagement and Location Based Entertainment.

Ten years of experience in architectural visualization brought their team to work closely with Architects, Photographers, international agencies as Milano Expo2015, Stefano Boeri, Oliviero Toscani and many others.

YBVR is a virtual reality 360 video streaming platform offering an outstanding immersive experience for Sport Live events. A front row experience for tennis, boxing, basketball, football, and more sports are coming. ​

YBVR solution includes monetization of virtual tickets, to enlarge the stadium on demand. Fans can teleport to the match, the concert, or whatever event, at the front row, the best place for every fan. Fans become their own director and can choose what, when, and how to watch live actions. Users can go backward and replay the outstanding plays.

YBVR supports both VR HMDs to provide the best immersion for VR streaming, and mobile devices to ensure everyone can enjoy immersive and interactive experiences. All with a single platform.
Time

(Thursday) 5:00 pm - 6:00 pm