01 Nov

3D Digital Venue Launches New Website with a Fresh Corporate Image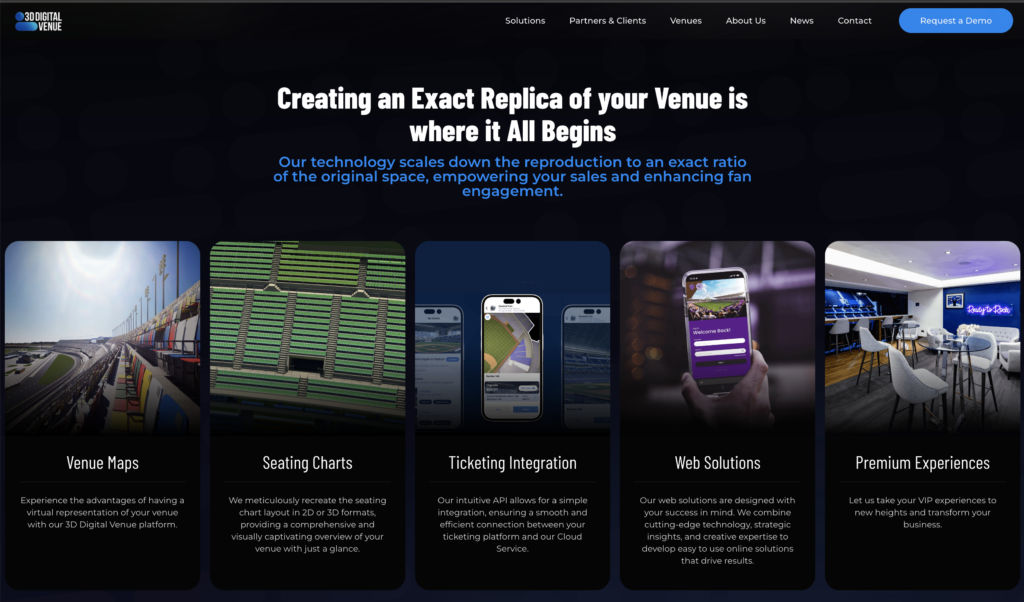 3D Digital Venue is thrilled to announce the launch of its brand-new website, marking a significant milestone in the company's commitment to revolutionizing the sports, performance, and arts sectors.
The new website boasts six carefully curated sections, each designed to offer a deep dive into the diverse world of 3D Digital Venue services and technological solutions. Whether you're looking for cutting-edge innovations in venue virtualization, seamless ticketing solutions, or interactive fan engagement, the company's website is a gateway to it all.
The new website also features a dedicated News section, delivering the latest articles, insightful content, and vital industry updates. For those who crave an in-depth exploration, the Venues section is it go-to. It's no surprise that this has quickly become one of the most-visited pages.
We invite all users to dive into 3D Digital Venue extensive collection of digitalized venues, including world-renowned venues like Real Madrid, Barcelona FC, and Manchester City.
According to Francis Casado, Co-founder and Head of Business Development, "The launch of our new website is a testament to our vision of empowering the future for the sports, performance, and arts industries. We invite you all to embark on a journey of discovery, where technology meets design, and the future of fan experiences unfolds".
Explore the new website here https://3ddigitalvenue.com/