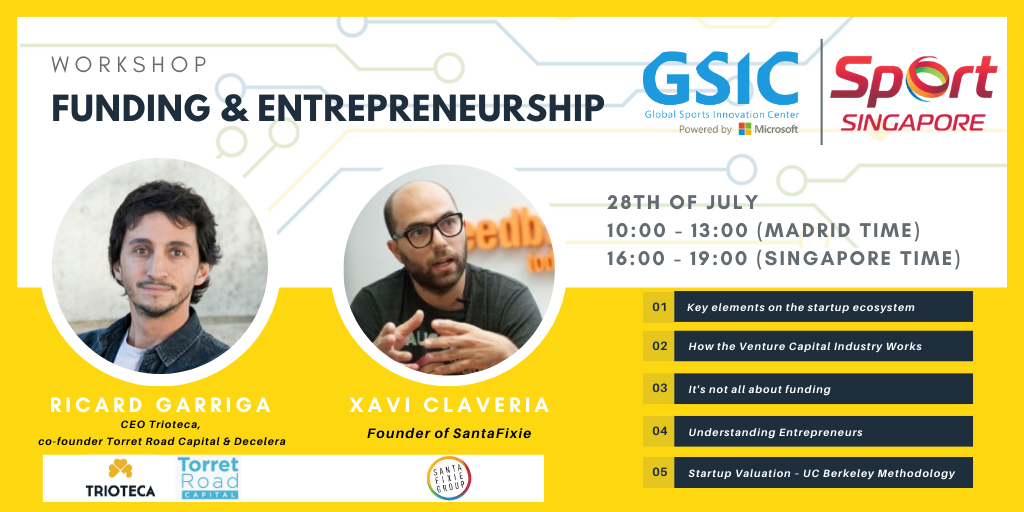 23 Jul

Workshop "Funding and Entrepreneurship"
Description
---
Global Sports Innovation Center powered by Microsoft is pleased to invite you to the workshop on "Funding and Entrepreneurship", organized in collaboration with Sport Singapore.
Next Tuesday 28th of July from 10:00 (Madrid time) / 16::00 (Singapore time) you will have a chance to learnabout:
Key elements on the startup ecosystem
How the Venture Capital Industry Works
It's not all about funding
Understanding Entrepreneurs
Startup Valuation – UC Berkeley Methodology
---
The duration of the workshop is 3 hours and it will be focused on both, startups seeking to raise funding, and on investors who want to understand how to work with startups.
Meet our experts who are going to share their knowledge with you in this workshop:
CEO Trioteca, co-founder Torret Road Capital & Decelera
Passionate about start-ups, investment and talent attraction. CEO at Trioteca.com the digital advisor that helps you to get your best mortgage explaining what is going to happen, managing the relationship with the banks and helping you to make the decision.
He has 15 years' experience in the entrepreneurship ecosystem, starting at La Salle university in Barcelona where he helped raise capital for tech, California as head of strategy and growth in YouNoodle, a Silicon Valley start-up, where he was in charge of open innovation projects for large corporations and talent attraction programs for 7 countries, then founding the new concept of "start-up decelerator" Menorca Millennials which detects global talent in order to invest with its own funding company, Torret Road.
Former event curator 4YFN, SonarplusD, HitBarcelona, bizBarcelona, ZincShower co-organizer TEDxEmbarcadero in San Francisco.
In 2017 and 2018 he was Awarded for Choiseul Academy – TOP100 Economic Leaders for Tomorrow in Spain, 25th and 22nd position.
---
Founder SantaFixie
Entrepreneur – Start-up Mindset – E-commerce specialist – Economist – Member of Barcelona Tech City and very well connected with Barcelona startup ecosystem. In 2012 he founded Santafixie.com, e-commerce specialized in urban and fixie bikes that currently sells in more than 30 countries. After seven and a half years, he resigned as a CEO in order to find new motivations and goals.
It's your chance to meet and learn from two great experts and delve deeper into one of the great factors that all newcomers in any industry face.