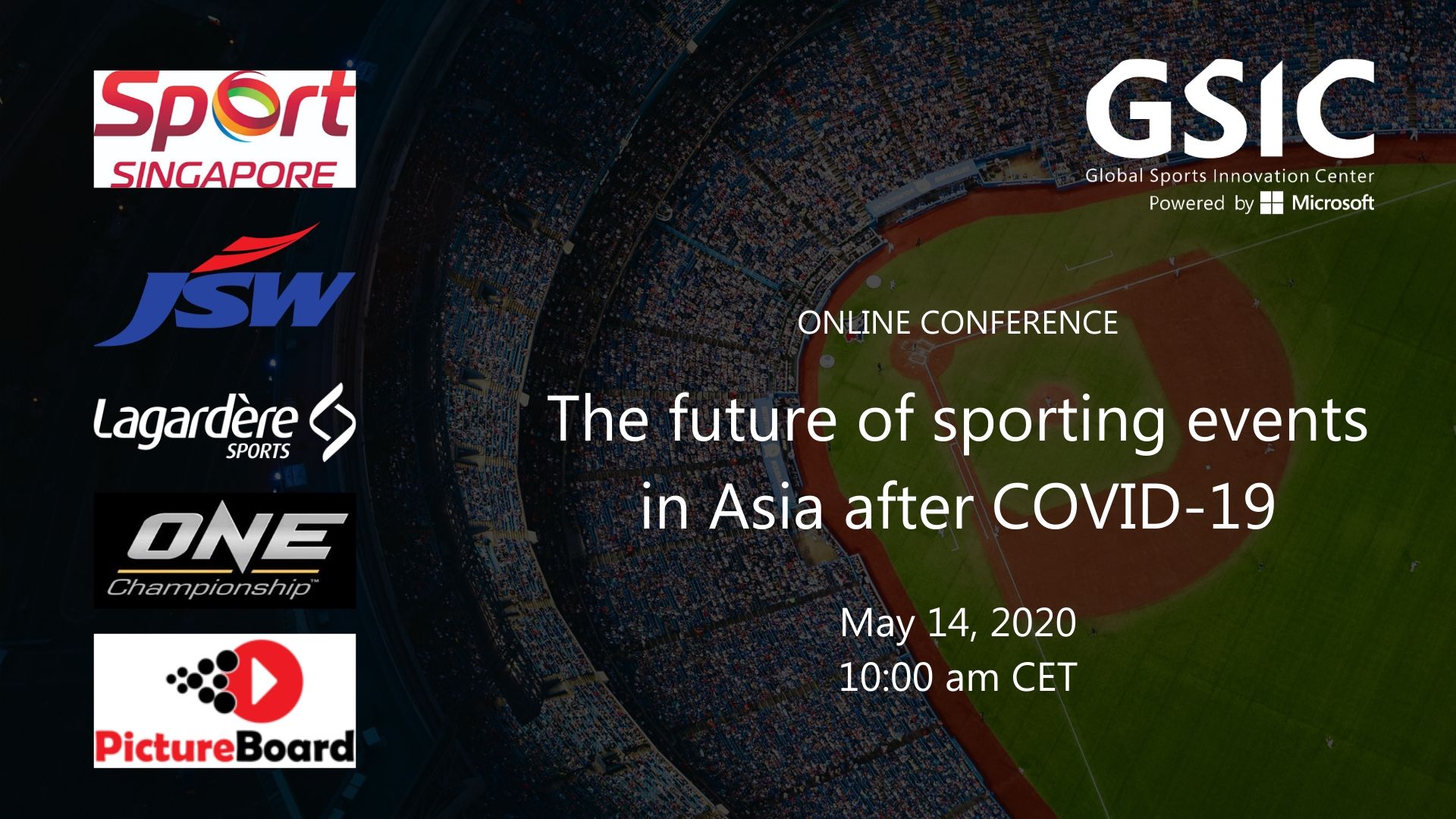 12 May

The future of the sporting events in Asia after the COVID-19 crisis – May 14, 2020
Dear friends,
Lots have been said in the past months about the impact that the COVID-19 crisis is having on the sports industry. While the situation is evolving differently in every country, it is still difficult to affirm with certainty what is waiting for us once all the lockdowns and restrictions are over.
Despite that, all the sports organization worldwide have been working these weeks to come up with an action plan to see what their next challenges are and how they can approach the. Probably, Asia is the most advanced region in this sense at the moment, so we would like to take a look at what is happening there and focus our attention on one of the most worrying topics which is how the sporting events will look after the COVID.
For that, we have invited some of the most relevant sports entities from Asian region on Thursday, May 14 at 10:00 am (CET) to bring up an open discussion with the top-ranked experts.
Unmish Parthasarathi, Founder of Picture Board Partners, GSIC Ambassador
Unmish's love affair with digital video started in 2000, when he was deputed from the London newsroom of Sports News Television (IMG's JV with the Associated Press) to create a wholesale service offering for "portals". Next came a startup, creating Champions League match highlights for six Vodafone markets and Robbie Williams concerts, followed by the iPlayer at the BBC, ESPN Player in Singapore, KL and Hong Kong, BallBall in Indonesia, Vietnam & Japan, and, most recently, selling highlights to the 2019 ICC Cricket World Cup into 140+ countries. eSports is now in focus for this Cricket Tragic, and he's using digital video as a central catalyst to forge partnerships with brands, agencies, media, event venues and fans.
Teck Yin Lim, CEO of Sport Singapore
Mr Lim Teck Yin was appointed to Sport Singapore as Chief Executive Officer on 1 April 2011 after 30 years of command and staff assignments in the Singapore Armed Forces.
At Sport Singapore, Mr Lim developed a new master plan for Singapore sport – Vision 2030, which has consequently set the strategic direction for Sport Singapore's work plans and organizational development since 2012. Vision 2030's tenet on partnering the public, private and people sectors in nation-building through sport has informed Sport Singapore's integrated strategy across mass participation, high performance and infrastructure efforts.
Mr Lim also led and managed major projects spearheaded by Sport Singapore including the delivery of the 28th SEA Games and the 8th ASEAN Para Games in 2015. Under his leadership, Sport Singapore also launched ActiveSG, the national movement for sport, which has attracted over 1.7 million members since its launch in April 2014.
Niharika Singh, Head of Product at ONE Championship
She leads the digital strategy for the company across its owned and operated assets. An ex-McKinsey consultant, she found her true calling in building and scaling businesses when she joined Treebo, a budding travel startup, in 2015. She has worked across strategy, revenue and product in her previous stints and is excited by the possibilities that technology and digital platforms bring to all three of those verticals. At ONE Championship, she is leading the charge on revolutionizing the way fans interact with the company and helping build the ONE Super App into the most loved sports App in the world.
Mustafa Ghouse, CEO at JSW Sports
Mustafa Ghouse was appointed as CEO of JSW Sports in 2012. Since its inception in 2012 as a programme to support Indian Olympic athletes, the Sports division of the JSW Group has added teams in the Indian Premier League, Pro-Kabaddi League and Indian Super League to its portfolio. The JSW Group has also led the establishment of the Inspire Institute of Sport, India's first privately funded high-performance training centre for future Olympians, in Bellary, Karnataka.
Prior to his involvement in Management of Sport, Mustafa was a professional tennis player who represented India at the 2002 Asian Games in Busan, South Korea and the 2006 Asian Games in Doha, Qatar, winning a bronze medal in the Men's Doubles event at the 2002 edition with partner, Vishal Uppal.
Malcolm Thorpe, Managing Director, South East Asia, Lagardère Sports
Malcolm Thorpe has been working in sports for over 25 years in a range of senior agency roles and has specific experience running sports projects in Asia. Malcolm joined Lagardère Sports in Singapore in May 2013, initially working on sports event development for the Singapore Sports Hub and then responsible for business development across the Asia region. In addition to securing projects ranging from stadium consulting to esports, Malcolm is responsible for staging major events, running the media sales division and managing client relationships across the whole business. Malcolm was promoted to be Managing Director, South East Asia in 2019.