01 Sep

ASTN | GSIC Pre-Accelerator Program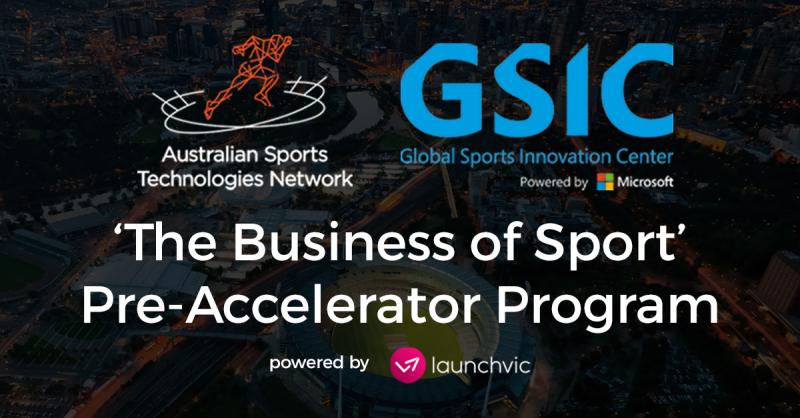 Global Sports Innovation Center (GSIC) powered by Microsoft in partnership with the Australian Sports Technologies Network (ASTN) is to deliver 'The Business of Sport' Sports Tech Pre-Accelerator Program.
The program will be a 10-week cohort based pre accelerator educational program consisting of 6 modules. Two sessions will be conducted each week for a total of 20 sessions. A core focus of the program will support Startup Entrepreneurs to validate their on or off-field sportstech business idea against competitors, vendors and VC.
Based on fielding a number of applications for its well established accelerator which were deemed 'too early', the ASTN identifies a need to work with tech entrepreneurs, students, researchers and practitioners to address the three common themes that appear to only get limited attention early on:
Customer discovery,
Market/competitor analysis,
Business models.
In between each module, participants will have the opportunity to 'Learn From the Best' by participating in interactive Q&A sessions with founders and leaders of leading international and Australian sports businesses who have 'been there – done that'.
Based on the idea that sport is an application rather than a sector, technology applications including software/apps, machine learning, artificial intelligence (AI), block chain, advanced manufacturing, robotics, Internet of Things (IoT), big data analytics, augmented /virtual reality, 3D-printing, advanced materials, genomics & life sciences (including biotech & medtech ) as well as autonomous systems are welcome to the GSIC-ASTN program. As such, 'The Business of Sport' Pre Accelerator Program looks to welcome themes like fin-tech, cyber- security, health-tech, facility & infrastructure, media, broadcasting and government as they find application in sport.

How will it be delivered?
Cohort 1 will be delivered online and continue to be presented in accordance with the COVID-19 restrictions in place during the period of the program. Each selected participant will have access to the Microsoft TEAMS platform for mentor interaction, content and program delivery as well as for an additional period after the program is completed.
In addition to ASTN's domain experts other specific industry specialists include GSIC powered by Microsoft, Pitcher Partners (Finance), Madgwicks (Lawyers), Mik and Joe Creative (Marketing), Sports Tech World Series (Market Research and Validation) and VARCIS Group Ltd (Investment and Asia Market Entry Partner) who actively support program delivery.
Who can apply?
This Pre Accelerator Program is targeted at Start-up Entrepreneurs and founders who have a technology-based idea and consider to establish a business
developing a Minimal Viable Product. Suitable applicants from Victoria will have priority access to this program, but applications from interstate-based entrepreneurs are also welcome.
Applications are encouraged from the following areas;
Software/Apps,
Machine Learning
Artificial Intelligence (AI)
Blockchain
Advanced Manufacturing
Robotics
Internet of Things (IoT)
Big Data Analytics
Augmented/Virtual Reality
3D-Printing
Advanced Materials,
Genomics & Life sciences (including biotech & medtech)
Applications are now open for Cohort 1 and close at 5pm on Monday 14th of September 2020.
---