11 Aug

GSIC and Sport Singapore announce the 10 finalists of Asia Startup Competition

100 startups from 22 countries have applied to participate in Asia Startup Competition
Singapore and India are the countries with the most interest shown in the participation
Team & Player Performance, Health & Wellness, Fan/Consumer Engagement, BI & Analytics are the sports industry areas with most solutions presented to the competition
All 10 selected finalists will do an online pitch for the jury of sports industry experts on August 27
The Global Sports Innovation Center powered by Microsoft (GSIC) and Sport Singapore (SportSG), have joined forces to identify the most disruptive solutions and the latest technologies in the Asia and APAC territory through a startup competition, and launched in the second half of June their Asia Startup Competition.
As a result, 100 startups from 22 different countries submitted their candidacy for this competition aimed for entrepreneurs who can contribute with their technological innovation to the development through the different categories mentioned above.
After a thorough screening process, GSIC and SportSG experts made a selection of top-10 startups that come from 6 different countries (Singapore, India, Australia, Israel, South Korea and Qatar) and offer a wide range of solutions in different fields, with a strong focus on Team & Player Performance, Health & Wellness, Fan/Consumer Engagement, BI & Analytics. Solutions in the category of Mitigation of Pandemics & Public Health, which is one of the values the values that this competition offers to the sector, are also highlighting among the total of the applications.
The ten startups selected for the pitching instance are: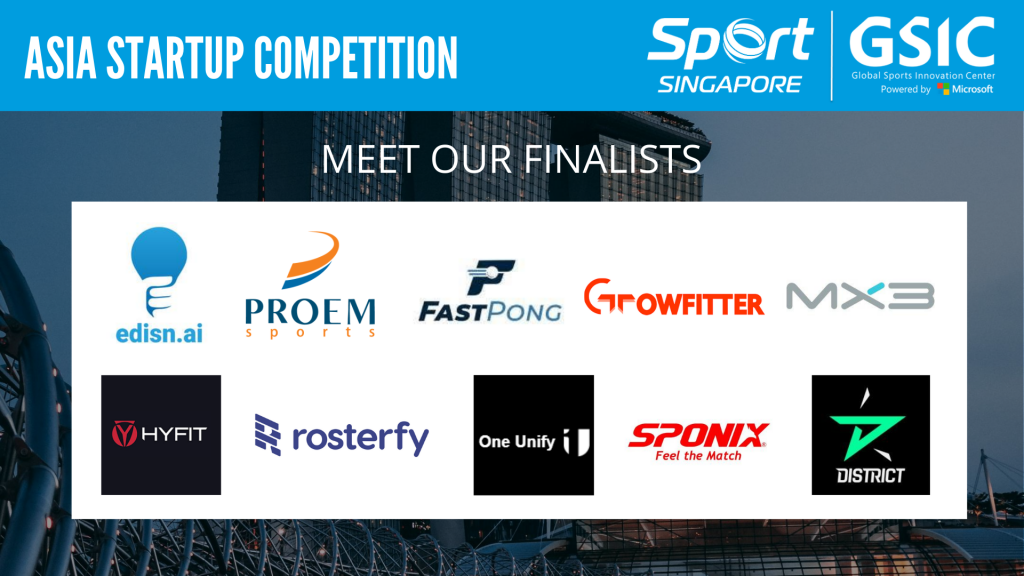 These startups will have the opportunity to pitch their solutions to the industry's most relevant leaders during a special online event on August 27 at 10.00 AM (CEST). The jury, composed by leading professionals from across the global sports industry, will then decide the 3 winners of the competition who will benefit on a set of prizes.
"With this competition we reached our goal of connecting to important amount of startups in Asia and APAC region. The quality of solutions is very high, and we are particularly happy to see that almost 20% of them can help mitigate the current impact of COVID19. We are looking forward for the online pitches and the award of the 3 winners who will get access to the GSIC, a full scholarship for the Masters in Digital Transformation that GSIC Institute organizes along with ESBS European Sports Business School, and most importantly, a possibility to do the pilot with Sport Singapore", says Iris Córdoba, General Manager at GSIC.
Another valuable prize that all the 3 winners will obtain, is the access to Microsoft for Startups program, where they can get benefits from technical resources and free Azure cloud, to selling alongside Microsoft salespeople and partner channel, we invite you to apply now.
CEO of Sport Singapore Mr. Lim Teck Yin adds that "SportSG is pleased to collaborate with GSIC to host the inaugural Asia Start-Up Competition. Through our alliance, we look forward to engaging with creative talents in discovering disruptive, innovative solutions to transform the sporting landscape and enable collaborative opportunities for the sport industry."
Next steps
All the 10 selected startups will do their online pitches for the jury on August 27 during a special event organized by GSIC and SportSG.
The jury of the Asia Startup Competition is formed by important personalities in the industry in Asia and APAC, such as Iris Córdoba, General Manager at GSIC, Sebastián Lancestrémere, WW DT Partnerships & Sports Industry Managing Director at Microsoft, Thomas Lim, Deputy Chief Industry Development at Sport Singapore, Mustafa Ghouse, CEO of JWS Sports, CK Lee, Head of Sports at Astro, Ayesha Khanna, CEO of ADDO AI, Chris Robb, CEO of Mass Participation World, Unmish Parthasarathi, Founder & Executive Director of Picture Board Partners, Niharika Singh, Head of Product at ONE Championship, Iván Codina, Managing Director SEA at LaLiga, Marissa Pace, Chief Marketing Officer of World Rugby, Karim Benslimane, ICT Director at Sportshub Pte Ltd, Damien Thompson, Senior Manager, Technology Strategy & Data at Cricket Australia, Aslam Sardar, VP Enterprise Learning at ST Engineering.
After the startups pitches part, the event will continue for all the startups who had applied to participate and they will have an opportunity to hear from our jury about what they expect from working with a startup and which challenges their organizations have.
CALENDAR
Online pitch: August 27, 2020
Winners announcement: August 31, 2020