02 Sep

Winners of Asia Startup Competition Announced

The Global Sports Innovation Center powered by Microsoft (GSIC) and Sport Singapore (SportSG), have joined forces to identify the most disruptive solutions and the latest technologies in the Asia and APAC territory through the Asia Startup Competition , launched in the second half of June.
As a result, 100 startups from 22 different countries submitted their candidacy for this competition targeting entrepreneurs who can contribute with their technological innovation to the development through different areas impacting the sports industry.
After a thorough screening process, GSIC and SportSG experts made a selection of the top10 startups that come from 6 countries (Singapore, India, Australia, Israel, South Korea and Qatar) and offer a wide range of solutions in different fields, with a strong focus on Team & Player Performance, Health & Wellness, Fan/Consumer Engagement, BI & Analytics. Solutions in the category of Mitigation of Pandemics & Public Health, one of the value-added areas that this competition offers to the sector, were also prominent among the applications.
These startups had the opportunity to pitch their solutions to the industry's most relevant leaders during a special online event on August 27 and the jury, composed by leading professionals from across the global sports industry, decided the 3 winners of the competition:
Edisn.ai (India)
It's an AI powered fan engagement and monetization platform for live sports and other video content. The only company in the world that can recognize players on screen on a live sports video in real-time, without the need for cameras in stadiums or chips on players. This enables fans to click on recognized players and see stats, social content etc. on demand. They can also enable content owners to drive additional monetization via sports betting odds, merchandise and contextual advertising.
Rosterfy (Australia)
Rosterfy exists to connect communities to events and causes they are passionate about through our workforce engagement solution. Rosterfy reduces the amount of time workforce managers spend in spreadsheets and manual processes, as well as increasing the retention, engagement and attendance rates of our client's volunteer database. Their scalable technology streamlines the previously manual process of workforce management for organizations all shapes and sizes from the Super Bowl to tin rattlers for local charities.
Sponix Tech (Qatar)
Sponix Tech is a technology company that provides solutions and services which helps broadcasters, TV channels and advertisers increase viewers and enhance fan experience. They have developed purely software-based technologies that can produce these outputs without even single hardware installation in stadiums. 1-Immersive Replay videos, and 2-Virtual Ad. Today, production of similar outputs requires huge investment in infrastructure installed within the stadiums; including special cameras, sensors, servers, and billboards. Their outputs have high capex, high maintenance costs, low scalability, and very limited market traction since it cannot work with multiple games at a single time.
---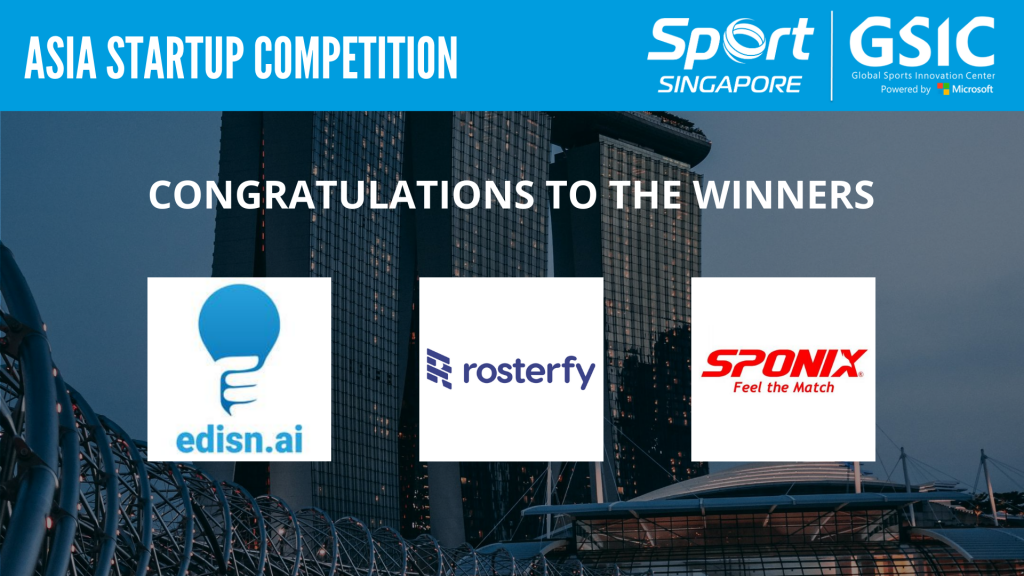 ---
Deputy Chief Industry Development of Sport Singapore Thomas Lim says: "Congratulations to the winners and thanks to all who participated in the competition. This competition brought industry leaders and innovators together and enabled the discovery of unique ideas and promising startups who reflect the spirit of innovation that we wish to foster. My appreciation and thanks to our valued partners GSIC and Microsoft for their efforts in making this inaugural Asia Startup Competition a success."
"Thanks to the Asia Startup Competition, ten innovative companies had their opportunity to make their solutions visible to some leading professionals for the Asian market, and now, 3 of them will have the opportunity to explore synergies individually with Sport Singapore, and thus have the opportunity to launch pilots in one of the most important sports organizations in the region. From GSIC powered by Microsoft we will help them at this stage incorporating them into our members network where they can benefit on our activities and ecosystem, as well as have possibility of accessing Microsoft for Startups program.", says Iris Córdoba, General Manager at GSIC.