29 Jun

ECAL – Effective strategies for pre-release fixture promotion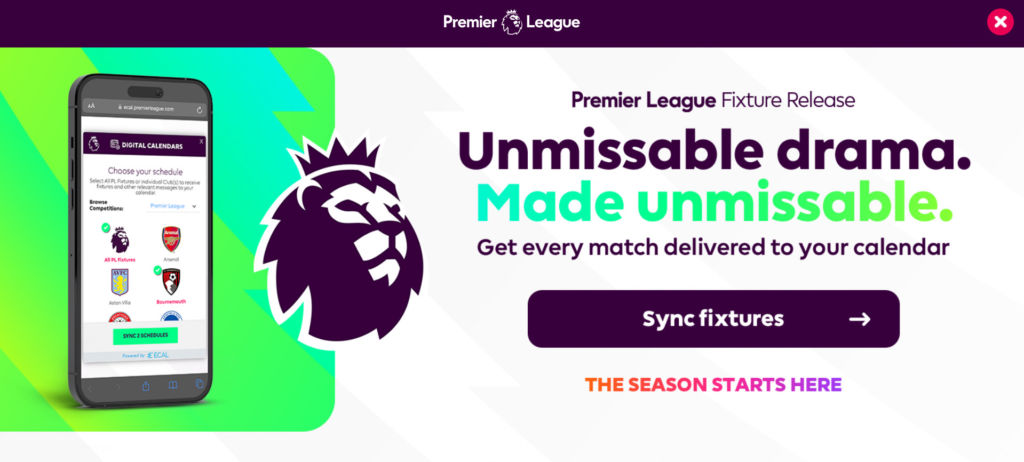 Pre-release promotion for fixture release events is a valuable strategy that sports organizations employ to build anticipation and fan engagement. By generating hype and excitement before the actual release, teams and leagues can maximize the impact of fixture announcements and create a heightened sense of anticipation among supporters.
One key advantage of pre-release promotion is the opportunity to capture fans' attention and generate excitement in advance of the release date. By teasing the upcoming fixture release through various marketing channels, such as social media, email newsletters, and press releases, sports organizations can pique fans' curiosity and create a sense of anticipation. This early engagement ensures that fans are eagerly awaiting the fixture announcement, building excitement, and generating conversations among supporters.
To effectively run pre-promotion campaigns for fixture release events, sports organizations can leverage various strategies. One effective approach is to create teaser campaigns, where small glimpses or hints of the upcoming fixtures are revealed through captivating visuals or cryptic messages. Teasers can be shared on social media platforms or through dedicated microsites, encouraging fans to speculate and generate discussions around the potential matchups.
We have seen success at clubs like Aston Villa who use pre-release 'GET READY' messaging across their marketing channels, which evolves into 'Sync Now' and then 'Never Miss A Match' as the promotional stages move through.

Though seen less frequently in these campaigns, interactive elements can be incorporated into the pre-promotion strategy. Fan polls, quizzes, or contests related to fixture predictions can encourage fan engagement and create a sense of involvement. This not only generates excitement but also allows organizations to gather valuable insights and feedback from their fan base.
The early promotion of fixture release events is a valuable strategy for sports organizations to generate excitement and engage fans. At ECAL we have recently seen successful campaigns run by the Premier League and some Premier League clubs lead to a considerable increase in 'Sync to calendar' subscribers during the recent fixture release, a trend that is continuing with the ICC as they announce their fixtures for the upcoming ICC Men's Cricket World Cup in India 2023.