30 Mar

EliteFit.AI is now part of the exclusive league of IMDA SPARK approved ICM companies!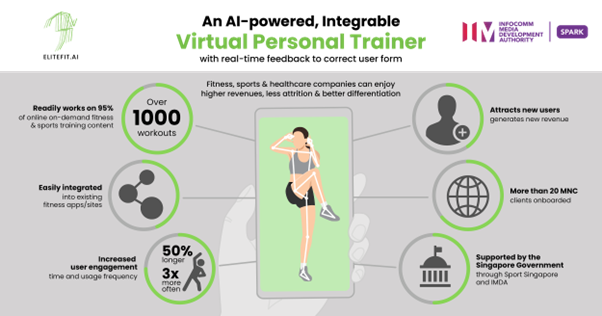 EliteFit.AI is a Singaporean B2B2C startup enabler between companies, end-users and the growing demand for virtual personal training solutions. Through the clever use of computer vision to track an individual's personal training, it provides real-time prescriptive feedback and accuracy scoring on end-users' posture and technique – all without the need for special wearables or equipment.
We are thankful to have been well-supported by GSIC, and are recently accredited by IMDA SPARK programme which primarily aims to support selected few Singaporean-based ICM startups with high-growth potential towards the creation of a vibrant, collaborative ecosystem and network within the region.
The IMDA SPARK Programme provides support through 3 key objectives: growth support for promising ICM Startups; providing startups with pitching opportunities; and building a vibrant ICM community that inculcates peer-assisted problem solving and collaborative partnerships within the ecosystem.
Startups must prove the following capabilities to be IMDA SPARK certified:
Technical capabilities – Across functional, performance and security
Financial capabilities – Sustainability for minimum 12 months.
Operations capabilities – Across operations, service delivery & support.
This accreditation affirms EliteFit.AI to be a capable, stable and trustworthy company. Clients can be assured when working with us – and it is already in motion as we speak!
We are pleased to announce that we have happy clients globally that have successfully integrated our virtual trainer software to attract new users, reduce churn and generate new revenue by enabling premium pricing for this valuable AI-powered virtual personal trainer, anytime, anywhere!
Stay tuned for our successful client integration features in next month's post!