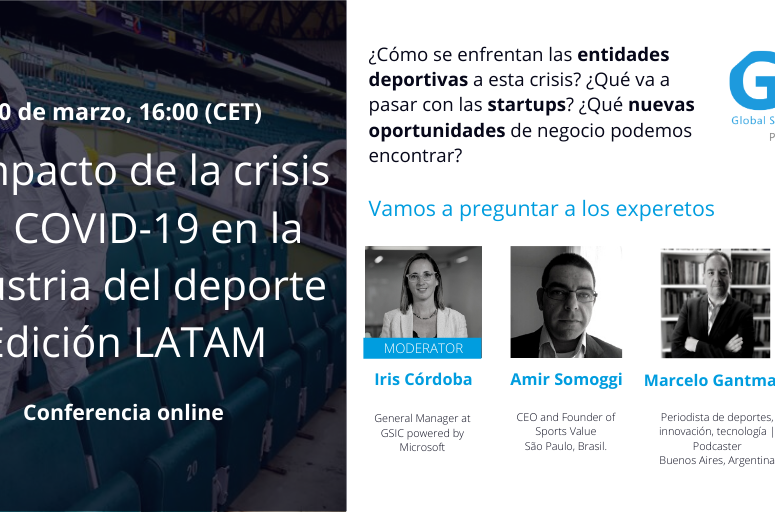 27 Mar

ESP – The impact of the COVID-19 crisis on the sports industry – LATAM Edition

Estimados amigos,

Durante las últimas dos semanas, todos hemos experimentado muchos cambios significativos en nuestras vidas personales y profesional. En los últimos días, muchos eventos de la industria fueron cancelados o pospuestos, las competiciones suspendidas o reprogramadas, las ligas y los clubes anunciaron importantes pérdidas de ingresos. Además, muchas startups y empresas tecnológicas tuvieron que encontrar nuevas formas de adaptar sus modelos de negocio y estrategias comerciales para sobrevivir en este período difícil.

Sin embargo, muchos pudieron reinventarse y resistir esta crisis, muchos se han unido para enfrentarla. Hemos visto surgir un gran número de iniciativas importantes en toda la industria del deporte y el próximo lunes 30 de marzo a las 16:00 (CET) queremos plantear una discusión abierta sobre todo lo que está sucediendo en este momento en el mundo y cómo está afectando nuestra industria.

¡Súmate a la conferencia online en ESTE ENLACE!

También puedes registrarte en ESTE ENLACE para recibir una invitación a tu calendario.

Esta actividad sigue a la que llevamos a cabo el 27 de marzo hablando con los profesionales de la industria en la región de Asia y esta vez nos proponemos la conversación con los expertos de LATAM.