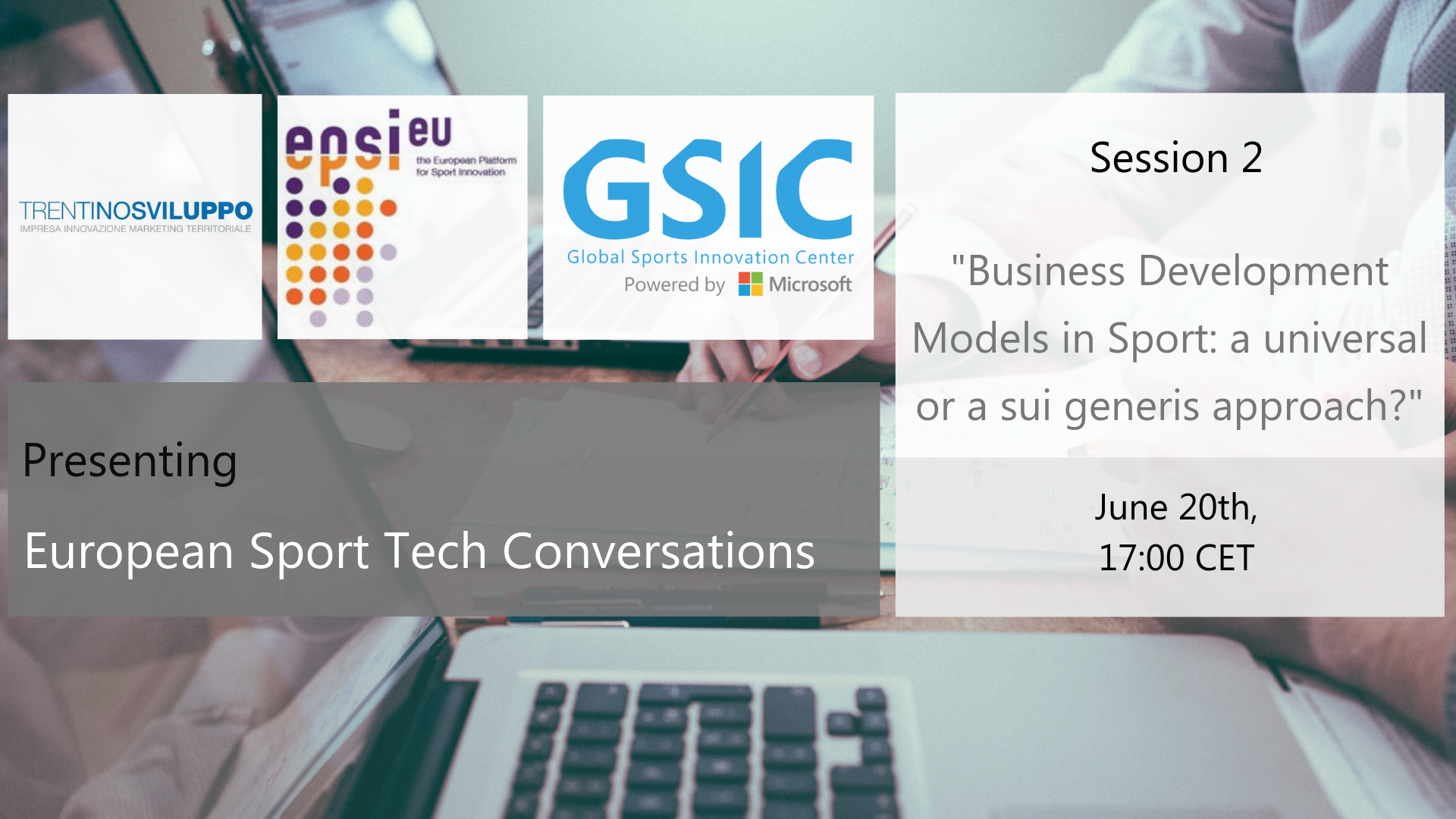 20 Jun

European Sport Tech Conversation: innovation & business development in sport(s)

The Global Sports Innovation Center powered by Microsoft (GSIC), the European Platform for Sport Innovation (EPSI) and Trentino Sviluppo organized the second European Sport Tech Conversations, exclusive online events that will help to disseminate knowledge on the most important and trending topics of the sports industry, provided by the most relevant stakeholders and experts in big data, IoT, blockchain, eSports, Cybersecurity, fan engagements and much more.

The second session focused on "Business Development Models in Sport: a universal or a sui generis approach?" with two complementary presentation by Ramiro Torres (Project Manager of The Original Inspiration Centre by LaLiga supported by GSIC – Spain) and Michele Napoli (Head of Business Development, RCS Sport – Italy).

Ramiro talked about the vision of LaLiga in digital transformation and innovation in the industry and the creation of the Original Inspiration Center by LaLiga supported by GSIC. "Sport is part of the entertainment industry and the world is our pitch" – stated Ramiro, who explored the possibility of extending the 'beautiful game' beyond the 90-minutes and making it a personalized experience via a process of social innovation. The attention to generate grow and demonstrate the impact in the industry with business solution was part and parcel of his presentation.

Iris Córdoba, the General Manager of the Global Sports Innovation Center powered by Microsoft commented that "At the GSIC we are committed to support digital transformation processes of the companies and entities creating joint open innovation projects that help to detect the most disruptive technologies that can add them value. Forming part of LaLiga's initiative allows us to reduce the gap between big sports entities and small companies and create new business opportunities for them."

"Ramiro illustrated how we can use the data in order to create knowledge and business opportunities. Personalized innovation processes are key – and we are creating through the European Sport Tech Conversation a virtuous platform for action. We need to explore and expand the digital and real possibilities of collaboration for private-public partnership" – commented Alberto Bichi, Executive Director of EPSI (European Platform for Sport Innovation).

With a focus on cycling and the paradigmatic example of Il Giro d'Italia, on the other hand, Michele exemplified the innovation and the business development practice of RCS Sport. A leading authoritative excellence in Italy and internationally, RCS Sport is a sport and media company with a specific core business.

Laura Maffei, General Mager of Trentino Sviluppo affirmed "With Michele and his testimony we have seen how an institution and a tradition like Il Giro d'Italia innovates with creativity and genius. It's hard to say whether technology will bring a universal approach to sport innovation, but we are certain that there will not be a 'business as usual approach', as the innovation revolution has already arrived to sports. The example of the virtual tour of Giro d'Italia is a special case in point. Through the European Sport Tech Conversation we are trying to be inventive, to face the challenges of sport and to aggregate the eco-system through an open innovation philosophy. This presentation really captured the essence of our work".

The European Sport Tech Conversations are an intellectual exploration, an innovation-driven reflection and a forward-looking future-oriented vision for our eco-system. This is a space for the dialogue between the speakers and participants where everyone can share their points of view, their expertise and experiences.