30 Mar

Gérard López Fojaca's Involvement with Better Fan as Advisor and Investor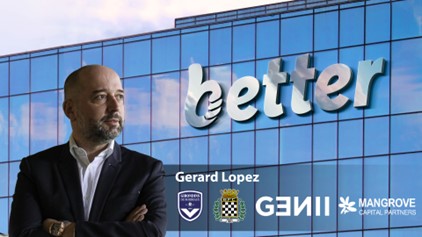 Better Fan is revolutionizing sports betting with its Web3 Predict and Earn game ecosystem. The platform aims to transform traditional sports betting by offering a risk-free experience that encourages responsible gaming, empowers users, and fosters community among sports enthusiasts. It allows users to predict outcomes of real sports events and rewards them with tokens for correct predictions.

Gérard López Fojaca, a Luxembourgish-Spanish entrepreneur, has joined Better Fan as an advisor and investor. López has an extensive background in technology, energy, and sports, making him an ideal candidate for this role. He is the co-founder and chairman of Genii Capital and has been the owner of French club FC Girondins de Bordeaux and Portuguese club Boavista FC since 2021. From 2009 to 2015, López was president of the Lotus F1 Team. In 2022, he launched The Lydian Group, a tech conglomerate operating in the digital assets space.

López's experience in various industries, especially sports, positions him to provide valuable insights and guidance to Better Fan. His investment in the company demonstrates his belief in the platform's potential to reshape the sports betting landscape. López's involvement will help Better Fan further its mission of turning sports betting into a Predict-to-Earn game, offering users a thrilling experience without the risk of losing money.

With Gérard López Fojaca's expertise and support, Better Fan is poised to transform the world of sports betting, creating a more responsible and engaging experience for fans.