02 Feb

Have you met…Danny Cortenraede? – Smarter communication with fans, state of industry and fan engagement insights for 2021

Innovation and technology are redefining all industries, and sport is no exception. Today all organizations are immersed in the digital transformation by making it part of their day to day processes. In the sports sector we see it reflected more intensely in areas such as teams and athlete's performance, data analytics, smart stadiums, media and broadcasting, sponsorship, and above all, in what makes this industry move with passion and emotion: the fans.

This month we spoke with Danny Cortenraede – Serial Entrepreneur, experienced executive with a successful track record of building high growth companies and investor – to summarize how 2020 finished for sports entertainment industry and get some insights on what we could expect in 2021.

Q: Danny, 2020 was a difficult and unusual year for all of us, and especially for the sports entities. Let's take stock of the year in terms of fan engagement.

A: What I saw when COVID-19 hit in the first months is that sports entities needed to react quickly in order to change and adapt. However, a lot of leagues, teams and entities were not prepared. Only about 13% were prepared – which is logical. The primary change that occurred was games without fans, which is a significant turn for all of sports. For example: looking at the MLS, 60-70% of their revenue comes from ticket sales, which is a big portion of the revenue that was no longer coming in. So many of the primary adaptations were regarding how to interact and engage with the fans despite them not being able to attend stadiums in person. Sports entities needed to figure out how could they approach and still talk with the fans. Therefore, it made a lot of sense to talk to the fans via massive social platforms.

However, all the major leagues and entities needed to keep thinking about other ways to communicate with their fans, which can be implemented post COVID.

No doubt, 2020 has encouraged and increased the digital transforming process of the sports industry.

Q: Regarding communication with the fans. How did last year change the relationship between fans and sports entities?

A: Normally sports provide matches and games, which checks the important aspect of physical contact that is needed between the fans, players and teams. But because all of that came to a sudden halt, sports entities had to rapidly change their method of communication. The primary method is of course through social platforms such as Instagram, Facebook, Tik Tok, etc. However, entities had to also provide smarter and more technologically advanced channels of communication in order to differentiate themselves from other teams. Smarter ways also means using and analyzing the data that was collected and doing something with that.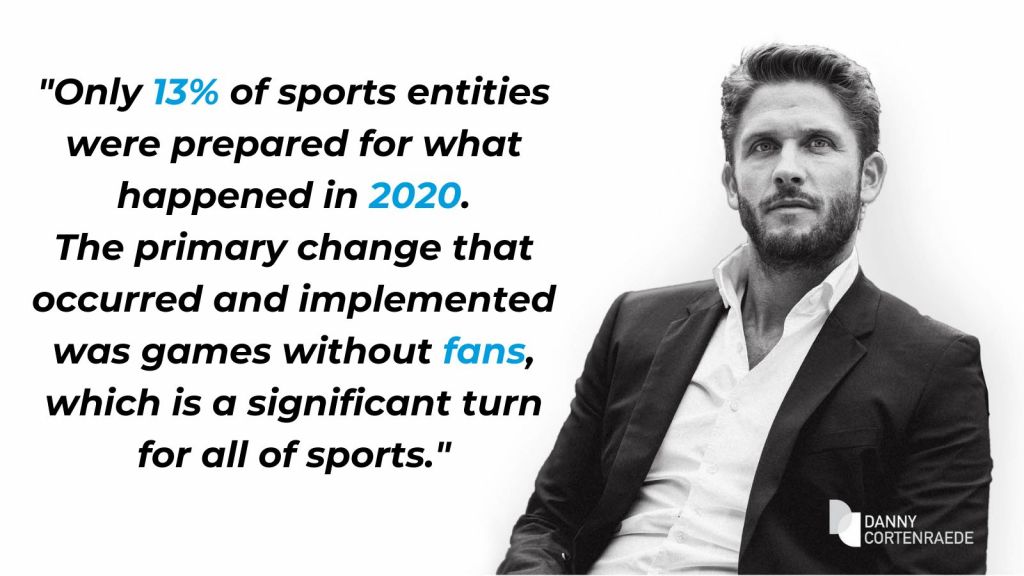 Q: And how the year ended for you?
A: Due to the fact that some of the big campaigns we had planned with our partners were postponed, we had to think and understand what we can do now. However, we are lucky that we are in a digital space. I have also a few more interesting ventures that are in the process of being launched.
Q: What was your highlight / favorite thing that happened last year related to what you do?
A: My favorite thing was the fact that in sports we were still able to do things like the "Bubble" in Orlando in the Disney Complex, because the sports industry was able to manage the situation and allow athletes to play and compete. Of course, it was a pity that fans could not be there to experience the big wins, however it was great that we were still able to do this. It was also great being involved and being able to help with those things.
Q: Let's talk more about your projects and what you are currently working on. You have the biggest sports community in the world with 433 (https://www.by433.com/en). Can you provide some insights on how you've built it and managed to make it grow that much?
A: We started the company almost 6 years ago on Twitter and what we did is really tap into the soccer community but from the position of being "with the players." It's not the standard journalism because if you look, there's so much media going on in soccer and that was not our thing. "The Locker Room Fun" is how it started and that's how we delivered the content. As I said, we started on Twitter but then changed it really fast to Instagram. We were actually one of the first on Instagram and we started in Dutch but then changed it to English which was a better choice. Then we started building our strategy. One of my partners was an ex soccer player so he had connections to players. We started asking questions not questions, like "why didn't you score?", but rather from the position of being with the players. For example, what the players are truly talking about, how the game went when they are in the locker room. And that's what people also want to see. Nowadays we have 55 million combined followers and 5 billion views per month so it's still growing.
Q: This is a clear example of how to generate fan engagement through unique content. How much of an influence do you think the direct relationship you have with the players has had in driving this content?
A: We have the access to all the athletes because we have that connection with the players through friends of ours. That allows us to build a relationship with them. It's a relaxed environment rather than the official reporting style, so the athletes feel comfortable and that works very well. The consumers also feel that "vibe" on our channel.
Q: 433 recognizes different trends such as Women's sports and Esports, so how important do you think it is to identify those different trends on the market?
A: Super important and it's high on our list. It is really a part of our strategy for the next couple of years. For example, if you talk about women and Nike and Adidas, it is a really important subject. We would like to have a specific channel for that where you can see the content for women's soccer. Regarding Esports, we would like to become the biggest Esports platform in the world. We believe it is very huge and you can't ignore that.
Q: That probably would be one trend for fan engagement this year. What about others? What would you recommend sport entities to focus on in 2021 when it comes to building relationships with their fans?
A: Just in general, if you look at the holistic approach or ecosystem in the sports industry, of course digital transformation is the main topic.
That's really about how you can help on a strategic level, and as a partner with us to help with digital transformation I think there are a couple specific topics clubs, for example, and them wanting to have different kinds of revenue models and that is where we come in and help to start think about it. That could be topics such as: micro transactions, or women's sports, Esports, Gambling among other hot topics in the sports industry. Then thinking about what you can do with those billions of fans of large clubs like Manchester United in a non-traditional way. For example, giving fans access to special content by paying, let' say, 99 cents to a Netflix based subscription model where they can get access to various content from different kind of clubs. So digitally transformative ideas like that. Therefore, my advice would be to focus on that and be on top of that innovation.
Q: If we talk about entrepreneurs and startups, since last year many of them were significantly affected, what are the trends this year? For example, if someone wants to launch a startup and comes to your new platform, what would be the trends for them – regarding innovation that has chances to grow this year?
A: There are a couple of places where we can see opportunity to grow within sports tech, I think in general looking for your white space you have to focus on what is your expertise and what are you passionate about. Fan Engagement is offering a lot of opportunities, and it would be a leverage if you can come up with a good solution not only for during COVID but also for post COVID. VR could be one of the opportunities. You have an example of what the NBA did with VR during COVID as well as other leagues following in their footsteps. I think there's an opportunity with how you can manage it and make it interactive or add animation and truly give the fan that they are part of the game or event since they cannot physically be there. The gambling industry will also explode.
Q: Can you develop more on gambling? How can sports entities engage with the fans through something like gambling – especially with it being a bit controversial?
A: In markets like the United States we see an opportunity with gambling. For example, if people are watching games via VR, you can include gambling aspects during the game so that the fans can be engaged in a more intense way. In addition to this, in Esports there is also a gap which can be tapped into regarding gambling.
Q: What about new and upcoming projects that are in your plans in 2021?
A: We launched a venture studio, InStudio Ventures which is really about seeing that a lot of people want to be an entrepreneur these days, however, it is very difficult. Therefore, we are launching the venture studio which allows us to combine what we have learned in the past few years and building successful companies on a global scale and having specialists. As well as that on the other hand, having a fund. To help a company become successful we don't want to lead the company, but rather to help companies grow in the sports industry and to achieve their goals. In addition to this, we will use our own fund to help startups become successful companies. And not just giving the start up $1 million, but rather working in milestones where they will receive financial rewards by achieving their KPIs by the end of each period.
This allows us to help new founders that have really innovative projects in sectors like fan engagement among others. Where we tap in is to help build and scale those companies. We are launching projects like this with a partner that is part of one of the biggest sports brands in the world. You will have more details on that very soon.