29 Apr

Have you met…Jorge Coll? – Education as a key to professionalization of the sports industry

Jorge Coll

is a professional in sports and training, expert advisor in sports events, marketing and sports sponsorships. Director of sports projects and teacher at universities in Spain and France.

With more than 15 years of experience as an entrepreneur in sports and training projects in Spain, France, Brazil, Colombia, Saudi Arabia, China, Sweden, Guatemala and Costa Rica. Director of university, face-to-face and online educational products in sports and sports management for Valencia CF, Juan Carlos Ferrero Equelite Sport Academy, FEDDI (Spanish Sports Federation for people with Intellectual Disabilities), Levante UD, CV Tennis Federation, CV Judo Federation , Pitu Losada Padel Academy and for business schools such as Inede Business School and AMOS Sport Business School.

This month we interviewed Jorge to learn more about the importance of education in the sports industry, what professions, knowledge and skills are requered on the sports tech martket today and what is new in the collaboration between ESBS and the GSIC.

Question: Jorge, tell us a little bit about your background and professional experience: where do you come from, what have you been working on throughout your professional career and how did you end up working in the sports industry?

Answer: I've always been very passionate about sports. I studied Business Management and did a master's degree in International Relations and Marketing in Spain with a short stay in France. My professional career has always been linked to entrepreneurship, both in the world of education and in sports. I have had the opportunity to create an educational project in 2009, as well as, I have had the fortune of having worked in activation of sports sponsorships, such as the case of the multinational solar energy company "Jinko Solar" that was the main sponsor of Valencia CF and the San Francisco Forty Niners, as well as sponsor of the German Football Team.

I think I am very fortunate to get up in the morning and be able to work in a business school specialized in sport, collaborating with sports organizations around the world, with the main objective that people passionate about sport like us, can turn their passion into their profession.

Q: How important do you think education is for the sports industry?

A: Education can transform, make people evolve, and thus grow any industry, in my opinion. The importance of education is high, since it can define a society as well as a sector, and it measures their competitiveness. The professionalization of the industry is essential to compete, and from there business schools, with our practical approach, have the challenge of generating value to this industry.

Q: What is the market demand nowadays? What kind of professionals and what skills are required by sports entities?

A: It is an important question that we try to answer at ESBS, in order to meet the needs of both the organizations that hire our students, and the organizations that need this talent to grow.

There is no doubt that demand is always changing. We are talking about an industry that is generating more than 414.000 jobs in Spain and that contributes to 3,3% of the Spanish GDP, according to the PwC and Fundación España Activa in 2020.

From our experience, the sports industry requires more and more professionals prepared to respond to a changing global and technological environment.

Professionals with a hybrid profile, with technical and management skills, who are capable of making strategic decisions. Organizations are increasingly valuing soft skills, such as adaptability or teamwork, as well as knowledge of data analysis and digital transformation (big data, data analysis, connected stadiums, NFTs, fan engagement), all from a perspective global, where knowledge of languages is decisive.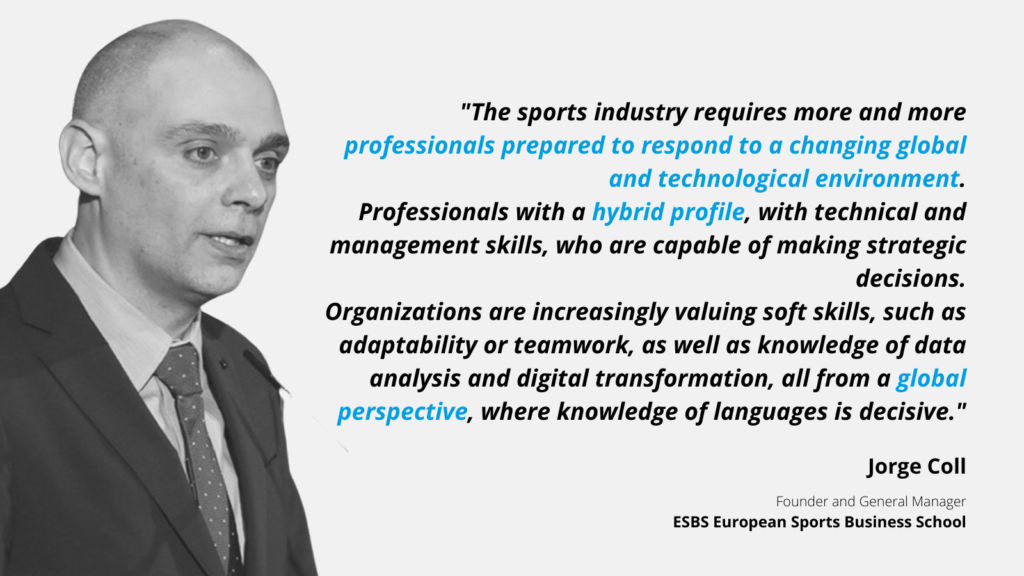 Q: How did ESBS come about and what does it offer today?
A: ESBS is the answer to the need to share and generate knowledge, skills, and experience in the sports industry.
In 2009, we detected, that managers in the sports industry needed to be in constant growth, given the complexity of the industry and that sports organizations were demanding talent. We started from within the industry. Valencia CF commissioned us to develop the Valencia CF Foundation Training Center, to develop and train talent.
By doing this, we have managed to be among the best sports management programs in the world, being named the best Master of Sports Management in Spain for three consecutive years, in 2017, 2018 and 2019. Third best master in sports management in Europe in 2018 and getting to be number 13, among more than 100 programs in Sports Management worldwide valued in the specialized ranking by SportBusiness.
In 2018 we went one step further by initiating a project to address the training in digital transformation of sports entities, which is generating so much employment in the industry. And we could not have had a better partner in this challenge than the Global Sports Innovation Center (GSIC) powered by Microsoft and its entire ecosystem.
We are currently part of a global educational group, and the digital transformation program in this edition 2021 – 2022 has 70 students.
We continue to grow and this year, we have more than 80% of international students, of 37 different nationalities and a very important point for us, the percentage of employability of our students exceeds 86% at the end of our programs.
For the next academic year 2022 – 2023, we inaugurate our second campus in Spain, in the city of Madrid, located on the Paseo del Prado, a project that makes us very excited and that would make up the 16th campus of the group in Europe.
Q: How and why did the collaboration with the GSIC Institute arise?
A: From the study of the environment and the needs of the industry, we detected that digital transformation was a trend and that it was going to revolutionize the productive sectors and especially the sports industry. It would be a paradigm shift that organizations had to join before being left behind and that is where, fulfilling, we decided to provide the industry with the training the necessary talent for this challenge.
In 2015, after the launch by Microsoft of the GSIC in Spain as its first world headquarters, we thought that there could not be a better partner to start this project and together we created the first Master's in Digital Transformation in Sports Entities in executive and junior format which runs under GSIC Institute initiative.
This year, in the 2021 – 2022 promotion, we have 70 students enrolled in this program.
A specialized program that prepares students to be introduced into organizations and help their digital transformation from minute one.
Q: Now we have degrees with the French business school AMOS Sport Business School. Can you explain what your alliance consists of?
A: For more than 10 years ESBS and AMOS have collaborated closely in the development of educational and exchange programs in the sports industry.
This year we have joined the same group, becoming the leading business school specialized in sport in Europe, with 15 campuses and more than 4.000 students studying sports management programs.
Within the synergies and based on our values of global vision, teamwork, sustainability and technology we created a double title, between the Global Sport Business Master, official European title (French RNCP 7) and our Professional Master in Digital Transformation of Sports Entities GSIC powered by Microsoft. This was done to cover the need for professionals who know data analysis and digital transformation in organizations, an increasingly latent need in the industry, which we detect together with sports companies and organizations.
Joining an international group reinforces this globality in our specialized training in management, innovation, and sport, where the student can have agreements with more than 1300 companies and sports organizations around the world.
Q: Name 5 reasons why you would choose Global Sport Business Master.
It's a professional master's program, global, and with a practical approach. Students opt for a double degree, one GSBM European title RNCP 7 French, and a private certificate in Digital Transformation issued by ESBS and GSIC.
The possibility of studying the program in three venues: Madrid, Paris, or London, with the possibility of carrying out 4 to 6 months of paid internship in international sports organizations.
Knowledge of processes and global sports management: through in-situ and practical knowledge, making three academic trips to cities on three different continents (Europe, America, and Asia).
To have GSIC powered by Microsoft, the reference center of innovation in sport and with its ecosystem with more than 450 companies and professionals.
It is a program designed and lectured by professionals in the sports industry.
Q: What advice would you give to someone who wanted to start their professional career in the sports industry, both young people, and professionals who want to change their career path? In which areas, trends, etc. should they focus their attention?
A: It's a very interesting question, because working on something you're passionate about makes your life a much more enjoyable journey, both professionally and personally.
The first thing is to be honest; you must be passionate about sport to feel happy in this industry.
In reference to the areas, the greatest opportunities are in the area of operations, in marketing, especially in the area of data analytics, in sponsorships and fan engagement, as well as in digital transformation, transversal to any area of the organization, from operations through smart venues, or in the organization of events with processes such as cashless, that can reduce the carbon footprint, among others.
Q: What's next for ESBS? What are your plans for this year?
A: The opening of the campus in Madrid, which makes us very excited, as well as increasing the ties of connection between the industry and ESBS at a global level, which will allow us to help the sector to grow, and our students, to be the protagonists of this evolution. Helping them to make their passion for sport their profession.