30 Jun

Introducing Xeerpa Connect One-ID: Unifying Logins and Registration for Enhanced Data Control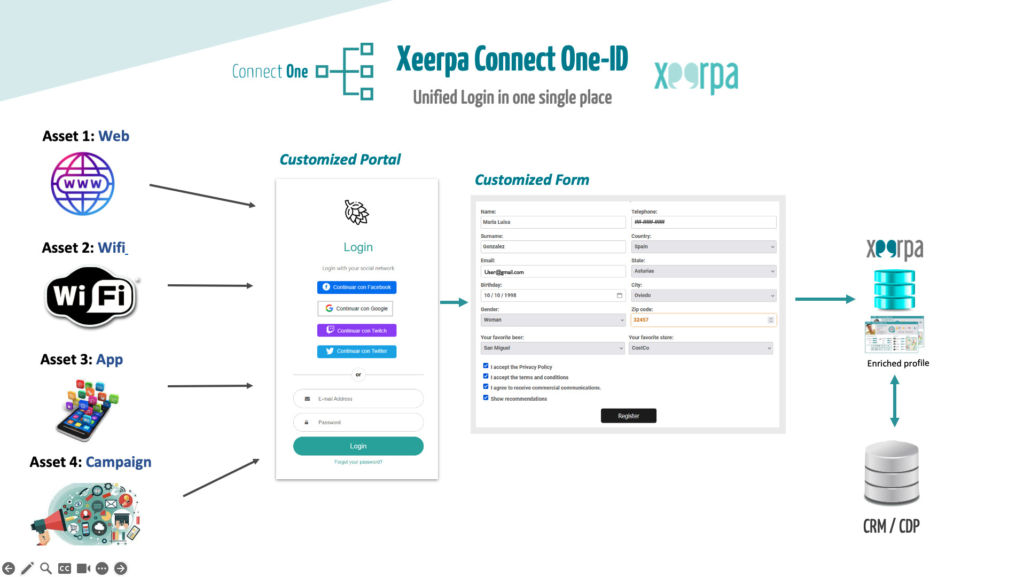 We are excited to announce the launch of Xeerpa Connect One-ID, a groundbreaking solution that revolutionizes the way logins and registrations are managed within the sports industry. Developed by Xeerpa, The Data Enrichment Solution, Connect One-ID aims to streamline and centralize the entire process, offering marketing professionals in the industry unprecedented control over their data flow, user experience, and security.
One of the key advantages of Xeerpa Connect One-ID is its ability to consolidate multiple logins and registrations into a single platform. For multinational companies with various brands and channels, this solution enables them to unify the registration processes across all their brands, ensuring a seamless experience for their customers. Furthermore, Connect One-ID facilitates the implementation of social logins specific to each brand, providing an additional layer of convenience and personalization.
With Connect One-ID, marketers can now standardize the forms used for data collection, eliminating inconsistencies in data formats and ensuring efficient management of Zero Party Data. This standardized approach not only saves time and reduces errors but also enhances data quality and usability, enabling marketers to derive more accurate insights from their customer profiles.
Time to Market is a critical factor in the highly competitive sports industry. Connect One-ID significantly reduces the time required for launching new campaigns or initiatives. By centralizing support and involving fewer stakeholders in the process, marketers can expedite the implementation of their marketing strategies, allowing them to stay ahead of the competition and seize new opportunities swiftly.
Another remarkable feature of Connect One-ID is the ability to create customized portals, empowering marketers to exercise complete control over the user experience. With the ability to personalize branding, language options, and other elements, marketing professionals can create tailored experiences that resonate with their target audience, enhancing brand loyalty and engagement.
Data security and privacy are paramount concerns for marketing professionals. With Xeerpa Connect One-ID, these concerns are addressed comprehensively. The solution is built with robust security measures, conforming to ISO 27001 and GDPR standards. This ensures that customer data is protected at all times, instilling confidence among customers and complying with regulatory requirements.
Xeerpa Connect One-ID boasts a range of features designed specifically to empower marketing professionals in the sports industry. From seamless landing page generation and management to efficient digital asset management, marketers can easily create and distribute engaging content across multiple channels. The solution also offers advanced zero-party data management capabilities, empowering marketers to collect and leverage valuable first-party data for targeted campaigns. With progressive profiling management, marketers can gradually gather more information about their customers, allowing for personalized and relevant communications. Best of all, Xeerpa Connect One-ID is designed to be user-friendly, eliminating the need for extensive IT involvement and enabling marketers to take full control of their campaigns.
In conclusion, Xeerpa Connect One-ID represents a game-changing solution for marketing professionals in the sports industry. By unifying logins and registrations, improving data control, enabling standardized forms, reducing time to market, and enhancing security and privacy, this innovative platform equips marketers with the tools they need to drive success in an increasingly competitive landscape. With its customizable features and user-friendly interface, Xeerpa Connect One-ID is set to revolutionize how marketing professionals engage with their customers and extract valuable insights from their data.