29 Apr

Stadium as a Service: Leveraging Technology to Attract the New Generation ofDigital Native Fans

In our post covid world, fans have flocked back to stadiums and revenues have bounced back to pre-pandemic levels. However, some of the cultural shifts of the last few decades were accelerated during the pandemic. With ticket prices increasing, the affordability of home entertainment systems, and easy access to information on mobile devices, live entertainment has a lot of competition.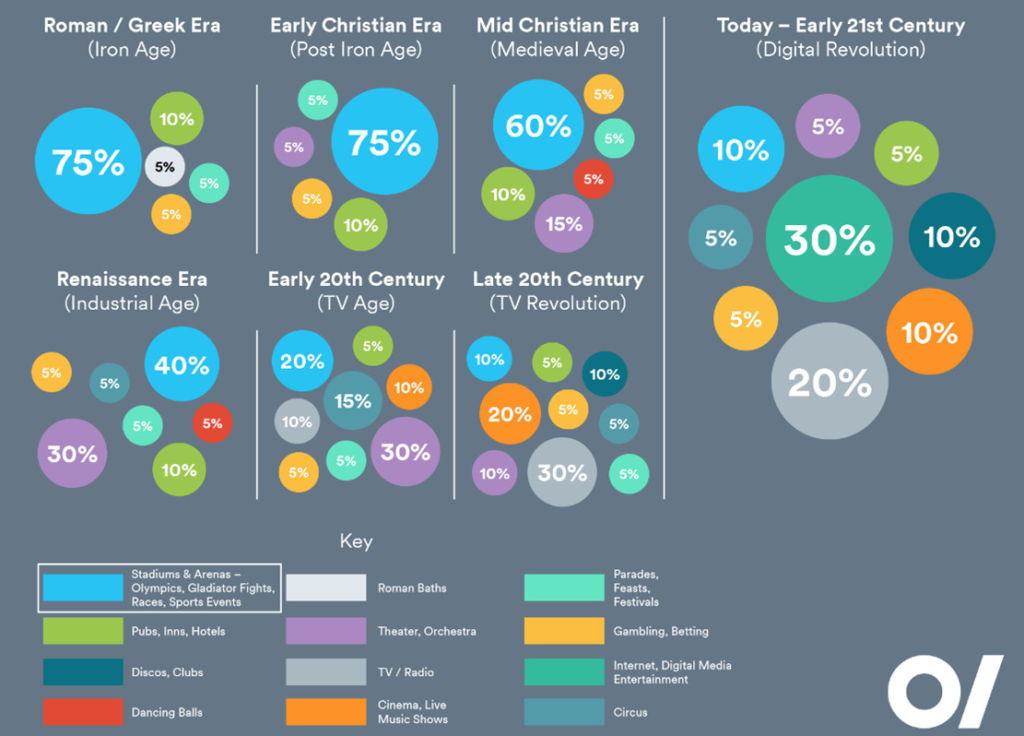 Since the Greeks built the first stadium at Olympia in eighth century B.C., stadiums and live entertainment have faced competition for the public's attention. In the days of the Romans and Greeks, they dominated the entertainment landscape, but that has dwindled as our world has modernized and in our modern age, digital entertainment has take a firm grasp of the lead. For stadiums to lure these holdouts in and boost revenue, stadiums must offer an unparalleled fan experience with cutting-edge technology.
The potential of technology is immense – VIP fans can be swiftly identified upon arrival and directed to premium parking spots. Fans can now customize their food orders and have them delivered directly to their seat, eliminating the need to queue up at concessions. Connecting with fellow fans who are watching from home has never been easier. Additionally, highlights of the
game can be turned into NFTs and other memorabilia can be sold in real-time, creating an unforgettable experience for fans and new revenue streams for stadium operators.
Nothing can replace the experience of a live event. The adrenaline rush, the energy in the stadium, watching a game with friends and family as a part of a fandom are just a few of the aspects people lose out watching at home. Stadiums and venues can leverage this pivotal advantage to excite fans into attending first-hand in games and events. To do this, they must first embrace new age technologies and strategies to stay relevant and offer an unprecedented next generation fan experience prompting millennial fans to leave the comfort of their homes and come to the stadiums.
Stadium owners are generally faced with two options when it comes to improving the fan experience: a platform that unites all stakeholders or a user-centric and mobile-enabled product. The first option offers flexibility and agility for stadium owners and others involved to configure user experiences as necessary, with additional functionality catered to as needed. However, this option requires a lot of thinking and knowledge on multiple aspects of sports, including operations, venues, retail, and teams, making it costly to build. The second option, a one-size-fits-all standard solution, enables a faster go-to-market and implementation timeline, beating out the competition. However, with the number of entities involved, including fans, teams, players, and sponsors, and their changing needs and expectations, ongoing investment and continuous delivery upgrades are required.
Orion has built a Stadium as a Service solution centered on Data and APIs, leveraging any existing investments by the stadium owners. The platform hosts a central data warehouse to collect information from various sources – structured and unstructured, a centralized repository of APIs for easier integrations, and a high-end analytical engine to provide personalized experiences. With 20+ years of experience in sports platforms, we have developed an unparalleled understanding of the sports industry, enabling easier configurations and integrations.
The key to attracting the new generation of digital native fans is through a tech based personalized experience. Using advanced analytics and multiple integrations, stadium operators can not only visualize and deliver in-game data to deepen fan, but also provide an enhanced experience throughout the entire stadium. This can help create a more engaging live experience and encourage them to come out of their homes and join their communities of fans in person.
by Satish Kumar, Sports & Entertainment Leader