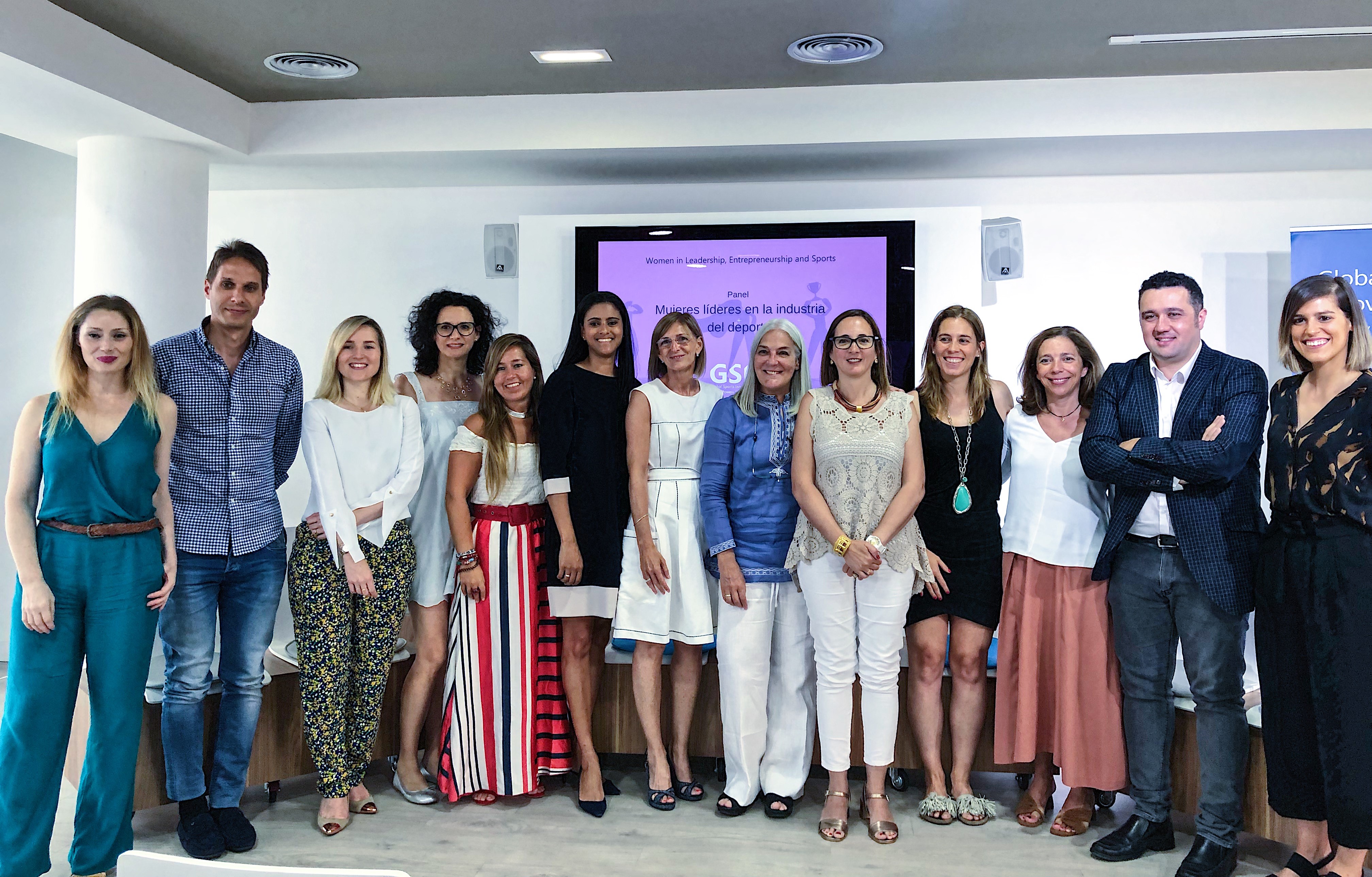 02 Jul

Women in Entrepreneurship, Leadership and Sports – July 2
Only 56% of startups have at least one woman in an executive position, and only 40% have at least on the board of directors. (According to the Silicon Valley Bank report "Women in technology leadership 2019")
Women lead 30% of startups in Europe (according to the European Commission) and in Spain the number positions at 17%. (According to Startup South Summit 2018)
In the list of Fortune 500 in 2019, only 6,4% (33 out of 500) of the companies are led by women.
These and other key facts were discussed during our debate table on July 2 by our participants Iris Cordoba Mondejar, Beatriz Crespo Ruiz, Carmen Crespo Ruiz, Sonia Soria, Mercedes Wullich, Manuel Jordan, Reyes Bellver, Minerva Santana, Marina Boter, M. Carmen Fernández, Rubén Vinagre Sáenz, and Patricia Rodriguez Barrios.
Thanks to them we also could discuss such important topics as the positioning of the woman in two sectors that commonly are considered male, sport and technology. As it came up during the debates, education, visibility in the media, conciliation policies and collaborative work are keys to the growth and strong positioning of the woman in any professional area.
Women in Entrepreneurship
Table 1 was made up of enterprising women of the stature of Sonia Soria, owner of a women's football club; Mercedes Wullich, founder of the Top 100 Women Leaders; Reyes Bellver, sports lawyer and founder of the Leadership Woman Football platform; or Iris Córdoba, director general of the GSIC.
After the corresponding presentations, Iris herself opened the table by providing a series of data that compare the employment situation between men and women in Spain and launched the question of whether it is necessary to establish quotas in companies so that the percentage of men and women working is balanced.
Reyes gave her vision as an entrepreneur and pointed out that in order to do business as a woman it is important to make the situation natural and acquire the necessary skills to negotiate. However, Beatriz Crespo argued that sometimes it is difficult to combat male egos when negotiating and it is necessary to raise the discourse to a very technical level to demonstrate. Iris pointed out that women themselves are afraid of what they will say if they fail, since failure weighs more on them than on men, to which Sonia added that women should not step on each other but unite and support each other.
For this reason, Mercedes Wullich pointed out the importance that companies and institutions bet on diversity and entrepreneurship policies, and all ended up concluding that the key is to form teams of diverse people, that men and women unite to achieve business success and that for this it is very important to promote education, both at family and academic levels.
Women in Leadership
At table 2 we had the pleasure of having a number of women in managerial positions in their respective companies. Among them, Minerva Santana, innovation director of La Liga; Marina Boter, marketing director of the Microsoft Global Sports & Consumer division; or Patricia Rodríguez, general director of Elche CF.
On this occasion, the speakers exposed some difficulties when working in apparently masculine sectors such as sport or technology. Patricia pointed out that in some business meetings, the men she was dealing with used macho words or expressions, and Rubén Vinagre, editor of Metadeporte magazine, pointed out that the lack of visibility of women until now has been another impediment for them in their professional development, and stressed the importance of having female references to inspire younger generations.
To solve these difficulties, Minerva stated that she believes in equal opportunities and decision-making power, and that companies should bet on talent. According to Maricarmen Fernández (Mediapro's innovation director) and Marina Boter, another of the keys is the promotion of technology to increase work flexibility and for companies to be able to retain their employees thanks to this flexibility, which would help to reconcile personal and professional life, and thus learn to delegate and trust their colleagues. These values of equality, Maricarmen points out, must be passed on to children so that, in the near future, the work balance between men and women is balanced.
We can conclude from both tables, therefore, that the development of technology, the promotion of entrepreneurship and talent programs by companies, and the education received are the pillars to build a professional world with equal opportunities for both men and women.
GSIC members can participate in the study that we are driving from the GSIC on such important aspects as female CEOs segment, female entrepreneurship, leadership, decision-making positions and participation in the sports industry involving also tech sector.