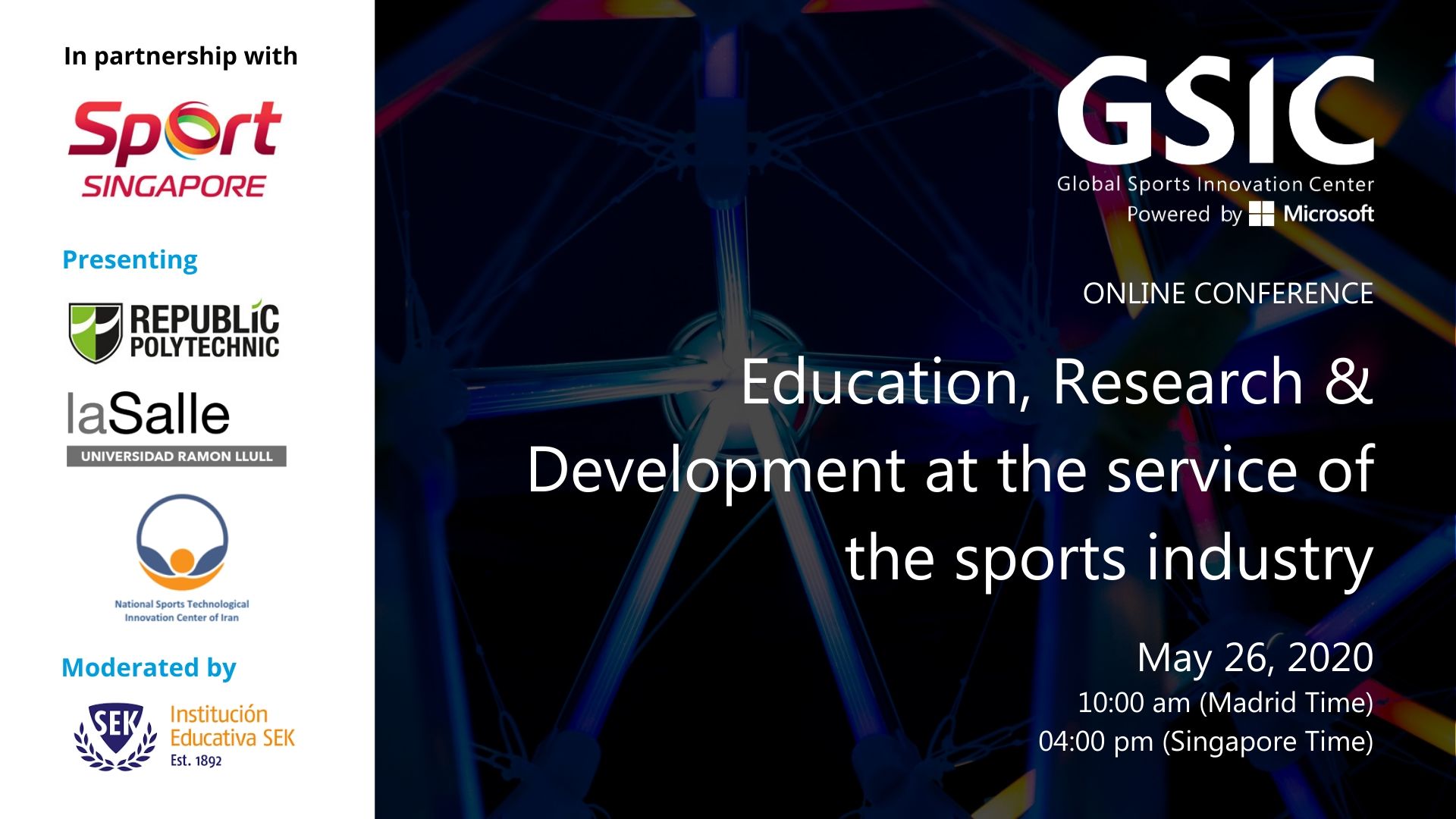 25 May

Education, Research & Development at the service of the sports industry – May 26, 2020

Since GSIC opened its doors in 2015, we have been supporting different educational institutions and research groups disseminating their academic work and promoting their developments. We also have our own working groups in education that currently is researching the demand of the market in regards of the talent and how the jobs of the future will look like linked to the digital transformation necessities

Since the COVID-19 crisis has begun, we've been analysing its impact from different angles talking to tech companies and sports organizations from all over the world. And now, to have the complete picture on what is going on in the industry, we would like to see how research and development, as well as educational sector are helping the industry in these times and how they prepare youth and adult learners for a dynamic world is now more important than ever.

For that, we have invited GSIC partner universities to share some of their experiences in how they have re-invented teaching, learning and assessment, as well as to share their own technological developments.

Join us on Tuesday, May 26 at 10:00 am (Madrid Time) to bring up an open discussion with the top-ranked academia experts.

José Javier Hombrados Ibañez, Director of Sports at Educational Institution SEK and Camilo José Cela University

Jose Javier is also a President of the Madrid Handball Federation since 2016 / Director of the Master of Representation of Artists and Sportsmen of the PONS Business School since 2018 / Professional Handball Player in BM GUADALAJARA since 2015.

For more than 28 years it has been related to the world of sports. He has been a professional player and captain of the national team with 262 international matches. In addition, the player with the most games in the history of the National League, 740, participated in four Olympic Games and won two bronze medals, won the Handball Champions League five times, was a Gold Medal in the World Championship in 2005.

Sportsman who has gone through all areas of management, expert in Coaching and sports management passionate about the values of sport applied to education.

David Chin, Principal Lecturer at Republic Politechnic

David Chin teaches at Republic Polytechnic where he is a principal lecturer. His main teaching and research focus areas are in sport education, curriculum design and education technology. He was involved in moving many of the physical classroom sessions online for several sport education courses that were running when the COVID-19 situation declined rapidly. Apart from that interruption, David is involved in research and is currently co-PI for a research project funded by Singapore's Ministry of Education-Tertiary Research Fund (MOE-TRF) on "Developing an Internship Framework for Professional Identity Development: A Study of Sports Coaches and Outdoor Educators in Singapore." He was also the PI for a paper on "The effect of Mediated Learning Experience (MLE) on a PBL pedagogy-based journalism curriculum: A pilot study" that was published and presented at the 5th PBL Symposium (2017) in RP. The study looked at the effects of MLE on metacognition, task value and critical thinking in journalism students. Besides sport education, other workgroups he contributes to include artificial intelligence in education, workplace coaching and mentoring, facilitation, and lesson design, as well as motivation and creating engaging learning experiences using technology.

Chris Kennett, Business, Technology and Sports Management at LaSalle-Ramon Llull University

Chris' background and passion is in Sports Management where he studied his doctorate (at Loughborough University, UK), and where he developed his main research interests. After 20 years as a researcher, consultant and educator he's focused on technology and innovation in sports. He has just co-led the creation of the Euroleague Basketball Tech Challenge, an open innovation event that brought together disruptive startups and Euroleague executives to tackle challenges for the near future of pro basketball.

Researching and consulting for the IOC provided Chris an in-depth insight into the management of, and business behind, the world's biggest sporting event. This led him into lecturing at business schools in and around Barcelona, and his collaboration with La Salle (URL) where he came on board full-time in 2008.

His current research interests focus on fan engagement and the role of new technologies and has worked closely with Euroleague Basketball since 2012, and previously with FC Barcelona, the F1 Spanish GP and Mediapro among others.

Ali Sharifnezhad, President at Sport Sciences Research Institute of Iran

Ali Sharifnezhad received his PhD on Sport Biomechanics at Humboldt University of Berlin in 2014. Currently he is president of Sport Science Research Institute (SSRI) of Iran and director of Sport Biomechanics and Technology group at SSRI.

He has innovated two new apparatus, which is registered as a patent, and he was honoured by inventers and innovators society of Iran. He was a member of consultative committee of several national and international congresses in Physical Education and Sport Science.

Since last years he published several articles and books on sport biomechanics. Furthermore, he is reviewing several national and international journals in Sport Biomechanics.

At present his main research is focus on:

– The muscle and tendon mechanical properties and their adaptability in response to altered loading conditions.

– The influence of exercise-based interventions on muscle-tendon mechanical properties and functional limitation in clinical and healthy populations.

– The biomechanics of shoes and customize insole.