29 Mar

Have you met…Judit Hidalgo? – How the Government of Andorra is supporting the growth of sports sector in the country
Judit Hidalgo, Director, Andorra Business
Born in Barcelona, Judit Hidalgo is graduated in Economics from the Universitat Autònoma de Barcelona (UAB).
From 2004 to early 2015 she was Director of the Trade & Investment Office in Sydney, promoting business opportunities for Catalan companies in the markets of Australia and New Zealand.
Currently she is working in the Economic Promotion Agency in Andorra, supporting Andorran businesses as well as positioning the country as a place for foreign businesses to invest in.
Question: Tell us about your background and how did you start in Andorra Business?
Answer: Throughout my career, I have gained extensive international experience in supporting private companies with their growth in various markets. I have held diverse roles within companies and economic promotion agencies, including the Catalonia region, where I assisted Catalan businesses in their international expansion strategies worldwide. Additionally, I worked for an agency in Canada. Having lived in the UK, Australia, Greece, and my hometown of Barcelona, I have gained a diverse perspective on business practices and cultural nuances.
My experience and knowledge have culminated in my current role at Andorra Business, where I have been able to leverage my skills to drive economic and business growth for the country. Since joining the agency five years ago, I have found immense satisfaction in applying my expertise to this new challenge.
Q: What Andorra business is doing and what is its purpose?
A: As an economic agency of Andorra, our primary objective at Andorra Business is to support the government in diversifying the country's economy. Historically, Andorra has been very reliant on a few sectors, such as tourism, retail, and finance. Our goal is to encourage the growth of additional sectors to contribute to the GDP.
To achieve this objective, we focus on supporting local businesses. We aim to make Andorran companies as professional, international, and innovative as possible, so they can take advantage of opportunities in international markets. We do this by providing them with the necessary resources and support to strengthen their businesses. Additionally, we work to establish relationships with international companies, offering them opportunities to invest in Andorra and ultimately contribute to the growth of the country's economy.
Q: What are some industries or sectors in Andorra that are particularly promising and growing right now?
A: At Andorra Business, we prioritize sectors such as health and wellness services, digital economy, blockchain technology, Esports, and sports for international business. Despite our small size, Andorra offers a strong internet connection and secure legal framework, making it an ideal location for companies in the digital economy and blockchain technology. We have also identified Esports as a strategic priority and aim to support the diversification of Andorra's economy through sustainable growth in these sectors.
Four years ago, Andorra entered the Esports sector and recognized its potential as an opportunity. To establish a framework, we approved a law on Esports, making us the first country to combine a legal framework with a Strategic Plan to develop the sector. Our Strategic Plan includes five verticals, which focus not only on competitions and content creation, but also education, tourism, and business development. We want to create a hub of companies in the sector and attract tourists to Andorra. Additionally, we focus on creating the necessary infrastructure, including venues and 5G connectivity. Our aim is to develop the entire sector in Andorra, including video game creation, audiovisual production, and a range of related professions.
Sports are also a significant contributor to the Andorran economy, with almost 8% of our GDP coming from this sector. We are proud to have several Andorran actors who are highly renowned internationally.
By focusing on these priority sectors, we aim to support the diversification of Andorra's economy and promote sustainable growth for the country.
Q: What are some of the challenges or opportunities we can find in Andorra?
A: Many of the challenges faced by the sports sector in Andorra are also present internationally, such as the need to embrace digitalization. To make the most of the digital economy, sports organizations can combine digital and physical experiences or use tools like artificial intelligence and business intelligence to improve customer experiences and become more efficient. Another pressing global challenge is sustainability, which is particularly relevant to Andorra as a country dependent on nature. For example, in addition to ski resorts, Andorra hosts numerous sports events and must strive to make them as sustainable as possible.
Overcoming seasonality is a specific challenge in Andorra's case, as the country relies heavily on snow sports and traditionally generates most of its revenue during the winter season. To address this, the sector has invested heavily in cycling infrastructure and events, such as the Mountain Bike World Cup, and is also diversifying its investments to reduce its reliance on snow sports. However, the sector must also grapple with the long-term challenge of climate change and its impact on snowfall.
Q: How does the Andorran Government collaborate with local sports organizations and stakeholders to support the growth of the sports industry?
A: Our strategy centers around public-private collaboration, which we facilitate through the Sports Cluster of Andorra. This joint initiative with the private sector provides growth services, international support, and funding opportunities for sports-related and other companies. Through our partnership with the Global Support Innovation Center, companies can also connect with an international network of innovative startups and tech companies.
We also position Andorra as a living lab for the sports sector, allowing companies to test new products and services and benefit from our unique environment. This approach fosters collaboration between public and private actors, keeping our companies at the forefront of technology and new developments. With a focus on a supportive ecosystem, we believe that public-private collaboration is key to the success of our companies and the growth of Andorra's economy.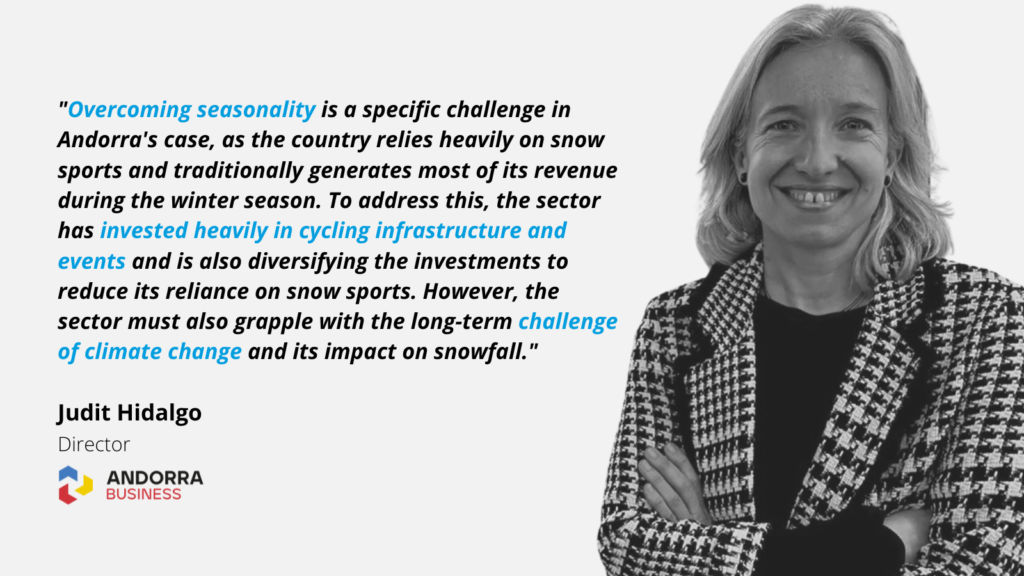 Q: How does Andorra Business support startups in sports industry? What about the startup/sports startup ecosystem in Andorra? What opportunities do local startups have? Do you get many startups? What sectors do they tend to focus on? Do you expect international startups to enter Andorra to start doing business there?
A: I must say that the startup ecosystem in Andorra, particularly in sports, is a relatively new development that began only three years ago. Compared to other ecosystems, Andorra joined the startup scene a bit later, owing to our unique circumstances. However, it is growing at an impressive rate.
We have witnessed the birth and growth of local startups that have emerged from sectors that are naturally present in Andorra. For instance, we have startups that specialize in the snow business, focusing on the digital side to make snow management more efficient. Similarly, we have companies that operate within the sports and health sectors, conducting research on health-related topics, particularly within the domains of mountain sports and sustainability. Furthermore, we are attracting startups from overseas who are interested in setting up their businesses in Andorra and benefitting from our local stakeholders who work closely with them.
Many of these startups begin by testing their products or services in Andorra and then realize the benefits of establishing themselves here.
Q: You have been working with the GSIC since 2020. Where are you in your collaboration now?
A: Over the last three years, our agreement with the Global Sports Innovation Center (GSIC) has been incredibly beneficial for Andorra, our local businesses, and startups. This partnership has allowed us to expand our presence within the international sports sector network significantly.
As a result, we've recently launched Andorra Sports Scale-Ups Program for international startups operating in the sports sector. Interested parties can apply, and we will have a rigorous selection process in place. Once chosen, three startups will receive mentoring focused on their growth, which is vital for their development.
Our startup challenges over the last two years have been a tremendous success. In the first year, we received 64 applications from 18 different countries, and in the following year, we had 50 applications from 19 countries. Several of the winners have already conducted their tests in Andorra, and a couple have even chosen to establish themselves in our country.
The partnership with GSIC is an excellent example of how we are growing as a country, working with the GSIC, local and international businesses, and ourselves within the sports sector.
Q: What are the main benefits of this Scale-Ups program? Why should companies apply and get involved in it?
A: The program consists of both group and individual mentoring sessions, with a team of expert mentors who offer valuable insights and opportunities for scale-ups to build relationships with stakeholders. This strong network includes Andorra Business, Andorra Research, Innovation, and the GSIC, all of whom are dedicated to providing support to the program's participants.
Also, startups will get direct access to the local industry stakeholders and opportunities to do their business in Andorra.
Q: What advice would you give to international companies or investors related to the sports industry that are interested in Andorra?
A: Consider Andorra. We're small country, but with a growing appeal for foreign investment in health, sports, digital economy, education, etc. Since 2012, our growth rate has been 7000%. Andorra offers a high quality of life, mountains, and a business-friendly, safe environment. Our legal framework supports startups and businesses, with new rules approved at the end of last year. Despite our small size, working with Andorra means being close to stakeholders in a friendly business environment.
Q: How do you see and the business landscape evolving in the next 5 to 10 years?
A: I see Andorra playing a role in the innovation side of different sectors.
Of course, we will never be like Silicon Valley but seeing the kind of businesses that are coming, seeing their commitment to our public sector is pleasing. Andorra is going to become a very important innovation hub, especially for some sectors, such as mountain sports, cycling, sports and wellness. And the same for Esports, or anything to do with the digital economy.
I see Andorra becoming a bit of a knowledge hub for very specific and niche sectors.
.