01 Feb

Have you met…Carlos Ruiz Moreno? – Measuring and improving athletes' performance in Sports Science
Question: To start Carlos, Introduce yourself. What do you do at the university and what's your area of work? 
Answer: I am currently a professor at the University Camilo Jose Cela. I have expertise in human physiology applied to exercise and human physiology. Those are the two subjects I teach with my other colleges.
My life has been about trial and error. I tried to enter the world of football and I never got to where I wanted to get so I decided to do a Doctorate. During my time at university, I had a teacher who taught physiology. Whenever I'd have class with him, I was always hooked on. I loved his classes so much that he accepted me to do the doctoral thesis in the laboratory at the University of Camilo José Cela which is where I do my research. He told me he was researching about the world of caffein and its effect on performance in sports.
I have dived into a subject that is very specific which was: at what point before administering a chronic dose of caffein of three milligrams per kilogram of weigh does a tolerance to it occur in sports performance? That's what my thesis is about. I started with maximum performance tests, the transitions in ventilating thresholds and later an individual analysis of the effect of each one of the subjects was made.
To this day I am lucky that all these investigations are published in high-impact journals and now that I have a doctorate, I am more autonomous when wanting to start investigations.
Q: Could you tell us a little bit more about the results on this study? How does caffeine affect performance?
A: We discovered that caffeine's mechanism is produced by blocking some adenosine receptors from the brain. Adenosine is a neuroreceptor that induces fatigue, so caffeine delays fatigue. Then catecholamines are released, it also betters the release of calcium and this increases the stimulus of the nervous system. Since we first went in and did testing on maximum oxygen, we found out that on the first day, there was a peak and oxygen had improved by 3%. And statistically, 3 percent is nothing but in high performance sport could mean a gold medal in the Olympic Games.
From the first day, we could see the effects started to reduce and they never disappeared throughout 21 days. When the results were compared to the placebo (the subject that was taking a placebo also took part in the tests were subjects were taking caffeine every single day), we saw that a tolerance was built even though the effect was going to wither out at some point.
Q: In your opinion, what technologies are absolutely necessary to conduct these tests that you do?
A: Nowadays, in football for example, Sport Science, physiologists and others are trying to focus their attention on direct methodology. Methodologies where you can measure the speed of a certain movement, focused on strength. Strength today is very popular. Before, we used to measure resistance, increase of oxygen intake, but now, strength makes us more efficient. High levels of strengths help in injury prevention. So, everything that has to do with the evaluation of strength is necessary.
It's a trend that has gotten most sports to start incorporating weightlifting exercises. This means that gaining strength in a vertical vector refers to when you change this force to a horizontal vector you are going to get better results. We can say that resistance is being forgotten a bit when compared to group sports like basketball or football, since they train on the field so it might not be as necessary. But with individual sports that are focused on resistance, it is crucial to use more indirect methodology. This means calorimetry, where you can look at your maximum oxygen intake or oxidation of energy substrates. These are necessary for an athlete that burn carbohydrates or lose electrolytes.
Q: Within these examples, what are the challenges that technology can solve?
A: The challenges for me would be individualization of the athlete. In group sports, we would evaluate one athlete compared to the whole team. You would apply the same training to everyone and the whole team would be evaluated in terms of performances and be analysed to see if there had been any significant changes. But now, when we evaluate performance, new technologies have allowed us to have an individual analysis which is important. All athletes are different which means that everyone will have a different dose.
For example, in basketball, the point guard will need something else rather than the center. A point guard exerts more isometric force and bumps into more people compared to the center. A center changes direction more often. So, any technology platform or bio mechanical study is necessary to individualize athletes which is very helpful for elite athletes.
Q: What's the most efficient way to measure performance on athletes?
A: It is mainly based on what sport the athlete does. The most efficient way to measure performance is during a competition because that's when they will give their all. A marathon runner will train to beat their time compared to their last races. If it's a game, the athlete has to do everything to win. Today, GPS is important for runners or football players to calculate the training loads. But a GPS does not determine the performance of an athlete in collective sports. There are external factors like the opponent, the ball, the environment, the weather, etc.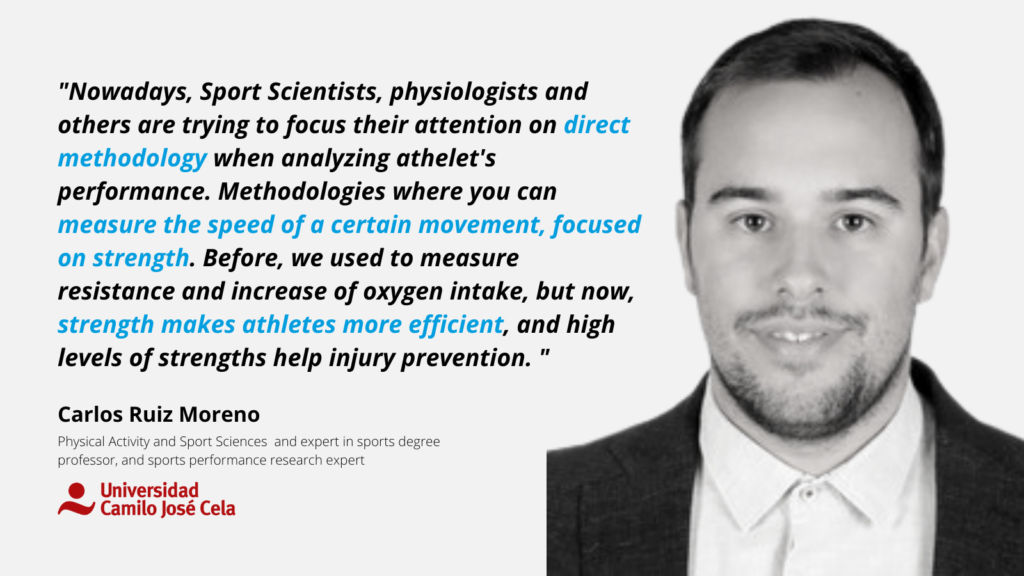 Q: A GPS is precise when training outside, but what happens when you take this to an indoor training session? I have heard that it gives you errors. What is your opinion on this matter?
A: A GPS gives you your global location but when you take this inside it does not evaluate your precision well. The NBA for example, is measuring with their own receptors that are in their stadiums or training camps. These types of receptors aren't necessary unlike the GPS when doing indoor tests. In Group sports where there exist transitions like handball or basketball the statistics players throw is calculated from their performance. There are only a few players that don't necessarily create statistics in these types of sports. A tool that is very efficient in collective sports is video analysis. Nowadays football analyses performance from these videos. The videos look as if you were watching a game on television, but it usually tags along with the ball. You can also get a panoramic image of the whole field which helps to look at collective teamwork.
Q: What's your opinion on video analysis tools?
A: Video tools in group sports have helped them grow. If you look back at football games 15 or 10 years ago, you can see how as a collective, the players are better. When conducting individual analysis, it is harder for an athlete to stand out from the rest. These tools are also being used to catch errors. With this error, you can modify the player's strategy and make you better and efficient on the field. We are currently working on a paper that looks at the evolution of GPSs from when they started using them in football. They started tracking the kilometres players ran and now it measures speed and acceleration as well as slowdowns.
Q: How can technology help athletes improve their performance?
A: Their methodology is that can be evaluated. If you can look at the progress of an athlete, you can also look at their fatigue. Generally, when your strength levels decline it could mean that you're central nervous system is tired. In sports where there is a high density of competition, strength platforms is the most efficient tool used on delete athletes because they are very reliable. when there isn't a budget to get these tools because they are very expensive, you can get some other materials that doctorate students create. for example, Dr Carlos Balsalopre created an app "My Jump Lab" that measures height and jump. it is a very simple app, but it gives you so much information apart from the height of a jump. You can measure the fatigue and training load only from the heights of a jump. The constant study for individual performance enhances it so much.
Q: What are your predictions for this year in the field of analytics technology? Where do you see them evolve towards?
A: I consider that in a tangible way, tests on strength is going to be the trend everyone will follow. It is important to have tools, specially with elite athletes. This way we can make sure with the right amount of strenuous training, the athlete will be able to get the most out of practice without injuring themselves. This is what football clubs look for. Having the players at their maximum every single game without them getting injured.
At a research level, genetics is becoming more and more relevant. There is a gene called CTN3 that allows muscle to contract faster and stronger. Whoever posses this allele is generally faster. There is still not much faith in the research of genes, but little by little, companies are starting to appear that evaluate genetics. The findings in genetics are important for the development of athletes and elite athletes as well as early talent discoveries.
Q: Do you want to add something on the trends or sport practices in the health sector?
A: Yes, in the health sector, a few years ago, there was a report that came out called "fat but in shape". It was about the people who did exercise but were still a bit overweight. It was a paradox! The study concluded that these people who were at least active but overweight, were less likely to have cardiovascular diseases compared to thin people who are not active. This trend is now changing, more people are being active but the lack of strength training is starting to be noticeable. If one does more strength training, then when we become old, we are more likely to prevent sarcopenia and be better in health. And overall doing physical activity prolongs your lifespan. Making old people take the stairs or carry bags will make them more functional.
Q: Finally, since you are also teaching classes, I wanted to ask you: what is the demand for professions related to sport? Are there any professions that are required? What studies are the most demanded in the field of sports? How do you see this from your point of view?
A: As the student's point of view, when they are entering their studies, they dream of working with elite athletes. Very few of them accept the fact that some will work with the elderly like a personal coach that Is dedicated to the physical aspects of the body. This is popularized with the help of social media. But in theory, everyone wants to work with the elite. But as their classes progress, they realize of the existence of important roles like a sports manager that can manage a sports venue. There are also the ones that want to specialize in data and analytics. But as of now, we are seeing important roles and degrees being taught like personal trainer. More and more people are becoming conscious about the existence of these because we are realising that the better our lives, the healthier we will be. A personal trainer can satisfy this need.
Most people like to get into the world of football, and it is very hard to get to the top even though more and more people are graduating from degrees related to football. In the education sector, more physical education teachers are coming out. Fortunately, we have managed to increase the hours of physical education schools have every week.
Now, more people are dedicated to the health sector in sport rather than the research part of it. It's true that a lot of people like to hear about the research being done in sport. Even students do. But not a lot of people are dedicated to research because it requires a lot of dedication and time to do research. Most of all, there is a specific profile researchers have. You must be curious. For example, when I was a student, I wasn't the best. But I can say that I was one of the most curious students in my class. This is what made me do the doctoral thesis.
.