01 Oct

Have you met…Marian Otamendi? – Building a benchmark event for the sports industry

Results-oriented and a highly motivated entrepreneur, Marian loves getting things done and reaching objectives. In her opinion, behind success there is mainly hard work. With a track record of business success, Marian embraces teamwork and enthusiastic people.

World Football Summit was born in 2016, and it is where the football industry's leading stakeholders meet to shape the future of the beautiful game. The platform has evolved from a yearly gathering taking place in Madrid, focused on the European market, to a growing series of global on-site and online events that cover the challenges and opportunities of the different regions and sectors in this thriving industry. WFS is powered by a global community of influential professionals sharing a unique passion for the business of sports and a mission to spark discussion, generate knowledge and promote innovation to drive progress for the game and the industry.

The first edition took place in 2016 and this year 2021, the 5th edition was celebrated with great success at Wanda Metropolitano stadium.

Queston: Marian, what did you do before WFS? What is your professional experience?

Answer: My professional experience is varied; I would summarize it as one of a restless and enterprising person. I like new things and challenges. I was involved in the photovoltaic boom in Spain, and I set up a foreign trade company. In the end, I have always been looking for opportunities that would keep me going.

Q: What attracted you to the football industry?

A: The company that owns World Football Summit is Nexus, of which I am a founding partner together with Jan [Jan Alessie]. We do a lot of commercial openings, acceleration of commercial processes, we deal with foreign delegations when they come to Spain for trips or trade fairs. We organize all their B2B meetings and do matchmaking to help them take the most out of their stay in Spain. We work with many international trade fairs and one day, at some of LaLiga conferences, we asked ourselves what LaLiga is exactly interested in. We understood that there was nothing that would bring the football industry together and based on our expertise in business events and this niche not being occupied, we came up with the idea of WFS.

Q: What would you say are the 2-3 main objectives of the WFS?

A: We wanted to create an event that would make the football industry relevant not only in Spain, but also abroad. Spanish football is a global reference and LaLiga has more than 60 offices globally. This helps the positioning and there is a business behind this as well as all these companies that support and represent the Spanish GDP.

We wanted to create a benchmark event that would make a difference. As there was nothing similar in the market, we had a lot of space to grow and so we managed to become an international reference. In this last edition WFS counted with attendees coming from 73 different countries.

Q: That is amazing. Let's talk more about the evolution. How do you assess the growth of the event? What are your KPIs like?

A: There are quantitative and qualitative KPIs. If we compare 2016 edition to 2019 (because this year's event was atypical, being post-covid), we doubled the number of attendees. But although the numbers are important, I think the quality is much more important, and now it is quite high. The profiles that we have attracted year after year are higher and more executive, which is what we are looking for. We want to be the meeting point where the decision makers of the international industry come together.

In terms of income, we have multiplied a lot comparing to the first edition, but all the first events' editions are complicated in this sense.

The big challenges now are to make it better, to attract more people, to keep having the high level of attendance and also to internationalize by doing more international editions.

Q: Would you say that WFS is now Nexus' main product?

A: It is by far the most successful project in the company, and it was growing so fast that we struggled to keep up at first. If it wasn't for the pandemic last year, we would have done 4 big international events. Most of the income went to support the WFS event but we realized that we also have to keep taking care of Nexus per se as WFS still benefits a lot from the Nexus' contacts such as embassies, governments and foreign delegations. We are trying to make everything grow in a more harmonious way.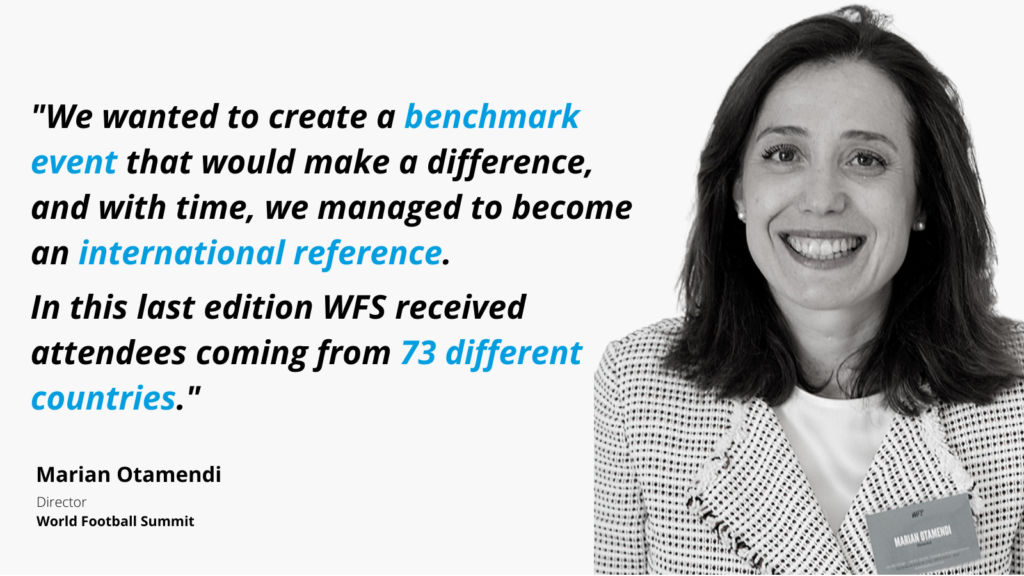 Q: What is the value that WFS brings to industry decision-makers? Why should they attend?
A: Based on their feedback, the main value is that we are the meeting point for the industry. If you come to WFS, you have 48 hours to see all the people that would take you months of traveling to see if you didn't come. And in terms of content, this is a great space to see what the cutting-edge topics of the moment are.
Q: There has always been a space for technology and innovation at WFS. Is there any specific reason for this?
A: Innovation is closely linked to the business. It brings new ways of doing things, of engaging with audiences and monetizing. At the congress we always have three thematic blocks: economy, technology and social responsibility. Technology is one of the pillars, and today, in times of pandemic, we've learnt from the digital transformation how to work on best practices and how to do things right. This has always been a point for our event.
Q: What is the relationship between the WFS and the GSIC and what does this relationship contribute to the event?
A: The GSIC has always supported us. They saw the value of the event and what it could bring to the industry from the very beginning. The GSIC is a leader and a reference, I know that, and I hear that all the time when foreign organizations from the sports industry come to WFS, many of them request a visit to GSIC's Showroom. We help, inspire and support each other, so we do a great job between the two organizations.
Q: On a personal level, what does it mean to you to be leading one of the most important international events in our industry?
It represents both personal and professional satisfaction. Last year was very hard, and we achieved this edition of WFS to be the first sports industry event to return after COVID with much more affluence, international attendees, media coverage and presence in networks. Realizing you are carrying this out and receiving gratitude and congratulations of the people who attended your event is a great satisfaction. Not to mention the amazing team we have, how well we work together and how much people are involved in the project. That makes us think that we are doing things right.
Q: Last year was a challenging year for everyone and the events industry was one of the hardest hits. How did you do during 2020?
A: Last year we had to reduce on staff, and we spent part of the year [2020] in hibernation. It is true that all the bad things gave their good side because we accelerated a lot the whole digital part since we never did digital events. But in 2020 we made 2 very big online events in collaboration with Octagon and Ronaldo Nazario with more than 5.000 attendees, with a whole week of conferences, events and digital activations. In that sense it was a success, although in terms of economic return online has nothing to do with the onsite events. Nevertheless, we have incorporated this experience as a know-how of the company and this year we had our first hybrid event with about 1.400 people who attended in person and more than 600 who followed us online from the most varied places. So, I think after this year all our events will be hybrid.
Q: Based on that experience, what was the main lesson you've learnt from 2020?
A: In the pandemic we all learned a lot of things, first I would say that the most important one was that the digital transformation has accelerated and helped many processes, and second, is that a lot of organizations didn't survive the pandemic because they were taking too many risks or were financially leveraged, so the pandemic has taught us that the most unusual things can happen. You have to plan and be much more cautious.
Q: What's next for WFS?
A: Next year we will hold WFS Europe in Sevilla, and it is going to be a bombshell, not only because of the destination, the city, the team. It is going to be a success in every way. We also expect this event to be carried out same way we did before the pandemic, with no masks and Covid tests.
The international editions, in Asia and Africa, will come back, depending on the opening of each of the countries, but it will take a little longer. Anyways, 2022 will be a fantastic year.