31 May

Have you met…Emmanuelle Roger? – Female entrepreneurship in sports industry and the future of fan engagement

Female visibility in sports industry has been growing significantly for the past two-three years, when we could see more women speaking at the industry events in representation of different organizations from startups to big sports entities. There are also more initiatives that support women entrepreneurs in technology sector emerging which is helpful and inspiring for this generation of female professionals and for the next one.

What is it like to be a female entrepreneur running a fan engagement startup? We decided to find it out this month talking to Emmanuelle Roger, co-founder of Immersiv.io that started its journey 4 years ago to build the future of the fan experience. Immersiv.io now is a 15-person team operating at an international scale, recognized for their expertise in Augmented Reality (Magic Leap Official Creator and Mixed Reality Microsoft Partner), and awarded for the sports solutions they've built (Dreamland XR, MIT Sloan Sports Analytics Conference).

She had the opportunity to start working in the sports industry quite soon in her career, which she's never stopped since. Emmanuelle has collaborated with major players of that industry such as UEFA, Bundesliga, NHL, Canal +, or Fox Sports, to deliver experiences for millions of fans.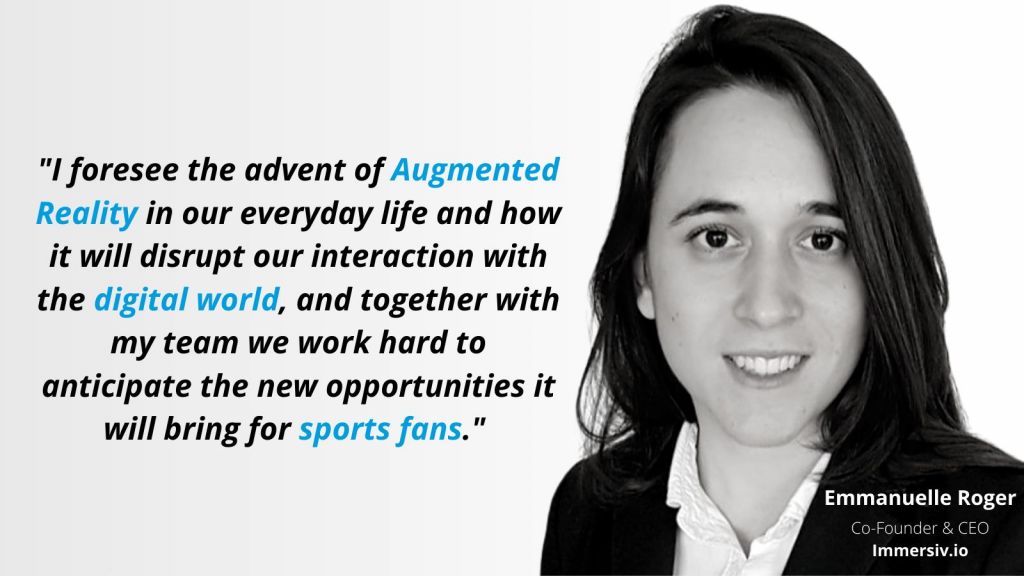 -Q: Emmanuelle, tell us about yourself, background and experience.
-A: I'm a Co-founder and CEO of Immersiv.io. I co-founded the company with Stephane Guerin a few years ago. Before that, I have always been working as a product manager, developing digital solutions used by millions of fans and always trying to leverage the latest technologies focusing on the user. As for my academic background, I graduated from Engineering school and I did a master's degree in design. My role in this company is very aligned with my history, merging creativity and technology.
-Q: It is known that usually women are not that frequent to study STEM careers. How did you find out about this world?
-A: Concerning technology, I have been lucky because in my family and close relatives I had several women who were engineers or scientists, but I didn't realize that at the time. For me it was only natural to be in that sphere, thanks to the models I had in my environment Without me knowing, it felt completely normal and that is why I ended up in scientific studies.
-Q: Why did you choose the sports industry?
-A: It was my plan A. When I was very young, I wanted to have a professional career in football. More realistically, I rather focused on math and science. But that's why I came back to the sports industry and I'm now working in it as an entrepreneur, which I consider to be my personal accomplishment.
-Q: Have you found it challenging or difficult as a woman to work in the sports industry and being a female entrepreneur?
-A: I started working in the sports industry as a product manager and I had incredible women in my professional environment, so when I became an entrepreneur, I didn't see many challenges, but I've noticed that we are very few in the sports industry and even fewer when combining the sports industry with tech. And that's a shame because the products and services that the market is building are for a wider audience. Now that women's sports are gaining more traction, I believe that having a more diverse population in the industry stakeholders helps building solutions that are for everyone. But I want to say that what I have seen lately is that there are more and more women in panels and conferences, so it is going in the right direction.
-Q: Was there a specific female figure related to the sports industry that was inspiring you?
-A: More than having a specific person, in my context in Paris there are many initiatives to promote women's entrepreneurship. I am part of Station F, a campus and community in the heart of Paris, with 30+ programs and a full range of services. I am also part of a program called Female Founder Fellowship where we were selected to get additional exposure with different types of initiatives that promote women in tech. There are plenty of other networks of women working in the tech industry, which really helps you to have role models to be inspired by. I think these types of initiatives are especially helpful for the new generations, because they can consider this path in the tech industry as a potential way to develop their careers.
-Q: What is the most exciting part of leading a sports startup?
-A: As a sports enthusiast, it's incredible to have a front-row seat or a key role in what's coming for the fans. For me, it's a personal accomplishment to bring value to the next generation of fan technology and more so with my own team. The fact that I was able to create this company is super cool.
-Q: Why fan engagement?
-A: I started in this area because I am very keen on creating new products, services and experiences, which I consider to be very important. For me, being a part of the fan engagement industry, reflecting each day on what we can bring using the finest technologies in the market to create the best emotions for the fans, is all about building impactful experiences.
-Q: Tell us more about Immersiv.io?
-A: We rely on the latest technologies in the field of AR to reinvent the sports fan experience. For instance, using machine learning, computer vision and data, we design and develop new experiences that are immersive and interactive for teams, leagues and other sports organizations, so they can interact with their fans in different ways.
Our solution is agnostic for any device. We develop apps for smartphones but also for smartglasses, and we are especially working closely with Microsoft and their glasses (the Hololens). As a startup creating AR solutions having a giant tech company like Microsoft driving the Mixed Reality industry with their AR Glasses Hololens helps a lot. So we are very enthusiasts to be working with them.
-Q: With the COVID situation affecting the whole sports industry, how is it impacting your company?
-A: The pandemic stopped us at the beginning, because all the games were cancelled or played without fans, so all the deployments that we had for our stadium solution were paused. But what was positive is that it drove further the interest from our clients towards home experiences to engage fans. Which led us to launch our at-home solution that lets fans see their favorite players at full scale in their living room, and the game through an interactive 3D mini-pitch.


– Q: How do you envision the future of fan engagement? What do you think is next?
-A: I think that if we take a look at what the youngest generations are looking for in terms of experience, they are looking for personalization and interaction during live events. That is what we are seeing with the emergence of new leagues like Fan Controlled Football in the US for example. There is an interaction between the fan and the game within these new competitions that are inspired by gaming The future of this area leans towards this type of competition that is more immersive for the fans.
I foresee the advent of Augmented Reality in our everyday life and how it will disrupt our interaction with the digital world, and together with my team we work hard to anticipate the new opportunities it will bring for sports fans.
-Q: What would be your most important lesson from 2020?
-A: What I can say is that the crisis creates opportunities, for each person individually and globally. In the different industries, we have had the opportunity to rethink how we addressed things. I think that for us concretely it accelerated the interest in our home solution, which, without the pandemic would have taken more time.
-Q: What is your biggest plan for 2021?
-A: We are seeing the restart of competition with fans, so one of our main goals is to deploy our solution for stadiums with fans, and we are working on the future of sports broadcasting by adding new features targeted more at the media industry.