25 Dec

Have you met…Lorin Hamlin? – Innovation that makes people's lives better
Lorin Hamlin joined Under Armour in 2011 to manage the grand opening of the state-of-the-art Innovation Lab. While acting as legal liaison for the Innovation team, Lorin's role quickly grew to include business development and strategic alliances. As part of the Innovation Partnerships team, Lorin now oversees Idea House, a platform which embraces the entrepreneurial spirit on which UA was founded; and Future Show, historically a showcase of the best ideas and concepts submitted through Idea House featuring an in-house trade show exhibition, in which Under Armour employees voted on their favorite products and innovations and the winner pitched to a team of top UA executives for a chance to develop their concept or product to commercialization through UA.
Considering the stellar growth of UA, the platform is currently being reimagined and streamlined to ensure UA is the first to see the very latest concepts and products, directly aligning with the specific needs of all athletes. Lorin also has a special interest in start-up accelerators, particularly those related to sports technology.
Question: Lorin, tell us a little bit about yourself and your background
Answer: I worked in publishing for over 15 years, I was an editor and I looked for new authors to bring their books to Stadia Ventures, which was the company that I worked for. Then we were bought, and I decided to go back to school and add my paralegal degree to my English degree.
It was just a very happy accident that I ended in Under Armour: back in 2011 I was on a lacrosse field with my son talking with a friend of mine, and he told me they were looking for a paralegal to open Under Armour's Innovation Lab in Baltimore and I said yes! It is very funny but that is how networking works.
Q: Are you a sports fan or a sports follower? Do you play any sports?
A: I played field hockey in high school, and I was my daughter's coach since she had 4 years old, until her abilities in hockey exceeded mine. She plays in second division field hockey, so we go and watch her games, and now she coaches in high school teams so all these years later I am still a hockey mom.
I am very passionate about sports. Our headquarters are in Baltimore, home of the Baltimore Ravens, this is one of the reasons I follow American football and I am learning now about global football because it is an area for Under Armour in the US, but it is more about a youth sport, and we are using more traction to analyze adults.
Q: How did your journey in Under Armour began? How has it evolved over these 10 years?
A: I started as the legalist between the Innovation Lab which in that time was more of a rapid prototype facility, 3D printing, laser cutting, testing and once that was up and running, we started the "Future Show" which was about entrepreneurs who pitched their ideas to executives, having the opportunity to win $50,000 USD and access to our networks. After that, I launched our online ideas submission called "Idea House", unique in our industry because most of the companies want to have some IP protection, and here anybody can post their idea and see if there is a path for commercialization. From that I got very interested in sports tech.
At the beginning our work was more apparel, footwear, and accessories focused, but as the world started to change, we acquired My Fitness Pal and that allowed us to become a very digital company.
We started with our connected shoes, which collects your data effortlessly and this digital transformation piece has been very interesting for me. The fundamental ideas and concepts that I looked for have become very brought, much more than back in 2011, and it has continued over COVID which no one thought would have happened. The trends were already there but they got really accelerated.
I think it's been a great journey; it is different every day, and I am looking for innovative technologies, particularly startups. I have a list of more than 35,000 partners that I have worked with and even their idea is not a good fit for Under Armour, I can make introductions with someone else who might be interested in it. My philosophy is to provide startups a positive experience and if their idea doesn't fit us this time, I want them to come back to us next time with new ideas because they had a positive experience with the Under Armour team.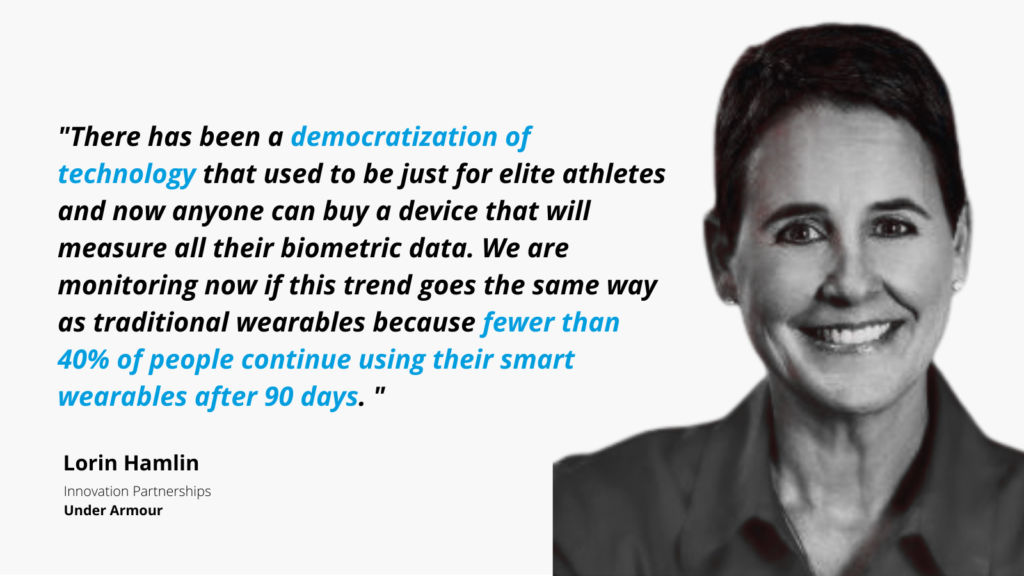 Q: What is the role of technology and innovation in Under Armour?
A: It is part of everything that we do, we would never just stamp a logo of Under Armour unless it has passed through extensive testing, third party testing, studies, tech validation department, etc. It is not just a shirt, or a show or an accessory, it is a pinnacle product that is driving performance.
Our mission is to make all athletes better, that is the heart of everything we do. We want to make sure that all our products are providing every athlete the highest level of support either with the shirt they wear or with the compression gear, or the shoes they use to go out for a run. It has to be the highest quality so they know that they can count on our commitment, and they can go out and break their goals, their PRs or whatever they need to do with us supporting them.
Q: Tell us more about "Ideas House" and "Future Show" and other initiatives that you have to help entrepreneurs and innovators in the sports industry?
A: I want to start with a story of our founder, Kevin Plank. He was playing for the Maryland Terrapins, and he just had this idea that he was the "sweatiest guy on the football field". He literally drove to New York City to the fashion district and found the lingerie fabric that he thought might help solve his problem. Someone sowed it into a sort of cropped shirt and then he just started grassroots marketing, handing those t-shirts out to the players. Then those kids went and played American Football in the NFL and within months we signed our first deal with Texas Tech that was our first University. From there we started with grassroot marketing and true entrepreneurship.
It is in our DNA to provide opportunities to people that have an idea and who don't want to be scooped up, and we make them part of the Under Armour ecosystem. We are looking at different ways of providing access to these startups. It is very difficult with a corporate ecosystem to find the way to reach the right person: you can send as many LinkedIn requests as you want but the networking part is very hard. We are looking at different possibilities of how we can expand our reach with startups and something that is very deep in my heart is to work with youngers like high school students, particularly girls. In innovation we are having trouble finding female engineers and computer scientists because it has been a predominantly male field. That's why we look to increase sports participation, removing barriers and helping female and underrepresented people whose career pinnacle could be Under Armour.
Q: Do you have a best practice or an example of products that you managed to deliver in collaboration with startups?
A: The gold standard example that I point to is Magzip. We had an inventor whose uncle had a muscular dystrophy and only had the use of one arm. This inventor wanted to create a one-handed zipper for jacket. He sent us his prototype which was huge and bulky, and our engineers played with it, did some 3D printing around it, adjusted it to the manageable size, made this unique sound when you put it together, etc. As a result, it went out in 400 units, and he still holds the right of his patent within our space.
The best part, that was never part of the plan, was that we started to receive letters from parents of kids with disability saying that their children were now able to put their own jacket and they were never able to do that before. To me that is why I do what I do. That is to be able to impact not just athletes but also on people who could use our technology to make their lives better.
Q: What other "golden standards" do you have to define your objectives accomplishments?
A: It is particularly difficult to show open innovation because we don't make products, we are pre-phase zero with products.
What I look for in a startup is obviously a passion and a prototype that would show us what the goal is. The most important criterion is that it must solve a real problem. Many times, we see startups that are solutions in search of a problem, while there are certain "evergreens" that we are looking to stop like heating, cooling, moisture management, water repellency. Those are ongoing, but we are also looking for that next solution.
Right now, I am very interested in recovery and what does recovery looks like beyond graduated compression or bio ceramics. Something I am particularly interested in, as well as the brand, is cognitive and neural training, both from a readiness and recovery perspective.
For example, I am seeing a lot of mindfulness techniques, products, and trainings, particularly during COVID. Then I have to dig into it and look how do the outcomes from those looks like, because sometimes there it really something there but the key is to find where it is a good fit for Under Armour.
Q: What trends do you see in the fitness industry for next year as we approach 2022?
A: We are seeing a return to sports so there would be some challenges such as finding enough fields and pitches for playing because there is going to be this situation that everyone will want to play all at one time.
We will see entoptic in smart venues not just with the security base but with technology that allows you to order things to your seat, facial recognition, and second screens while you are in the venue. We have seen a lot entoptic in biometrical measuring due to the COVID: measuring things such as your muscles oxygenation, hydration with various methods like saliva, urine, blood. It is interesting to see if this has sticking power or if it is just going to be for the elite athletes.
There has been a democratization of technology that used to be just for elite athletes and now anyone can buy a device that will measure all their biometric data. But it will be very interesting to see if this trend goes the same way as traditional wearables because less than 40% of people continue using their smart wearables after 90 days.
Also, I think now there are many people who started their online home workout routines and saw how great that is, myself being one of them. I think that after COVID people would go back to the gym but these people that started their home workout routines will continue with them because it is very convenient: you can de exercise without having to pay a gym membership and not driving anywhere, so I think that is going to stay.
Q: Does Under Armour have some initiatives or plans for 2022 that you would like to highlight?
A: We are very interested and excited to elevate female athletes meaning everything from making products, building storytelling, and creating unique consumer experiences for them. Back when we first started, Kevin Plank used to say, "I don't want to just shrink it and pink it". We had to build product for the female athletes, for example our Alpha footwear which is based on women's footwear last instead of man's last, because female's feet anatomy is completely different from a male's. I am particularly interested in supporting female startups and founders. For that, I'm working with several different initiatives and wearable tech ventures, which support underrepresented wearables entrepreneurs. For example, last summer we did a hackathon that allowed us to support people that don't have access to the technology. As a company, we have a huge commitment to diversity, inclusion, and equity worldwide, and it's not for the sake of duty, but because it really makes you a better and stronger company, when you have that diversity of visions. We are putting a big push to female sports in 2022.
Q: One of those initiatives to which you are committed to support women in the industry is Dreamers and Doers. Can you share what is this organization and your role in it as a member?
A: Dreamers and Doers is a fantastic organization that supports women at every stage of their careers. Women that are just arriving to the industry or women like me that have been here for a while. It is a big conglomeration of women who are looking for mentors at every stage of entrepreneurship, not just sports, it goes across all verticals. There is different type of ways, they have things like ask me anything, all different kind of events on a global basis, speed dating events in which you meet people, and other initiatives.
It has been very exciting for me to connect with loads of different women. It is amazing how you find common areas even if you are in very different industries. It is a very important way to connect, especially now during COVID.
This is a good way to give advice to young women and receive advice from others with more experience on how they are navigating their careers with the challenges that it represents.