01 Mar

Have you met…Tanja Bivic Plankar? – Helping Blockchain technology to reach mass adoption

Tanja Bivic Plankar, President of Blockchain Alliance Europe, and Communications Specialist at Netis

Tanja has been an active member of the blockchain community since 2017. Due to 12 years of experience in television broadcasting, digital media, public speaking, and communications, she has led and participated in numerous blockchain-related media campaigns and several blockchain technology projects.

Since March 2018, she has also been the president of Blockchain Alliance Europe, which advocates for the mass usage of blockchain technologies and cryptocurrencies and aims to transform Europe into a global blockchain destination.

Tanja is also a passionate blockchain advocate, speaker, and blockchain technology content creator. She believes education is critical to massively adopting various blockchain technology use cases. Much of her time is dedicated to connecting the communities, speaking and lecturing engagements, and organizing events.

Question: Tanja, can you tell us a little about your background and current work?

Answer: I am from Slovenia and am currently employed as the Communications Specialist for Netis, a cutting-edge technology company. Our team is dedicated to helping businesses understand, design, and implement innovative solutions for secure data exchange. Our expertise is powered by our deep knowledge of verifiable credentials, digital identity, and blockchain technology, which pave the way for new business ways.

In addition to my role at Netis, I also serve as the President of Blockchain Alliance Europe, which is an organization that started in Slovenia and is now expanding its reach internationally.

Before joining the tech industry, I worked as an editor and television host in media. I have seen firsthand the evolution of the digital media landscape and the emergence of social media platforms firsthand. With my experience, I recognized the potential benefits and challenges of digitalization. This prompted me to take a keen interest in cryptocurrency and ultimately join our family business in 2017.

I missed the "dot-com" boom, so I was eager to join the new Crypto revolution and shift my career focus towards blockchain-related projects. As a result, we established the Blockchain Alliance Europe, where we aim to be a constructive, critical, and engaged community member.

Q: What is the Blockchain Alliance Europe doing?

A: Blockchain Alliance Europe is a non-profit organization that connects companies and legal entities that use or implement blockchain technologies or are a part of the blockchain ecosystem.

We operate on three main pillars:

1. We offer support and guidance to our members and assist them with their business endeavors.

2. We work to expand our members' network and enhance their connections. As most of our members are technology providers, we provide them with professional advice and resources to aid their growth.

3. We pride ourselves on connecting industry experts with the knowledge and expertise to engage in various conversations, including legislation. Our primary objective is to achieve mass adoption of blockchain technology, and we also strive to elucidate blockchain's technological advancements and potential impact on global citizens and users. We believe that our efforts will bring the industry closer to widespread adoption.

Q: Can you name some of the challenges companies might have when entering the blockchain space? How easy is it for them to implement this technology?

A: Implementing blockchain technology can be both easy and hard for companies. One of the main challenges companies face when entering the blockchain space is not knowing their processes well enough to pair them up with experts to find where blockchain technology can be implemented. As a consultancy and development company, we help companies understand the benefits and challenges of blockchain technology and advise them on how to implement it effectively to achieve their goals. We believe that blockchain technology is a valuable tool that, when implemented strategically, can significantly improve how businesses operate. It's important to note that blockchain technology is just one piece of the puzzle. Companies must first identify the challenges they want to address and then use different parts of new technologies to assemble an innovative solution that will work. By doing so, companies can improve what has already been built without disrupting their current processes.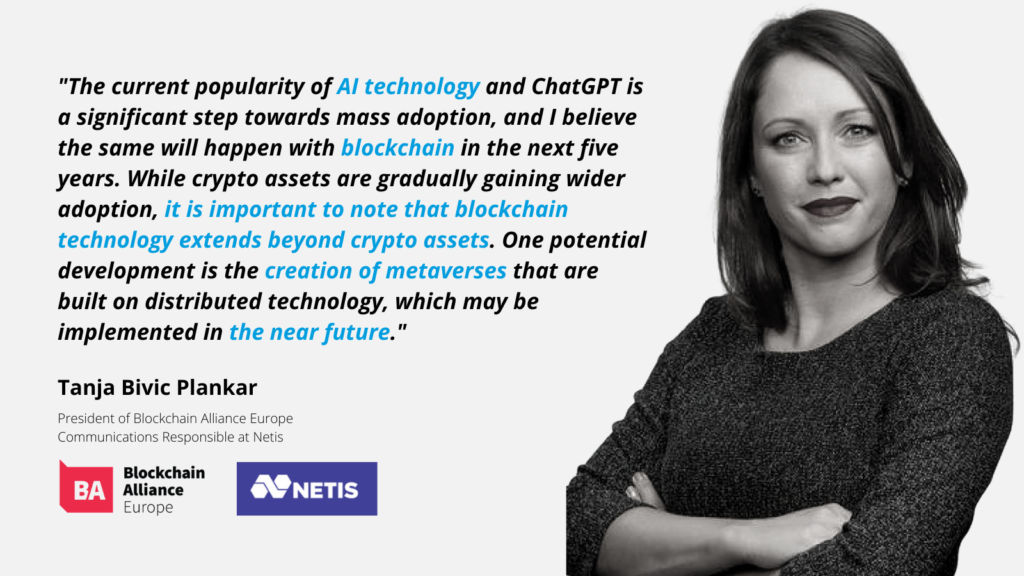 Q: What is your relationship with sports?
A: As a sports enthusiast, I enjoy various activities, including windsurfing, kitesurfing, and snowboarding. Motorsports, such as MotoGP and F1, are also exciting to me. However, being from Slovenia, skiing is a discipline I am keenly interested in, and I take pride in Slovenian ski jumpers who have achieved some of the best results in the world.
While I may not follow ski jumping regularly, seeing Slovenian jumpers compete at the highest level is always exciting. It's a sport that requires tremendous skill, strength, and courage, and it's always awe-inspiring to watch these athletes perform.
Q: Can you share an example of blockchain implementation in the sports industry?
A: Last summer, an infamous case emerged in Paris involving the sale of soccer tickets for the final game of the UEFA Champions League. The problem with digital tickets is that they are merely JPEG images, lacking any inherent digital characteristics besides their display on mobile devices, and this makes them accessible to counterfeiting.
However, we can eliminate these counterfeiting risks by integrating verifiable credentials and a self-sovereign identity model into the equation. This transforms digital tickets into verifiable credentials that are easy to verify and impossible to fake. This use case represents just one of the many potential applications of new technologies in sports, benefiting all stakeholders of the sports ecosystem.
For example, NFTs can be an excellent tool for building a fan base and providing exclusive benefits. However, some applications of NFTs don't reach their full potential. This is because JPEGs are collectibles but may lack utility. To see results, engaging the community and providing tangible benefits for acquiring NFTs, even in the long term, is important. It's also essential to consider how to further engage the community, particularly with Generation Z on the horizon. This will only happen if we give them meaning and purpose, fostering a sense of ownership and participation in these projects.
Q: How do you envision sports sponsorships and partnerships in a blockchain-driven world?
A: To reach the modern customer, traditional advertising methods like those seen on TV are no longer effective. Different generations require different approaches, so sponsors must use web3 technology to create interactive and engaging content. Gamification has proven effective in capturing modern audiences' attention and building brand loyalty. By integrating gamification into advertising, sponsors can create an interactive experience that engages customers and encourages them to participate, helping brands stay ahead of the curve and connect with customers meaningfully.
Q: What are your predictions for the use of blockchain technology in the next five years?
A: The current popularity of AI technology and ChatGPT is a significant step towards mass adoption of AI technology. I believe that blockchain technology will follow the same path in the next five years. While crypto assets are gradually gaining wider adoption, it's essential to recognize that blockchain technology extends beyond crypto assets. Creating metaverses built on distributed technology is one potential development that may be implemented shortly.
The European Blockchain Partnership is driving mass adoption in Europe by exploring various use cases for the European blockchain infrastructure in public services. One exciting example is the use of different wallets for identity verification to enable cross-border public services. As these initiatives become more widely adopted, the vacuum around blockchain technology will begin to dissipate. In addition, legal frameworks for crypto assets, with a particular focus on stable coins, will come into use, impacting Europe similarly to the GDPR Directive. These forward-thinking solutions will ultimately benefit the overall development of blockchain technology.
Q: Tell us more about this new event you are organizing: Mastercard 255 to the Moon.
A: I'm excited to share that Sloski, the Ski Association of Slovenia, is organizing a web3, blockchain technology, cryptocurrencies, and NFTs conference on March 30th. The conference will be an exciting event, so I kindly invite all interested in attending!
The organizers are issuing NFTs celebrating ski jumping, which will be fascinating to follow in future years too! It's fantastic to see that they're engaging fans with these NFTs and sparking conversations about the current trends in FinTech, Metaverse, NFTs, and web3 topics.
For those who can't come in person, the entire event will be live-streamed and mirrored digitally, and exclusive digital content will be available for online attendees. So whether you're in Slovenia for the ski jumping competition, one of the country's most prominent sports parties, or joining us online, there will be plenty of opportunities to experience this exciting event.
Q: What does 255 to the Moon mean?
A: The story behind the name of the event is fascinating! It's called 255, representing the final margin where everything is perfect in ski jumping. When the competitor has the best form and everything aligns, they will reach 255. The phrase "to the moon" also fits nicely with achieving perfection and describing the unimaginable margin for ski jumping.
While we don't know if anyone will reach 255 at the event, we will surely see some pretty long jumps! And in addition to the ski jumping competition, we'll also have some fantastic conversations about new technologies and opportunities in this space. It's going to be a great event with a unique blend of sports and technology. I can't wait to see what's in store for us!
.