28 Jul

Have you met…Anna Stepura? – Artificial Intelligence for safe training
Question: Tell us a little bit about yourself & your background
Answer: I am proud Ukrainian. I consider myself a very active and sporty person. I've been doing sports for around 23 years now. I also have 6 years of marketing experience. All these passions have helped me build the startup company AiSport which is one year old. The co-founder & CTO Dariia Hordiiuk has also 17 years of experience in sports so we can say that this startup is composed of a team who is extremely passionate about sports.
Q: Having a background as an athlete, how was your startup born?
A: Not only was I a professional athlete but I am also a certified professional coach. I've been coaching for five years, and I love it. I enjoy talking to people and teaching them how to do exercises and activities correctly. The reason I became a professional coach was since I had so many injuries from my professional athlete career that doctors told me it was best for my health to not do sport anymore. But I didn't want to leave sports, so I went into the health and fitness space to try to help and correct my health and I ended up adoring it and then becoming a professional fitness coach myself.
However, I saw some flaws in the fitness and coaching space. That is that, if there is a group workout going on, the coach does not dedicate enough time to every individual resulting in people not wanting a coach. I believe that back then, before the pandemic, the world was not ready for software like AiPro Sport, but now we see so many opportunities and programs to do sports. We saw a gap in the fitness market, and we are the only ones who analyse and correct people's posture when doing exercises through AI. We also show what muscles you are working on and the muscles you should be working out instead of the ones you might be exercising. This is a huge step to further develop the fitness industry and I'm glad to have a group of Ukrainian developers and engineers that help AiSport to reach its goals.
Q: What does exactly AiSport do?
A: It's a platform for safe online workouts. Any coach or fitness club can create their own workouts and provide their services online without losing the quality of service. As I stated before, when group workouts are done, it is hard to check the technique of every single individual. But with our technology you can do this! But checking everyone's technique we are also able to prevent any injuries that may happen by doing exercises in the wrong way.
Coaches can also scale their business so we encourage them to do so, and they can have a higher customer retention rate. Another great strength of our platform is that fitness clubs don't need to create their own app, they can skip this process and put out their fitness routines instantly on our platform.
Q: What excites you the most as CEO of this tech startup?
A: I love everything. I believe that sports are for everyone. It's free and you can do it anywhere. Everyone needs time to find the sport they like because everyone is different. So, to share this passion with the world is what excites me the most.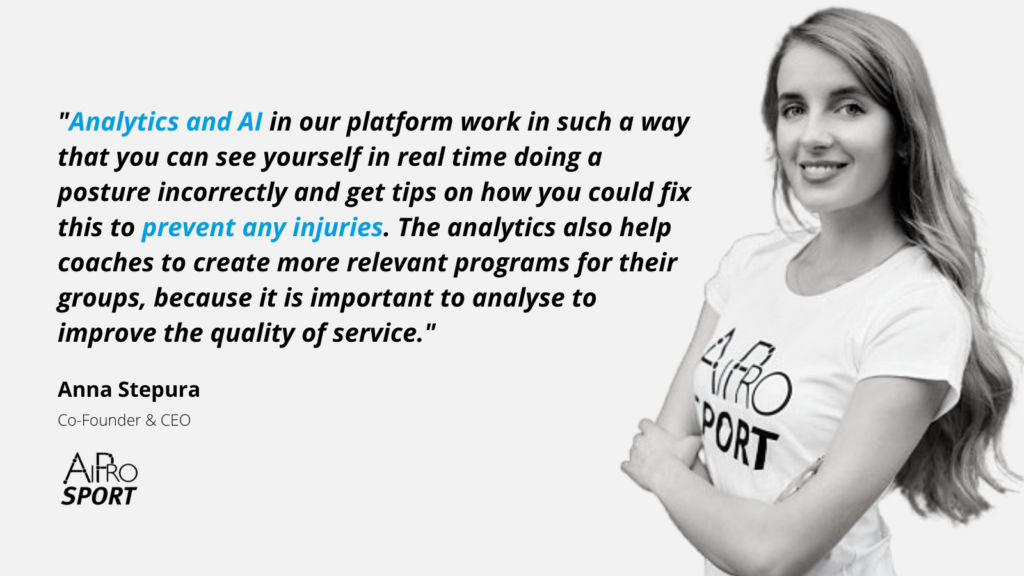 Q: Has it been hard driving the start-up as a woman in the sports and tech industry?
A: For me, it shouldn't matter if it's a man or woman running the company. Yes, statistic say there are less women running companies but if you have leadership skills, if you know what you are doing, if you are passionate or have great ideas, creativity etc. then you are the right person for the position. Our CTO, who is also a woman, is amazing, she understands and knows what she is supposed to do better than other people. Therefore, she is the correct person for the position. But I agree that there should be equal rights for women, and I wish woman had more power and encouragement to run a company. But I believe that more women in the future will be the head of companies and I would love to see this flourish.
Q: As a former athlete and professional coach, how important is data analytics for you and your area?
A: As I mentioned before, it is important to do exercises well because no one wants to feel pain, not even in the places you are not supposed to feel pain. Our analytics and AI in our platform work in such a way that you can see yourself in real time doing a posture incorrectly and get tips on how you could fix this to prevent any injuries. The analytics also help coaches to create more relevant programs for their groups. Maybe the workouts they are doing are too complicated or difficult for them to follow so it is important to analyse to improve the quality of service.
Q: What trends are coming into your area, what is popular or things we might see coming now that you are working with AI?
A: Digital intelligence is the biggest trend. But I am seeing a lot of interesting gadgets like a smart yoga mat and accessories that will help people do their workouts better. The market will grow in the next years, and I believe that with this growth, more people will be able to afford it.
Q: How did the war in Ukraine affect your business?
A: When the war started, everyone was shocked. We started to move everything to a place where we could all be safe. During the first 3 weeks, we all went to volunteer and help with anything. After these activities, we came together and talked about if we wanted to continue the start-up and if so how. Right now, it is more of a personal battle we all want to win. Not only the war but within ourselves. Yes, the war has its ups and downs but as Ukrainians we have no other choice than to want to win. This motivated us so much to the point of being three times more effective than before the war. I keep saying that we don't need to work round the clock, but everyone wants to, because they want to win.
Q: What are the next plans for AiSport?
A: We want to conclude our acceleration program in Silicon Valley, but we have started our sales phase. This means that we are starting to get messages from big corporations that want to collaborate with us, and we want to continue to reach out to other big companies. We want to make the fitness world better with technology and we know there is always room for improvement, so we are trying to advance and develop the platform in the best way possible.