01 Jul

Have you met…Luca Spinelli? – Data Analytics at the service of Fan Engagement, Venue Management, sports organizations' operations and social impact

Luca Spinelli is a Director of Business Transformation, Emerging EMEA & ASEAN at SAS. For the past 14 years he has been working in a consulting environment covering different roles as his growth would evolve. Luca is working on the analytics space, since 2007 with experience of workig at Aspire Academy, the Italian Football Federation, and teaching at Johan Cruyff Institute.
Question: Tell us a little bit more about your background

Answer: I've been working on the analytics space, since 2007. A bit in Italy at the beginning, then I moved to Spain and then to the Middle East. Throughout my career I have covered different roles. I also worked as a managing director for my previous employer for quite a while.
I got into sports analytics in 2015, when I was living in Qatar, so I started working with Aspire Academy on sports analytics for a couple of projects. I discovered that it was interesting for me to mix what I like, which is sports, and what I do, which is analytics. I made it my main purpose and hobby. I was doing sports analytics, but also other analytics for oil and gas retails, telcos, and others.
As a sports analytics professor I tech at the Johan Cruyff Institute about my experience on the field both at Aspire Academy, or the Italian Football Federation, and other football and sports organizations around Europe and Middle East.
And now I work at SAS, where I take care of the most critical transformations for customers. This role gives me the opportunity of connecting sports with education, and sports with the wellness of citizens from a governmental point of view. So this is how I can this influence the wellbeing of people and citizens from a broader context rather than the classic way of looking at analytics in sports.
Q: What's your favourite sport or sport team that you support?
A: I'm an AC Milan fan. I've been suffering for the past few years living and still pushing on the past successes of the team. But this year, we won the league, so I feel very happy and proud.
In terms of practicing sports, I do CrossFit and I enjoy that very much as individual sport, but also in teams. And recently I got into triathlons, where I run races too.
Q: Could you explain to our readers how SAS is involved with the sports industry?
A: SAS has different roles into the sports industry. One of the areas we cover very well is Fan engagement. For example, we worked with the Netherlands Football Federation and with the Royal Belgian Football Federation to do hyper personalization of their fans. We make sure that we treat each of them as a unique individual, making sure that they receive meaningful information, the right campaigns, involving them, make them feel part of the club.
The other one would venue management, IoT involvement and how this could support smart stadiums. We also do optimization of venues, for example, during COVID, we created a project that was supporting social distancing in stadiums and making sure that people could still go and attend sports events or concerts etc. in countries that were reopening slowly. We created an algorithm using AI that would sit people in the right place, making sure that they would have safety exits or the right distance from other people.
We also look at the 360 functioning of the operations of sports organization. We sponsored the Special Olympics in the past year in Abu Dhabi. We offered our services and solutions to create analytics for the special athletes that were involved in the Olympics.
We also work with governments. We have noticed that there is a strong correlation between the sports, involvement of youth, and for example, the level of crimes in countries. The more people are into sports, the less they are at risk of getting involved in crimes or drugs. This helps the progress and vision of countries when it comes to wellness and wellbeing of their people. We work a lot, both with Ministries of Sports as well as with Ministries of Education and Safety, to make sure they can collaborate in a way that the citizens are well served and can have a better future for their kids and legacy.
Another ministry that we can work with is urban planning. Because when you want to plan where you are going to have your stadiums or the public facilities that will allow then citizens to exercise in the country, is also very strategic. There are countries like Singapore that want to make sure that every public facility needs to stay at a maximum of 10 minutes away from households. So, there are certain initiatives that we support by adopting analytics as well.
Q: What is the importance of data analytics in sports of sports organizations as of now?
A: It's something that cannot be ignored. In the past, when it comes to an end product, we see the football matches, the events, the games, and they were not very much into data. They were rather looking at taking decisions based on gut feelings on notes on paper. There was a change of trend. We went from not having data to having data but on silos. The coach will have its own data points, the doctors have others, managers etc. Then it becomes a bit complicated to get things all together. Data analytics must come and put together the different areas with these different data points and make sense out of them and use the correlation between data to support sports. Today, there are many AI programs and technologies that identify automatically what is happening in the football pitch without having postproduction works. These programs can augment the capability of winning for a team. At the end of the day, we need to make sure that we use analytics in a responsible and ethical way.
Q: How can data help sports organizations or improve fan engagement for example?
A: I am a fan. I consume data in many ways. On my laptop, my phone, I have my subscriptions to certain channels, I have my preferences that are very public. Fan engagement is key to make sure that we understand the behaviour of our fand and what they need to make sure that we serve them well and that they feel part of the family. And they are the ones that eventually will buy the t-shirts of a club, tickets to go to matches, pay the memberships on TV to watch the games, etc. So how do we make sure that they receive value from what they're spending? We need to make sure that they are treated as individuals. We can't have mass marketing campaigns that are equal for a certain macro segment or for everyone. Today's hyper personalization is a must. And for this we deliver customer data platform with a so-called CDP, that makes sure that we get all the data of our fans that come from online digital or traditional marketing, put this all together and then propose and work with our fans only in a meaningful way.
Keeping them more involved in our communication that goes two ways. Is not only the club sending information back to fans, but it's fans producing content and information back to the club and the club uses this for the benefit of the fan. How do I make the life of a fan better from their point of view? They see only what I they want to see. This is what data analytics needs to make sure. Always stay relevant to the fans and customers.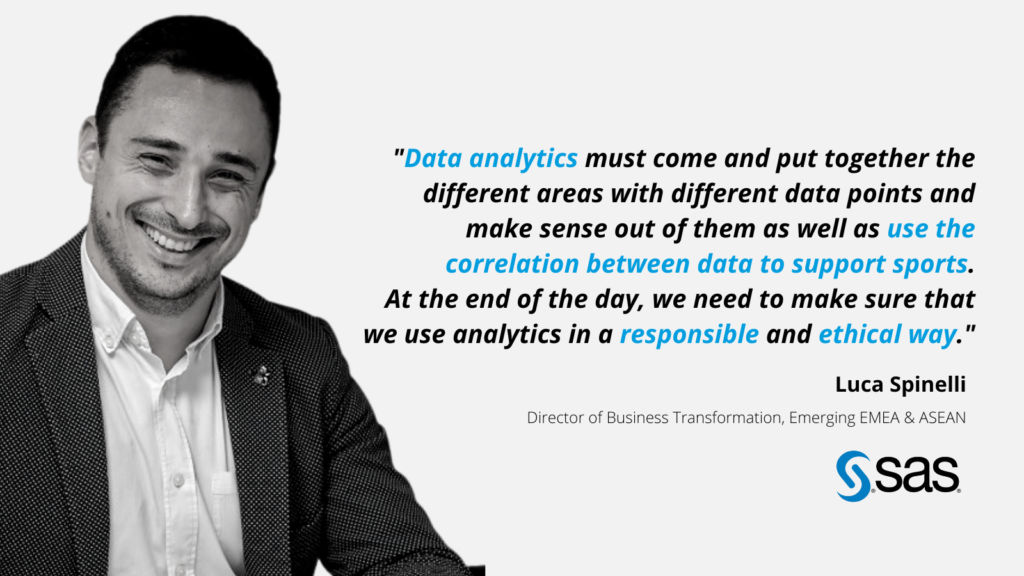 Q: Data analytics improves customer relationship for sports organizations, can we say Web3 could take this to the next level by securing data transfer and giving customers more insights into how companies use their data?
A: Web3 is a massive opportunity for everyone. It empowers that two-way communication. Why? Because Web3 is bringing back the ownership of the content to the content owner. Fans in this case, could produce content that is unique, and will be able to own it and monetize it also through clubs or through Federation's.
At the same time, the clubs that own certain content might decide to deliver it as unique content to generate funds, we see this with NFT's. You might buy the first goal of Messi; you might buy the video of the winning goal of the World Cup. There are certain things that are today very valuable to us, that will reshape the way we consume the Web today. We are moving from having companies that own our content (like every time we publish a video on Instagram, the content is belongs to them) to own content that I can decide to monetize on, I own the rights of that. It generates a completely different way of interacting online.
We have the pictures and the videos of the matches of so many young talents that tomorrow will end up in a first Top Club. And who owns this content? This content could be owned by the athlete, by the parents, there are different ways. Web3 also facilitates and helps the gamification of what happens in sports. For example, when we are watching matches, nowadays, we need at least two devices. Because when we watch matches today's we don't just watch TV, right? We always hold another device in our hands. This happens also when we watch Netflix or TV. I've seen a lot of new applications and organizations that are bringing OTT platforms where you can vote on your favourite player through the phone while you watch the match, you can make your own personnel assessment of how someone is playing or performing in the game. Then you get certain points, and the loyalty becomes an NFT. They build their loyalty rewards as a token, not five points to get a 10% discount on your next t-shirts in the shop. It becomes an NFT, something that tomorrow can have a much bigger value. And that can be sold again or that you can own as the unique owner of the content.
Web3 stimulates new channels across the entire way that sports function today. Sports are looking for different ways to create revenue streams. All sports clubs sometimes have difficulties with staying positive in terms of finances. Web3 can bring new revenue channels, and revenue streams.
Web3 is also a very good chance for us to validate the data that we receive. We used to see the top clubs or top sports organizations on TV, we are familiar to what they're doing. But the pool of athletes, the total addressable market is massive. What capacity do Federations have to validate, for example, the data of a passport of an athlete or their background? Through Web3, you can have a sport passport on a blockchain that works from day one. Knowing how an athlete has been performing in the different clubs or organizations all the way to where they are.
Clubs can secure the investments and secure the future of the right players as well. For example, solidarity fees, and training fees are lost in transactions when a football players go professional. Clubs stop receiving the fees at some point, because this gets so complicated after 567 clubs. How do you keep track of the fees? Through a blockchain, this could still be tracked, to the end with no failure. This could help a lot for smaller sports entities/teams to earn money.
Web3 will democratize much more the way that data is being used. However, there are risks. We work a lot with banks at SAS, and we see that fraud through blockchain is happening. It's very simple just to mention, but it's still something that is not much regulated. I might exchange an NFT for a price that I put and then decide the real value of this or the money that I'm going to receive or transferred to people. There are a lot of crimes that could happen through this. We hope that some regulations will support the fight against this.
Q: What "The Batting Lab" is?
A: The Batting Lab is an analytics lab for kids that has different purposes. First, it teaches the importance of analytics to kids, so we want to make sure that the next generations understand the importance of data. That's the first objective.
The second one is to show what SAS can do on this type of field. We have built a cage where the kids that we have invited to study are playing real baseball. They will be hitting a ball while there are cameras that will monitor and track all the frames of how the kids are hitting the ball. Measuring all the KPIs from their posture to the way they hit it, to the speed of the ball, and many more KPIs.
This lab was running for few days and there were different tests these kids could do. They are the first unbiased approach to the case. They were batting the way they knew, then they were coached for a few days, and they were re-tested. We can see how they were performing on day one and how they performed on the last day. The kids were able to understand the improvements that they were having by listening to their coaches and they could measure this in a tangible way. They could see how data was bringing benefits to them, as athletes in this case, but our objective was to coach beyond that, and make sure that they understood different things. We said that data and analytics is a subject that people will have to study as a must in the future, schools should teach analytics.
It was our mission to make kids understood the importance of data analytics, and data analytics in sports. Now we are trying to talk with other entities because we did this with baseball in the USA, but for example, it would be fantastic to do that on cricket in Singapore.
Q: You have recently partnered with Sport Lisboa e Benfica. Can you share what SAS is doing with the club?
A: Benfica is a club that is investing a lot on their innovation and transformation. They also have the mission and the vision of staying very close to their fans and making sure that they run their company in a data driven fashion.
Benfica called us to work on the 360 data on the cloud to support the understanding and action ability of the data that was coming from the mobile app, the website and from other data sources to make sure that everything is constantly under control. We built for them different dashboards that would measure KPIs across the organization and not specific to one element or only on the pitch. There is a lot of work that is happening off the pitch. We can support them with analytics that look at the entire operation of the company. How they generate their revenue, how they generate margins, how they optimize their resources, how they monetize what they're doing, etc. We also give back to community.
Q: What recommendations can you give sports organizations that are just starting their digital transformation?
A: First, run an unbiased assessment of maturity to see where the organization is today. If they have data, where is it, who is using it, what's the purpose of the data? Build on top of this and search what is missing. Ask yourself what data that I need today am I not capturing?
And of course, the strategy: where is the organization going and what do I want to achieve in the next few years. After analysing this, look for the kind of data that is going to support these decisions. This is a change in managerial process that will take a while to achieve.
The organization should refer to someone who is a techno functional consultant that knows about sport and technology. This works for everything like fan engagement, analytics, venue management, etc. Then decide on the quick wins that can bring in tangible value at a relatively fast speed. Meaning, don't embark on projects that could last years.
Governance is the second step. You need to have governance in data, so call everything the same name in libraries, data sources, KPI's, and so on. Keeping this simple is also very important.