02 Jun

Have you met…Erica Kerner? – Passion for sport, innovation, sustainability and luxury

Erica Kerner, Chief Marketing and Communications Officer, SailGP

Experienced Marketing Leader with a demonstrated history of working in the Luxury/Fashion/Retail and Sports industries. Skilled in Luxury Brand Marketing, Integrated Brand Marketing, Marketing Strategy, Retail Marketing, Digital/e-commerce, PR/Influencer Marketing, Sports Marketing and Sponsorship.
Question: Tell us a little bit about your background.
Answer: I am Chief Marketing and Communication Officer for SailGP, currently based in Singapore.
During my career I have worked in sport and luxury for most of it; I was in Marketing with Nike for 10 years, 8 years with Adidas, running their Global Olympics Program, and also Headed Marketing for Asia Pacific for both Ralph Lauren and Tiffany, & Co. Right before I joined SailGP, I worked for ONE Championship, Asia's largest sports media company and one of the fastest growing sports organizations in the world.
When SailGP position came up, it was a great opportunity to put all my career skills together. Besides being another fast-growing sports league, SailGP is driven by Purpose: SailGP has the goal to be world's most sustainable sports league, and they're well on the path to doing that. SailGP takes sport, luxury, adrenaline, innovation, technology, and purpose all together in one roll. I felt this was the perfect job for me!
Q: Are you a sports fan? Do you practice any sport?
A: I grew up playing competitive tennis. I'll always be very passionate about tennis even if I don't play anymore. But I'm actually passionate about all sports. Growing up professionally within Adidas and Nike, put me in front of any competitive sport and I'll get excited and cheer and learn the sport. But today I would say my passion is really around water sports, adrenaline sports and anything that shows real skill and athletic ability.
Q: As Global Chief Marketing Officer, how do you want to present the brand to your current and potential audience?
A: SailGP is fantastic opportunity for me as a marketer because it's a young brand. Sailing is an old sport, but we are really not sailing in the traditional sense. We are high speed adrenaline racing on water, our boats "fly" at almost 100km/h. This year we hope we break the 100km/h mark.
For me to work on the league is an incredible opportunity as a marketer because we are introducing our form of sailing to the sailing community, introducing a whole new sport to the racing community, and going for a whole new consumer group that never thought of engaging with sailing before. Now that they watch the adrenaline and excitement, they are becoming fans overnight. It's a great opportunity to grow a sport and be able to bring new consumers to this young league.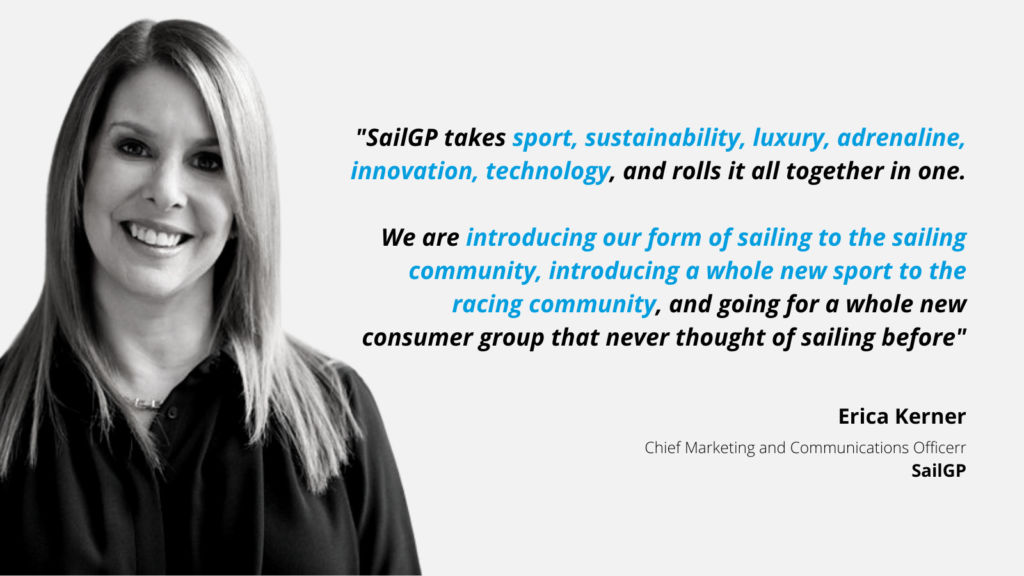 Q: SailGP is continuously expanding. How challenging is it to engage more people to the sport and how is SailGP growing their fanbase? How do you introduce the brand to people who have never seen SailGP?
A: Our social and digital strategies are key because today, reaching a broader fanbase is done through our social media channels and our teams' social media channels. But one of the exciting things is working with our partners like Rolex, Oracle, or T-Mobile, and introducing the brand to their fans. We have also Partnered with The NEAR Foundation, a company focused on growing blockchain and wewb3 communities. We are working with them to find new ways to engage with fans. We have announced (and I'm very proud that we are the first sports league to have done this) that we will sell a team to a DAO (decentralized autonomous organization). This is something that no other sports team/league has done. You can buy into the DAO as a fan, purchase, and become an owner of a team. Ways are changing in which teams are interacting with their teams/athletes and it's something that will help to grow our fanbase. This is a great initiative in sport that we can do because we are a startup and do not have a legacy system of team ownership without incentive to evolve their structures. This is a very exciting space as it will really be the future of fan engagement and fan ownership.
Q: How do you use technology to grow the organization?
A: The entire sport is based on technology. Our boats are different than F1 where every team has a car that they are able to make changes to that can dramatically improve performance. In our sport, we have 10 teams and each team races in the exact same boat – the teams can't alter them. The skill of the sailors is what counts. Our entire boats are so technologically advanced: there are more than 800 sensors on each boat and all that information is shared back to our Oracle Insights Platform. All the sailors and fans have access to the data in real time. Each team can see the same data that the other teams see and that is also a first in sport. But there are billions of data that come back to us after each race, and the teams can then analyse the data to improve the performance going into the next race.
Q: How will your experience with luxury/sports brands and agencies give you the upper hand when bringing new viewpoints to SailGP?
A: One part of our opportunity is on the ground for events, and another one is growing the global broadcast, digital audience through our events, social media and engagement. When you are at a SailGP event, it is one of the most premium sport event experience you can have. Our Adrenaline Lounge is a VVIP opportunity right in front of the racecourse. You can watch from a yacht or even bring your own boat to watch because we are a stadium racing, close to the shore racing event. With my luxury brand and consumer background I'm able to understand what these high end consumers want from that onsite customer journey and bring a luxury experience to this VIP consumer to watch the races.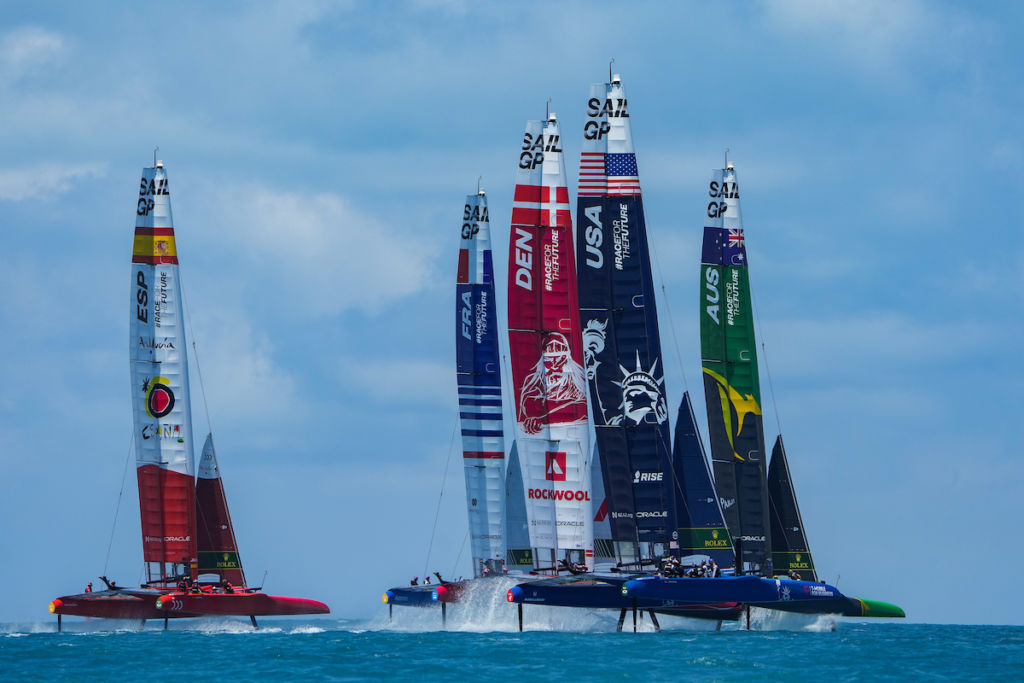 Q: Sustainability nowadays is an important topic of discussion. What projects/initiatives will SailGP implement to protect the ocean?
A: One of the reasons I joined SailGP is because of the sustainability and purpose platform. We want to be the worlds most sustainable sports league. We don't have one trophy to give at the end of every season, we have two! One for the sport and one for the planet.
Each team at every race is rated on 10 different criteria, including their carbon footprint, waste disposal, electricity usage and their impact on the local community. Each team has an impact partner that they work with. E.g., Australia works with Parley for the Oceans. Every race they do activations in the local communities to support Parley. We are always looking for how can we as a league be better for the planet; how can we use the races/athletes/teams to do purpose projects in their communities? And how can we work with NGOs on sport for good?
Q: What is next for SailGP? (Plans, events, initiatives that you would like to share)
A: Our next event is June 18th and 19th in Chicago (the 2nd stop of our third season). We have 11 stops on the calendar this season. But the key thing for us is growth. We had 8 teams last year and this season we have 10. We had 8 races last year and now we have 11. In season 4 and 5 we will increase that number again. We are increasing the different areas in the world that we race in and bringing in new national teams. We are a nation vs nation championship. There is team USA, team Australia, team Great Britain etc… so going to new territories around the world will help to increase our fanbase. We are looking at new platforms and marketing campaigns, we launched TikTok this season which has been our biggest growth platform. Hopefully with our new blockchain partner, we will be doing a lot of new things on blockchain technology with our ticketing, fan experience as well as the DAO team. So, I think you will see some interesting and exciting things from SailGP off the water. But on the water, it is already the ultimate in adrenaline racing.