28 Jun

Have you met…Rick Cost? – Driving Innovation and Transforming Soccer in the US
Rick Cost, High-Performance Director, US Soccer Federation
Experienced Scientist with a demonstrated history of working in the sports industry. Skilled in elite football teams, Hockey, Coaching, Fitness Training, Strength & Conditioning, and Physical Therapy. Strong healthcare services professional with a Drs. focused in Movement Science from Vrije Universiteit Amsterdam.
Question: Rick, please introduce yourself to our readers.
Answer: Rick Cost, High-Performance Director at US Soccer, originally from the Netherlands, and I'm responsible for overseeing the performance area for the national teams in the USA. This encompasses sports science, medical and analytical aspects, nutrition, and everything that directly influences players but is not related to their ball skills. In terms of my background, I have a history of playing tennis and studying physical therapy and human movement science. I further pursued sports psychology and eventually established my own company focused on top-level sports in the Netherlands. I have worked with Olympic teams in London and Rio, particularly with ball sports, and later joined Feyenoord. In 2021, I was hired by US Soccer as the Performance Director for all the national teams.
Q: What is your favorite sport?
A: I have two favorite sports. Tennis holds a special place in my heart, I played it all my life and I truly enjoy it. However, soccer or football also fascinates me due to the overall experience, including the dynamic nature of the game, the enhancements, and the passionate fans. When I was at Feyenoord (Feyenoord Rotterdam N.V.), witnessing the crowds of people inside and outside the stadium truly living the emotions of victory or defeat made me appreciate the beauty of soccer. Although, technically speaking, tennis remains my absolute favorite sport.
Q: Could you discuss the technologies used in the federation related to players and your approach to working with them?
A: Within the federation, we employ a variety of technologies. The most prominent one is GPS, which allows us to track players' positioning, speed, total distance covered, and intensity during games. Additionally, we utilize heart rate monitors, which may sound conventional, but they complement our overall strategies. One notable tool we employ is the 1080 sprint, which uses a cable system to provide information and can rive resistance during sprinting on a player's peak speed, acceleration, and deceleration rates over a specific distance. We also utilize Oura ring for tracking HRV (heart rate variability) and sleep patterns. Furthermore, we employ ThermoHuman, a body temperature thermography camera that aids in injury prevention and recovery. These are just a few examples of the practical solutions we employ. We don't solely rely on data; we also utilize hyperbaric chambers for oxygen impulse, floating beds for mental recovery, pools, and cryo chambers to expose the body to extremely low temperatures (-120 degrees Celsius) for faster recovery. NormaTec sleeves for cold compressions are also worn. Although there are several other technologies we use, the key is that we integrate them as a comprehensive package. We strive to find that 1% improvement or better feedback from training sessions by leveraging the data gathered, allowing us to develop enhanced training programs, individualized feedback for players and coaches, and optimized loading programs.
Q: Are these technologies accessible to players at all levels of soccer in the federation?
A: GPS technology is available for everyone. However, when it comes to the recovery room, we tailor the available modalities based on the specific team. For instance, the under-fifteens have access to the recovery room with the least modalities, such as NormaTec Sleeves and Hyperice equipment. As we move up to the U-17 level, we add different nutrition packs and Fly Kits. U-20 teams traveling abroad have access to a jetlag recovery protocol. Finally, the first team has access to all available technologies. The concept remains consistent across all levels, but we are limited by budget constraints. It would be impractical and extravagant to provide a hyperbalic chamber for the under-fifteen team, for example.
Q: What about grassroots and amateur players? Are they also included in the utilization of these technologies?
A: Yes, we have partnerships with various competitions, including grassroots tournaments. We conduct research in that area to provide advice on the best competition structure for different age groups. We aim to determine the optimal competition format for players from the age of five up to seventeen. While we have an advisory role with our partners, we don't have direct influence over grassroots soccer. The grassroots system is a separate entity, and although we strive to have an educational influence, it also depends on the relationships we build.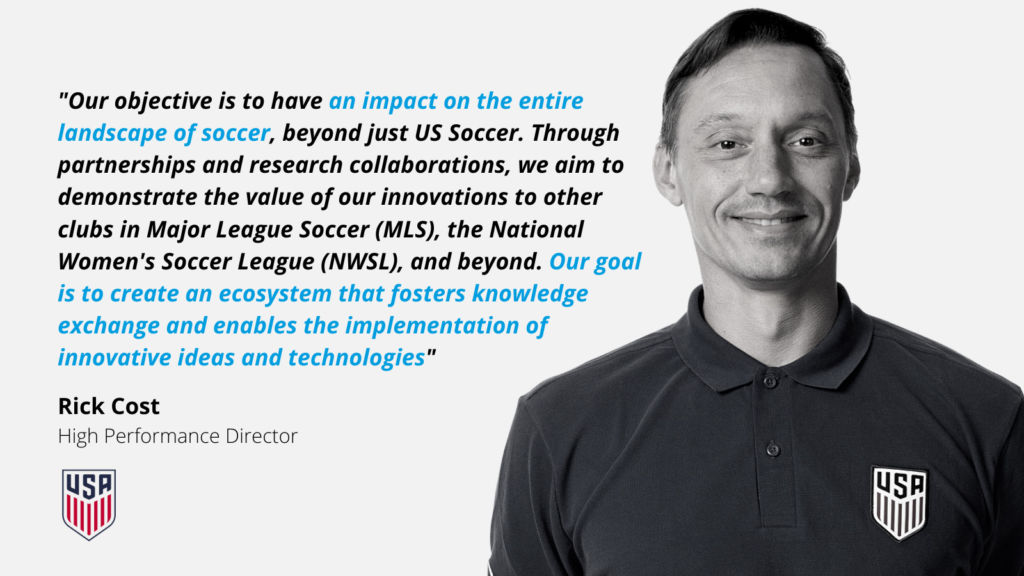 Q: Can you provide any case studies that demonstrate how these technologies improve player performance?
A: We do have case studies from our recovery room where we measure various aspects and conduct research. However, measuring success in terms of player performance improvement is challenging due to the small margins involved and the quality of the data we have. During the World Cup, for example, we utilized the recovery room and provided daily recovery advice to the players. We were able to perform well throughout the tournament, meet our technical objectives, and had minimal injuries, with only one player experiencing a pre-existing muscle injury. However, it's difficult to determine whether we would have been equally successful without utilizing these technologies. Finding that 1% improvement is the challenging aspect of working in top-level sports. While we don't have conclusive results yet, I believe the team's performance level has grown since the last World Cup in Qatar. Our goal was to change the perception of soccer in the USA, and I believe we achieved that, especially in terms of fan engagement and the overall success of the World Cup.
Q: Let's talk about the perception of soccer in the US. What are your thoughts on this?
A: There are a few issues related to the perception of soccer in the US. One aspect is the desire for more goals in matches. However, if we change the scoring system to assign more points per goal, the perception of higher-scoring games might change although it would push the rules far away from the way the game is meant to be played. Another challenge is that many kids play soccer until the age of 12, but after that, they tend to shift to other sports like American football or baseball due to greater opportunities for scholarships and financial rewards. However, soccer has the potential to attract more participants, especially considering the growing concerns about head injuries in other sports. We have put emphasis on player safety, for example, by prohibiting heading the ball until the age of 12 or 13. Overall, we need to address the perception that soccer is not as exciting as other sports and work towards changing that perception, for instance, by educating the public on the existing tactics of the game.
Q: Can you explain the strategic objectives and vision for your innovation hub?
A: The research and innovation hub serves as a platform to disseminate knowledge, promote improvement, and enhance the understanding of soccer in the United States. Our objective is to have an impact on the entire landscape of soccer, beyond just US Soccer. Through partnerships and research collaborations, we aim to demonstrate the value of our innovations to other clubs in Major League Soccer (MLS), the National Women's Soccer League (NWSL), and beyond. We also plan to collaborate with MLS clubs to conduct joint research, allowing them to utilize our hub for their own research within their specific environments. Additionally, we are open to partnerships with startup companies that offer products or solutions that can benefit both top-level and grassroots soccer. Our goal is to create an ecosystem that fosters knowledge exchange and enables the implementation of innovative ideas and technologies.
Q: How do you assess the technological advancement of your organization compared to other international leagues?
A: In the United States, we are relatively advanced in terms of technology implementation. However, from a practical standpoint, there is still a long way to go. For example, we have established a recovery lab and conducted research there, but when it comes to fan engagement, the NBA is miles ahead. They have extensive resources and a strong connection with their fans. Nevertheless, considering our budget constraints, we believe we are doing a commendable job. In terms of high-performance training, player health, and performance improvement, we rank among the top 90% in the delivery of innovative solutions and combining various sources of information.
Q: Regarding the relationship with the Global Sports Innovation Center (GSIC), could you elaborate on the importance of creating partnerships with global systems and the benefits derived from it?
A: The relationship with GSIC has two main aspects. Firstly, it provides an opportunity to learn from individuals and companies I wouldn't typically interact with, particularly those not directly involved with players but more focused on the fans' perspective. This opens my eyes to concepts such as virtual stadiums and how people perceive on-field performance. I gain exposure to new ideas and technologies that I may not have been aware of otherwise. On the other hand, it's also beneficial from a business perspective to understand what's happening in the industry and identify potential partners. For example, through GSIC, we discovered LaLiga Tech, which offers an amazing product. While we may not replicate their approach, communication, and information exchange help us gain valuable insights. Additionally, learning about various Microsoft solutions and technologies during the summit has expanded my technological knowledge. I appreciate the dynamic nature of the partnership, as it presents opportunities for collaboration and mutual learning.
.