25 Nov

Have you met…Betta Maggio? – the benefit of working in sustainability and sports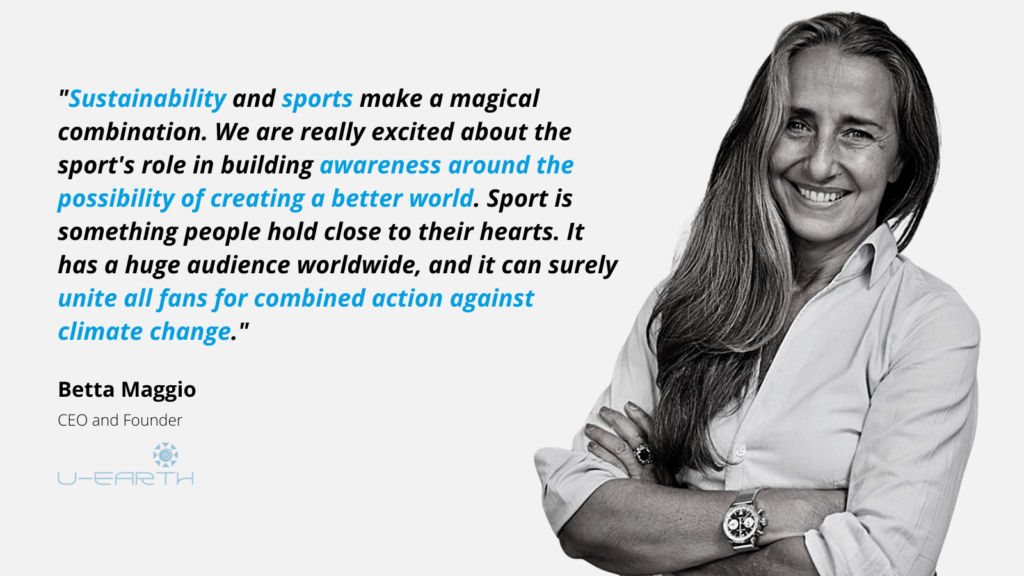 1. Please introduce yourself to our readers.
I founded my first company in 1990, and since then, I have worked in marketing, branding and design. Then, I realised that I could convey my skills and energies into a much more impactful project: air decontamination. That's why I founded U-Earth in 2008, gaining competence in the biotech sector as well.
2. What drove you to found U-Earth?
Attention to the environment, sustainability and preservation of the ecosystem have always been the guiding principles that have always accompanied me throughout my career. On top of this, I grew up with an uncle, a scientist at the New Jersey Institute of Technology, who introduced me to biotechnology when I was a child. Then, as often happens in entrepreneurship, a personal story inspired me: I lost my father and my grandmother due to infections contracted in the hospital. I wondered if it was possible to avoid it in a new way, thanks to the biotech-based technologies I was familiar with. When I found the answer was "YES", I decided to dedicate my life to this cause: avoiding health damages caused by air pollution using the most powerful ally on this planet, friendly bacteria easting contaminants.
3. What do you do in U-Earth and what do you want to achieve?
The technology at the core of U-Earth comes from 30 years of research. We have been prototyping, validating, and fine-tuning our core biological de-pollution technology since 2008, which was initially developed for extreme events such as environmental disasters of chemical and biological weapons. Unfortunately, the world became a toxic environment, so we pivoted and developed a miniaturised plug-and-play version of the technology for every business environment (an office, conference, summit, etc.). Our core belief – mine as a CEO and my team's – is that clean air, like drinkable tap water, should be considered a human right and should be available to everyone.
4. Can you explain how Pure Air Zone works and what are its benefits?
A bespoke service for B2B organisations, Pure Air Zone is an integrated suite of products, protocols and technologies designed to purify the air from pollutants (including viruses and bacteria) in a particular environment, track the air quality in real-time and claim this effort as a strategic purpose marketing tool for organisations of all kinds. We do it with nature-based proprietary technologies based on 12 years of validation in real-case scenarios. All of this is plug-and-play, so in a few hours, you're ready to keep track of the air quality cleaned by a suite of cutting-edge products. If the light is green, the air is clean, done! Customers buy clean air as a service. If you want energy, you can buy it. Now, if you want air quality, you can buy it too.
5. What does sustainability mean to you?
Sustainability at a business level is about transparency, raising awareness, building engagement and driving action. And taking measurable actions is key, moreover with air quality. We've waited far too long. The problem is huge. We've seen that 99% of the global population is breathing unsafe air, and that's without covid. 4 out of 6 deadly diseases are airborne. The deadliest diseases, viruses and bacteria will spread more and more because of the temperature rise, spilling over from animals to humans. 8.7 million people die yearly from air pollution,
which will be more severe than covid in the following years. This global and urgent challenge can only be faced if everyone does their part: consumers, companies, and institutions by curbing emissions and destroying the inevitable excess.
6. What are the hardest sustainability challenges you have ever worked with?
I'd say communication and awareness. The biggest challenge is making sustainability easy to understand and something individuals can adapt to their day-to-day life. Unfortunately, ESG, CSR and SGD projects – that are most needed – often remain hidden in the folds of sustainability reports. It is a pity, both for the companies that invest in sustainability and for the general public, which has no exposure to these projects. This is why we have conceived Pure Air Zone, as a new air quality standard which, in addition to decontaminating the air thanks to proprietary biotech technologies, becomes a branding, communication and dissemination tool for companies. We must build a strong community of activists who ask for pure air. That will motivate companies to change their work into a more sustainable business model that will be more successful because they respect the environment and care about people's health.
7. Sports is the lens that connects our network of members and partners with the fans and the community… In your opinion, how can sport address the climate change challenges and other sustainability issues.
Sustainability and sports make a magical combination. As Michele Uva mentioned in our conversation during FIF, sustainability, innovation, and sports are linked. We are really excited about the sport's role in building awareness around the possibility of creating a better world. Sport is something people hold close to their hearts. It has a huge audience worldwide, and it can surely unite all fans for combined action against climate change.
We experienced the power of sport first-hand after becoming ESG partners of F1, MotoGP, SailGP, Basket Clubs, and many other sports, helping them during the pandemic with our U-Masks and Pure Air Zones.
8. What are the benefits of working in sustainability and sports?
The real challenge is making sustainability easy and enjoyable, just like watching a game. We are all on "team planet" together and should cheer for it. So the benefit of working in sustainability and sports is going beyond the rhetoric of greenwashing or apocalyptic tones and embracing a new way of proposing it: easy, fun, and rewarding.
9. Generation Z is all about credibility. How can sport entities/companies communicate and show that they are being sustainable and gain the trustworthiness of the upcoming generations?
Credibility is based on transparency. Technology and data are here to help. All projects that have measurable impacts are an excellent way to build credibility. On top of this, the concept of community is also crucial: the wider the community of people that act for the planet in different ways, the higher the possibility that others will follow: on this, gen Z can take the lead.
10. Should sports bodies start asking themselves how climate change will impact their sport and examine the risks posed to them as well as the health and wellbeing of the people involved?
Every organisation and every institution should. It's a market need, so to speak. We're seeing a rising number of people choosing brands depending on their purpose and actions against
climate change. That applies to every industry, sports included. Sustainability will be a driver of the success of sports organisations. It's a matter of competitive advantage.
11. What is next for U-Earth?
We have a very challenging yet exciting time ahead. Thanks to our membership in initiatives and institutions like GSIC, the New Champions Community of the World Economic Forum and being labelled by the Solar Impulse Foundation as a clean and profitable solution, we are now approaching the global market. Providing clean air as a service is an affordable choice, and it is immensely rewarding. The plan is to grow our community of "pure air heroes" thanks to the amazing companies and people believing that a better world is possible and making it happen. Billions of individual actions caused climate disasters.
Its recovery can happen thanks to individual billion actions. As an individual, you can do yours now by joining our community starting by clicking HERE.
.