03 Oct

Have you met…Raj Sambwani? – Helping to build business transformation across continents

Question: Raj, could you please introduce yourself to our readers?

Answer: I come from a background of technology, business development and digital transformation consulting as of recent years. It's been a journey for me across industry exposure wise and seeing how technology can make a tremendous impact in different industries, customers and clients, and how you can scale businesses using technology which is a huge benefit to have whether you're building a community or enhancing your position in a particular environment / industry.

Q: Would you consider yourself a fan of technology?

A: I'm a huge fan of technology! I'm an early adopter of devices like smartwatches and I try them out to see if they work out for me while at the same time I test and criticise it.

Q: Do you enjoy sports equally?

A: Sports is one of my many passions. I play a lot of tennis, I'm not competitive but I have a strong sense of improvement. I've done a lot of triathlons, but I stopped at some point, and one of my goals is to come back to them. It's an extreme passion how I take sport into my life because you can apply different smart devices to your daily or sports routine. I use these technologies to track my personal data, which is one way to understand how data can enhance your personal life.

Q: Looking at your professional career, you used to work at technology companies, consulting firms, etc. But at some point, you started working with start-ups; what drove you to this change?

A: I have seen myself as an entrepreneur since day one. I've always been given opportunities within multinationals to do very entrepreneurial things. I did entrepreneurship in the early part of my career, and it became natural to explore this topic. This is where my journey started; building things from the problems I saw from other people or on my own. This is where the exploration started. In multinationals, people tend to complain about the structure in a large environment or the organization. I started to use skills I learnt from the multinationals to build start-ups, but I also used them to help in the early stages of the start-ups. My passion for entrepreneurship became clear early in my career which is when I started my path to working with start-ups.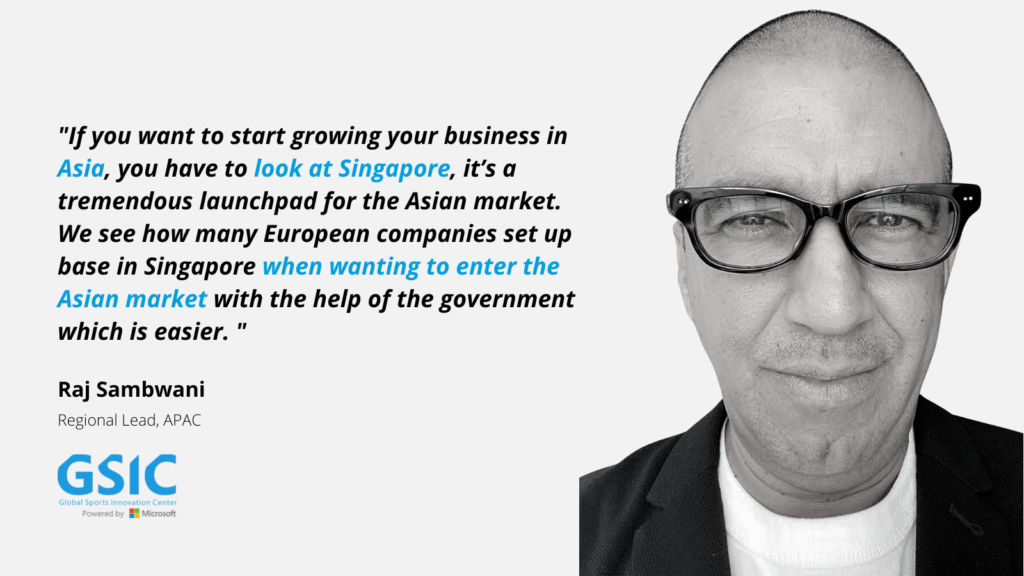 Q: How have you helped companies and organisations with your expertise on business and digital transformation?
A: I've had conversations with companies asking me mainly about helping them to adopt digital and transformation in marketing or increasing their small social media presence to build a network and community. Because of my background and ambitions, we can easily start having talks about business ideas like how you can change the coaching industry with the metaverse coming in, how you can transform a people business into digital and many other topics.
People always have great ideas but then you need to talk about the talent acquisition and who can help you build this vision, grow it and scale it. Talent conversations are always interesting because you need to integrate it one way or another. So, it is something worth looking into.
Q: What digital transformation challenges you detect in organizations in Europe and Asia?
A: The industries' dynamics are different. In fintech, you see them starting quickly because of incubation environments that are easy to get into and they are quite established in APAC. However, there is a focus on old traditional industries, but in Europe I didn't see it that way. The cross-border adoption of trends is interesting. Europe is starting to be interested in fostering growth in APAC and vice versa.
Sport tech in Europe is advanced, but the market here is not evolved yet so a lot of start-ups have the benefit of growing and supplying good products to the market in APAC.
Q: You have worked with start-ups both in Europe and Asia. Did you find some differences between the ecosystems in these continents?
A: There are some distinct things and others that are similar. In Asia, there is a lot of funding, but the problem is how to raise this money. Yet, for example in Singapore, if you start a small business, you almost certainly get a grant from the government, they are relatively easy to acquire. In Europe, it's a bit trickier to get public funding. I can compare to the UK, where trying to get even 50.000 pounds is quite complicated.
In Singapore, you must be smart about who you will pitch your ideas to. While in Europe, there's a bit more specialization so you know who you'll bring your project to. In APAC it is not that defined.
There's a lot of talent and trends in Europe, people have been in successful start-ups and feel like leaving when they have met their personal goals for the start-ups. Others have the need to begin their own little project and so on.
While in Asia there's quite a bit of movement and people do things from wherever they are in terms of projects, disciplines, etc.
Q: When talking about startups internationalization, is it easier for am European startup to enter Asian market or vice versa?
A: If you want to start in Asia, you have to look at Singapore, it's a tremendous launchpad for the Asian market. We see how many European companies set up base in Singapore when wanting to enter the Asian market with the help of the government which is easier. From my perspective, it is not as easy to set up an HQ in Europe for Asian company.
Q: Why did you decide to join the GSIC?
A: The whole digital transformation agenda looks interesting to me. It will be called business transformation soon because everything that is digital, is already part of our lives. I've been always passionate about how quick an industry and people can change. Which is why I did consulting for medium and large companies to help them transform.
The GSIC's agenda is to help the sports environment to grow digital transformation and accelerate it. I'm passionate about sports and I could talk about it endlessly, but from a technologist's point of view, I can't see a better opportunity. It felt like it is a natural place to come to. The GSIC is a non-profit association so that's something I haven't been able to experience in a company before but the passion of building the community, the partnerships, and helping the whole industry grow is a tremendous opportunity to take me to the next level. I couldn't resist saying yes to the GSIC.
.