03 May

Have you met…Jeffrey Kunowski? – Growing sports ventures and supporting entrepreneurs

There has been increasing interest in sport entrepreneurship as a field of study due to the way it bridges theory and practice. This is certainly relevant in the startup context that emphasizes an entrepreneurial approach for developing a business model.

This month we spoke with Jeffrey Kunowski, Associate Director, Innovation Programs, and Lead Venture Mentor at Arizona State University's Global Sport Institute. In this role, Jeff works directly with ventures that are looking to bring sport-related ventures to market. He oversees all sport-specific venture development and funding programs, manages GSI's external innovation partnerships, and mentors student and professional athletes as they pursue entrepreneurial endeavors. Jeff has spent over 10 years in the sports and entertainment industry and has extensive experience with product development, sales and marketing, and venue technology implementation.

Q: Tell our readers about your role at the Global Sports Institute at the Arizona State University?

A: I'm the Associate Director of Innovation Programs for ASU's Global Sport Institute and also have a cross appointment with the J. Orin Edson Entrepreneurship + Innovation Institute (Edson E+I). I'm fortunate to sit at the intersection of sports and entrepreneurship which allows me view the world of sport through the lens of a research institute, and also access ASU's extensive offering of entrepreneurship-focused resources. We utilize these resources to help ventures launch and scale their businesses in sport-related markets.

Q: What about your background?

A: I graduated from ASU in 2011. I started my first business as an undergrad student at the university. I had an idea for a portable illuminated signage product that could be used for advertising and directional signage and was fortunate enough to receive grant funding from the university to develop my products and launch my company – Illumin8 Outdoor Media. I was wrapping up an internship with the Phoenix Suns while developing my business and I decided to pitch my boss during my exit interview. I brought some mock-ups with me and received some great feedback on the products. The Suns identified several specific areas that could benefit from my signage platforms, and they placed an order within a few days. I delivered 10 signs a few weeks later and transitioned from being an intern to a vendor of a professional NBA Team. It was an amazing experience.

I leveraged my success with the Suns and sold products to other teams and organizations in Phoenix. This expansion led me to meet one of my most prominent mentors – Doug Moss, a sports executive and former President of the AZ Coyotes. Doug saw value in the work I was doing and we eventually became business partners. We started selling products to organizations like MGM Resorts International in Las Vegas, CBS, Anheuser Busch, among other big clients that really put us on the map.

In 2013, Doug and I launched a consulting firm called MK Solutions Group which focused on providing solutions for large scale sports technology projects. We represented a variety of companies including Panasonic Corp of North America. Our work was very successful and eventually Panasonic decided to bring us on board full time, so we ended up closing our consulting firm. I worked for Panasonic for about 4 years and was able to work with some of the most iconic sports brands and venues in the country.

About 4 years ago, I returned to ASU as a venture mentor. My goal was to give back and provide guidance to other student entrepreneurs which eventually led to GSI and Edson E+I bringing me on board to build their sports innovation program.

Q: With an experience of over 10 years in the sport industry, what is the thing that you like the most about this sector?

A: Sport is fascinating because it's truly global. Fans can be located anywhere in the world and share excitement over their favorite players and teams. From a venture standpoint, I learned early on that sport offers a unique platform for building a business. If you leverage it appropriately, you can use customers in this space as proving ground which can allow you to validate products and scale accordingly.

Q: And why did you decide to start helping startups?

A: About 4 years ago, I had the opportunity to catch up with one of my former program managers at ASU. He told me about a start-up mentorship program (Venture Devils) that they were building and I agreed to join. My initial goal was to help students that were looking to start a business. Students often lack experience, funding, and guidance and I had found a way to navigate this path with my own venture.

After mentoring several start-ups in a variety of industries, I decided that my knowledge and network was best suited for sport-focused ventures. I proposed that we create a specific funding and resource track that focused primarily on sport innovation. ASU welcomed that idea and we launched the program under the Global Sport Institute banner.

Q: And what is the purpose of GSI? Tell us more about what you are doing.

A: The Global Sport Institute began as an extension of ASU's apparel partnership with adidas. Both brands wanted to find a meaningful way to collaborate and positively impact the world of sport. There are four specific areas that channel our efforts through:
Sport-focused Research is the focal point of the institute. We work with the best minds to examine meaningful topics in the world of sport.
Our Globalsportmatters.com platform showcases our research, events, and global conversations in a manner that is easy to understand and follow.
Education is an important part of our work. We look for opportunities to promote ASU's broad curricular offerings and we also place an emphasis on athlete education. We work with teams and leagues to provide support for athletes as they navigate their post-sport journeys.
I oversee GSI's Innovation efforts. We provide resources and programming for individuals looking to start/scale ventures in the sports space. We run pitch competitions each year which provide opportunities for grant funding, beta-testing, and access to a network of mentors.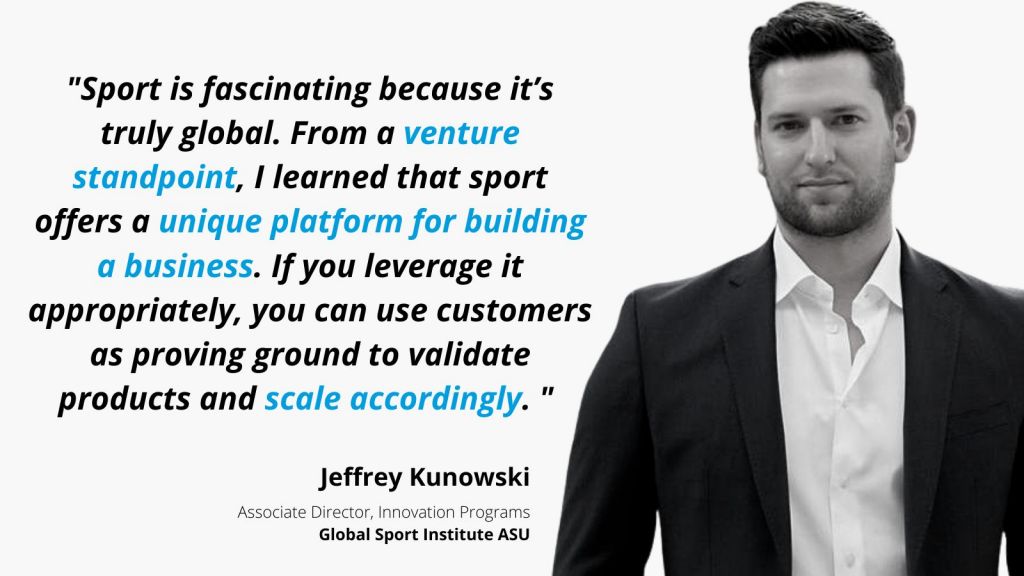 Q: Could you develop a little on adidas implication? As far as we understand they provide some funds to support the initiative but are they involved in any other way in the programs?
A: adidas is GSI's founding partner. They provided ASU with a significant philanthropic gift several years ago which allowed us to launch and scale the Global Sport Institute. They remain very active in our efforts – Particularly in the innovation category. They regularly provide speakers, judges, and mentors for our pitch competitions.
One of our most exciting interactions with adidas is our annual innovation trip to their North American headquarters in Portland, OR. We invite our top ventures to attend the two-day trip and provide them with an opportunity to network, tour the campus, interact with subject matter experts, and visit the employee store. It's a lot of fun but also creates tangible opportunities for the ventures to receive feedback on their businesses and exchange contact info with prominent adidas executives.
Unfortunately, last year's trip was cancelled due to the pandemic – but we were able to create an exciting virtual experience for the ventures which still allowed for them to network and pitch their ideas to top executives.
Q: You mentioned before the benefits that startups could get with your programs through different events, venture challenges, mentorship sessions and workshops. In what kind of startups are you interested in joining the program? What fields or areas are you looking for?
A: We cast a fairly wide net when it comes to sport-related ventures. Our programs are designed to be educational and foundational for early stage start-ups so we try to offer these resources to a broad grouping. Our primary areas of focus are on health and wellness, fitness, fan engagement, player performance, wearables, data analysis, e-sports, sports gambling, and other related solutions. We also look for opportunities to support social impact ventures.
GSI accepts applicants from all over the world for our pitch competitions – which differs from a lot of university programs. We have resources and pathways available for start-ups ranging from concept to in-revenue. We also place a heavy emphasis on supporting minority and female led ventures.
Q: What are the selection criteria for this program?
A: We channel most of our applicants through ASU's Venture Devils platform. Venture Devils is a year-round program designed to offer resources to start-ups as they look to start and scale their businesses. There are multiple opportunities to apply to Venture Devils each year. Once a venture is on-boarded they are provided access to workshops, 1:1 mentorship, university resources, and opportunities to apply for grant funding. Our sport-specific funding opportunities are available through this program. In order to be considered for Venture Devils you need to apply during an opening and submit an executive summary, brief pitch deck, and website link. We're always available to consult with start-ups if they have interest in joining.
Q: What type of trends for startups do you see right now?
A: The pandemic has certainly hindered some trends and accelerated others. We see a lot of start-ups focusing on the at-home fitness market. There have been some major investments and acquisitions in this space which is feeding the interest. We have also seen an uptick in activity around the areas of sports betting, NFTs, player performance monitoring and analysis. 
Q: Let's talk about Arizona Coyotes Venture Challenge. What is it about?
A: I'm very excited about our partnership with the Arizona Coyotes. They are a professional NHL hockey team based Glendale, AZ and have been innovators in the league for some time now. We partnered with them to launch the Arizona Coyotes Venture Challenge which will take place in Fall 2021. The purpose of the challenge is to drive new ideas and innovations for the Coyotes organization but more importantly provide funding and resources for start-ups that are looking to take their products and services to market. Applications will be opening up in July and the winning venture will be eligible to receive up to 40,000 USD in grant funding as well as the opportunity to beta-test their product/solution with a professional hockey team.
Q: Now that we covered everything related to startups, let's deepen on the research area.
A: GSI has a vision of making a positive impact on the global sport community and one of our primary ways of doing that is through scholarly research.  We are an interdisciplinary institute that operates independently of any specific college within ASU and we support a variety of sport-focused research areas. Each academic year, GSI identifies an annual theme centered on a critical issue impacting sport. Our goal is to build a deeper and broader understanding of a single topic and examine it from a variety of perspectives. Some of our past research themes have been Sport 2036, Race and Sport, and Sex and Gender in Sport.
Q: What was the most important lesson that you learned in 2020?
A: 2020 brought widespread challenges for everyone. At GSI and Edson E+I we had to adapt quickly to the new norm of our virtual world. Historically, our events and pitch competitions have been conducted in-person and the pandemic forced us to pivot to virtual formats. Fortunately, ASU is no stranger to online events and coursework, so we were able to adjust rather quickly. 2020 taught us the importance of being nimble and maintaining the ability to adjust when things don't go as planned – this lesson is also relevant for many of the start-ups we work with.
Q: What is your biggest plan for this year?
A: We are excited to see some light at the end of the tunnel with the pandemic. GSI and Edson E+I are slowly bringing employees back to the office and are exploring hybrid-model events that bring in-person and virtual audiences together. I look forward to building upon these resources as well as continuing to activate our partnership with GSIC to create new opportunities and pathways for our programs and ventures.