02 Nov

NEOM Unveils Top 13 Finalists for the Prestigious Sports Open Innovation Challenge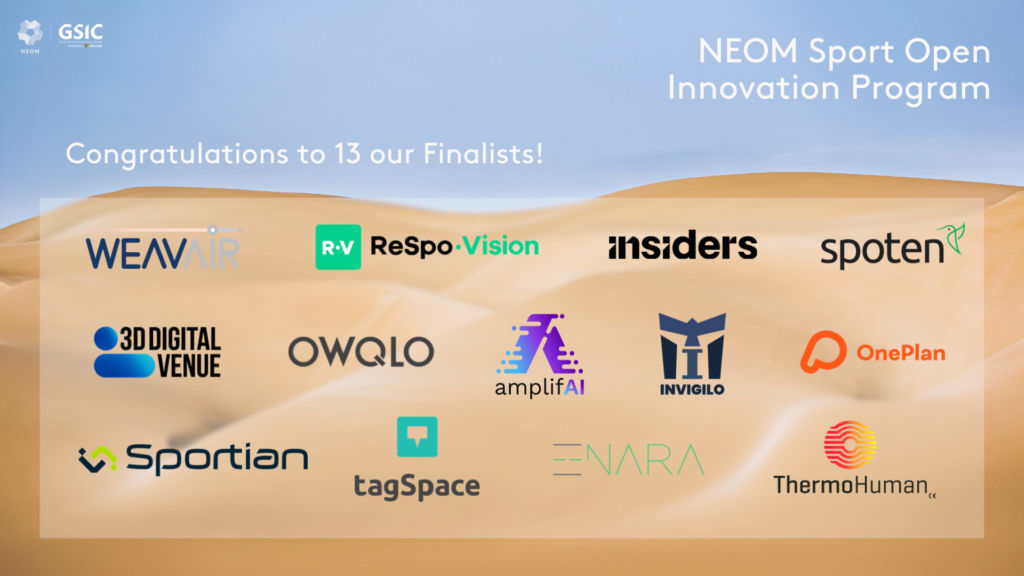 Madrid, Spain – November 3, 2023 – After a comprehensive and rigorous selection process, the Global Sports Innovation Center powered by Microsoft (GSIC) and NEOM are excited to announce the top 13 finalists for the NEOM Sports Open Innovation Challenge. Selected from a diverse pool of applications from 27 countries, these finalists are poised to present their innovative solutions in adventure sport and AI in the sports industry.
Introducing the 12 Innovators to Transform the Future of Sport:
"The NEOM Sports Open Innovation Challenge has been a catalyst for groundbreaking ideas that merge adventure sports and artificial intelligence," said Iris Cordoba, General Manager of GSIC. "These 13 finalists that represent 7 different countries on 3 continents are a testament to the ingenuity that thrives at the intersection of technology and sport."
NEOM's vision for the collaboration between sport and technological advancement shines through this program. It aims not just to challenge the status quo but to redefine it, establishing NEOM as a central hub for sport innovation on the global stage.
Jan Paterson, Managing Director of NEOM Sport, remarked, "The diversity and quality of the entries reflect the potential of NEOM to become a key player in the sport technology landscape. Each finalist brings us one step closer to realizing a future where sport is more dynamic, inclusive, and integrated into our daily lives."
The final pitch event, scheduled for November 13th, will be the arena where these finalists will present their solutions, competing for the chance to collaborate with NEOM in setting new standards for sports technology and innovation.
The winners, to be announced on November 23rd, will receive not only recognition but also substantial support to develop their concepts, including a financial prize and an immersive week at NEOM.
For further details about the NEOM Sports Open Innovation Challenge and the finalists, please visit https://neom.sport-gsic.com/
About GSIC powered by Microsoft
The Global Sports Innovation Center powered by Microsoft (GSIC) is a non-profit association that works from the philosophy of a business cluster. GSIC was promoted by the Microsoft team in 2015 and brings together all kinds of sports entities (clubs, federations, associations), institutions, technology companies (from startups to companies), research organizations, investors, and key figures in the sports industry. to improve your value chain. We focus our activities and services on 7 main axes: entrepreneurship, networking, applied research, showcase, Microsoft Partners Solutions, digital transformation consulting, and Sports for Good. More than 500 companies from 51 different countries have already received support from GSIC through different activities, as well as its ambassadors and network of professionals from the sports industry.
More info: http://sport-gsic.com/
About NEOM
NEOM is an accelerator of human progress and a vision of what a New Future might look like. It is a region in northwest Saudi Arabia on the Red Sea being built from the ground up as a living laboratory where entrepreneurship will chart the course for this New Future. It will be a destination and a home for people who dream big and want to be part of building a new model for exceptional livability, creating thriving businesses, and reinventing environmental conservation.
NEOM will include hyperconnected, cognitive cities, ports and enterprise zones, research centers, sports and entertainment venues, and tourist destinations. As a hub for innovation, entrepreneurs, business leaders, and companies will come to research, incubate and commercialize new technologies and enterprises in groundbreaking ways. Residents of NEOM will embody an international ethos and embrace a culture of exploration, risk-taking, and diversity.
For further information email [email protected] or visit www.neom.com and www.neom.com/en-us/newsroom.