02 Mar

Have you met…Sam Robertson? – How to best utilize data analytics for making better decisions in sports business, injury prevention and productivity

Q: Sam, tell us and our readers about your role at Victoria University.

A: I am Professor of Sports Analytics at Victoria University, and along with a couple of my colleagues, my role is to help to drive our Sports Strategy. This consists of eight parts and I largely cover three main areas: sports research, commercial work in sport, which includes innovation and the startup area, joint ventures, and partnerships, which is probably the biggest job of all. We probably have 25 to 30 big industry partners around the world that we work with, so that's a big part of my role.

In my research itself, I'm most interested in improving the skill of athletes, but I do very little of that research these days, most of the research our team does is around applications of analytics, particularly machine learning, to any problem in sport, but specifically in performance and decision making. I work with decision-makers at organizations to improve the decisions around when do they handle a schedule in a certain way, for instance, which players they take in a draft, how do they prevent injury, etc. I also supervise around 30 researchers and PhD students across 10-12 different sports.

Q: Can you develop a little bit more on what type of work or research is Victoria University doing on data analytics?

A: We cover most of the full stack approach, not only in analytics, but also in technology, I think these two are very well linked. This consists of all the way from collecting data in sports through to developing reports and working with coaches, athletes, CEOs and general managers.

It is a similar story in the technology space. We don't do a lot of development or manufacturing at Victoria University, but we do everything else: validation of technology in sport, design of technology, feasibility testing, research with technology, applications and machine learning.

And I guess right at the other end of that, a lot of the work our team has done recently has been on how we best utilize that technology to make better decisions. We compare human decisions over time with outputs from an algorithm and we try to look at what are the common differences between those two sources of decision making. So not so much comparing humans versus machines but trying to look at what are they both bringing to the equation for various questions.

We also do a validation work on technology to look at how accurate that is mainly for governing bodies like FIFA. We are starting to use those inputs for automated classification. So, for example if a GPS signal is giving us a certain reading, then it can be used to automatically detect that a player is kicking a ball or passing the ball or jumping, and that has the potential to save a lot of time for high performance teams. But it's also useful for broadcasters because they can actually save time and money on having to hire organisations that manually code those events.

Most of our analytics work is less about developing new algorithms and more about using analytics to shed new light, so to speak, on problems that sport has handled in a really traditional way. We're trying to change things a little bit in that way.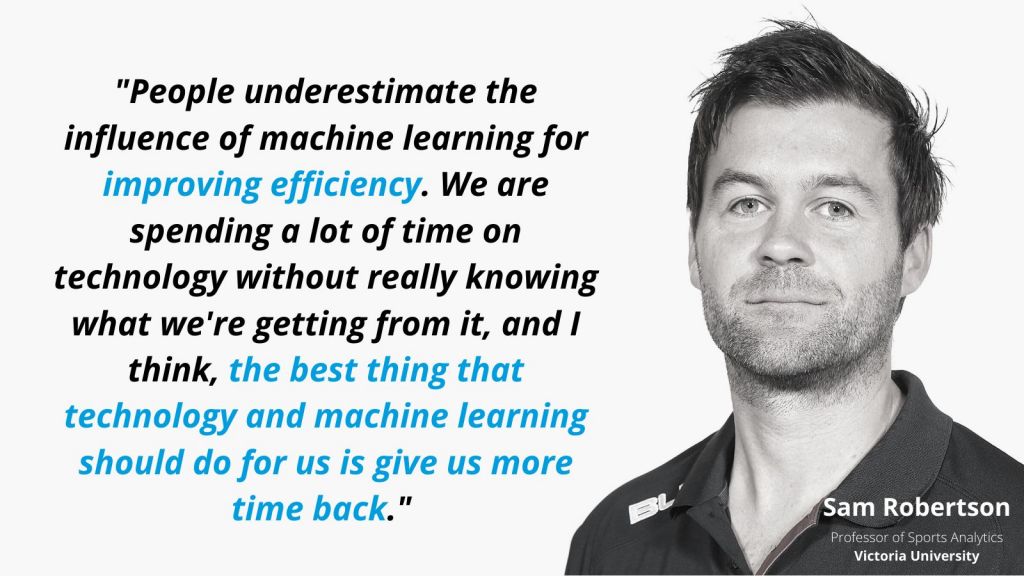 Q: And what kind of problems are those?
A: Let's talk about the types of problems that we have historically in sport, and that we see it a certain way.
For example, let's say that we want to determine whether someone is going to be injured or not on a certain day, and we decide not to let them train or play in a match because we think they're going to be injured.
Traditionally people will see it as a black and white decision. They see it as "we need not to let this athlete train or we let them train". We would do a lot of work around changing that idea, because it's not actually a black and white decision at all. It's on a scale of probability, and we need to understand probability better to help enact that decision. And equally it's the same around when you see models in the scouting or in a draft of many leagues around the world. It's very much around predicting how an athlete might turn out, and we would argue that that's not really the question a lot of the time. A lot of the time organisations have a preconceived notion of the type of player they want in their team, and a major part of  what we do is try and force organisations and decision makers to really ask the question properly about what they're trying to solve and it seems really simple, but that's really what it boils down to. We don't roll out any analytics until we have a proper answer to that question, because a lot of times people think they are asking a certain question and it turns out that that they're not really asking that question at all.
Q: Can we highlight some trending topics in data analytics implementation?
A: Injury is always going to be a trend because we don't understand it very well yet. Frankly, we don't have the technology yet to be able to measure the things that really matter. I think if we look at where technology is going, if we really want to understand what's going on in the human body, we will have to have sensors underneath the skin in the body itself. That sounds very far-fetched, but that is the only way we're going to truly understand the load on the human body. Having things attached to the outer body is not going to work. Now, I'm not saying we should rush to do that, but what I am saying is at the moment we are trying to solve a problem that's very complex and we're doing it with some data that is not very detailed, not very sophisticated, but everyone want to solve that problem. If you have a footballer who's being paid $20 million a year and that player gets injured that is a very big cost if they aren't available to play, and so it's quite important that we were trying to solve that.
Wagering and betting, I think it is a hot topic, but I think it is always going to be the case. I think the gains to be made in that are not as big as they would be in injury. If we can provide an up to date win ability for teams every second, that's very useful for betting and also for coaches in some left of center ideas like if we have that type of information and we have abnormal behaviour from athletes and teams, maybe that can be used to detect match fixing and things like a lack of integrity. It's exceptionally broad, because one simple idea can flow on to lots of applications.
But I think the biggest opportunity is that lots of things happening silos. Work often happens in small areas and we don't work together. And a lot of what people do for performance in sport, in sports science and high-performance areas could literally be picked up and used for broadcast, for fan engagement, for commercial areas as well. So, this is something that we need to work better at bringing everything together.
Q: Can we talk a little bit about your work with sports organizations?
A: We are currently working FIFA who I think is are incredible leaders in terms of driving thought leadership in sport, not only football. The work that we did there was to make sure that there was a standard that was acceptable in terms of providing player tracking to football across the world. It started out being quite basic in terms of looking at whether the commercial tracking systems that were out there around the world were accurate.
And that sounds quite like a simple exercise to do, but it isn't really, because there aren't any very valid and well accepted tracking systems around the world that are designed to go on a football pitch. Most of them are designed to be in a laboratory, and so there was a lot of early work we had to do to move what we call our gold standard testing of tracking human movement. And even to this day we can't track a football pitch across the whole football very well, so we do it on a very small part of that pitch.
We were not just going to be tracking players. We were looking to track other things like the ball, and compare the ball and how fast players accelerate, which is a really tricky question because obviously when an athlete sprints, their body moves at a different rate to their head into their legs, and so when we are comparing systems, we need to compare the right thing.
We´ve been on this journey with FIFA for almost 5 years and we've learned so much about that was done along the way, as well as they did. And this is only the beginning.
With Tennis Australia we have a joint venture which is called the Game Insight Group. The aim of the Game Insight Group is to revolutionize tennis through statistics. Tennis is a very traditional sport or has been a traditional sport in terms of analysis, and there's a lot of statistics that are very simple: how many times does the athlete get their first serve in, how many forehands did they play, how many back hands they play, etc. So, we wanted to move that forward and do that for all the stakeholders, particularly athletes. Obviously, if the athletes have better information, they can train better and prepare better, but of course it's useful for the broadcasters, for digital media, for the betting companies, and for all the different stakeholders.
We also have something called Player DNA which we worked on over the last couple of years, which is basically a rating system about how we evaluate players. For example, it gives a player rating on how they move around the court on their forehand on their backhand on their ability to perform under pressure an that's really been quite useful from a media perspective because obviously there's a lot to talk about, but as you can imagine, it's also useful for what I just spoke about earlier in terms of not predicting, although we could use it for prediction. We use it also to compare played against one another. a certain type of player, even if they are a worst player than another one, they might cause certain problems for a higher rank player because of the particular skill set that they have.
In the AFL we do a lot of work around the state of the game and on how the game is evolving. We look at using statistics again to look at whether the game is evolving in a way that the league and fans are happy with, so our job there is to use the best quality data we have to make the best decisions.
We are working on how we measure time and space, which sounds like a very simple thing in most team sports. But for people that have watched Australian football it has become a lot more congested in the last 10 years. It has lots of players around the ball at one spot. And what is the best way to reduce that congestion? Is it changing the rules or is it changing the coaching? It's a very complex system and so our job is to find the best information on that and then to try and find recommendations. And that is very tricky because as we know with any complex system, if you change one part of the system, sometimes it has unintended consequences as well, and so we're really careful with that.
That's a really good example of where we're using technology. We're developing new metrics when modelling that and then we're relating that pack to the League into the stakeholders, to the media.
We also work with Techstars, with a sports technology accelerator. There wasn't a specific vertical there, it was just sports technology and so we had a lot of organisations from fan engagement to customer management for high performance optical tracking systems, wearable sensors, etc. That will continue into 2021 and 22 as well, so that will ripple and will look to engage with companies and trying to test the market a little bit earlier to make sure we're getting the right ones.
Q: Has the work with your facial recognition in tennis progressed?
A: The algorithms in terms of the analysis are fine, they're very good and we can take them for the moment, so deep learning is progressing really quickly and we're at a good stage with that.
The question that comes after that is connecting that underlying validation to what's going on inside the body. And even the underlying validity of what does being in a certain mood mean for your tennis and I'll come back to the analogy of the complex system. On the face of it, it seems like a very big thing, but the reality is that your technique in hitting your forehand overcomes any type of mood state that you're in. We like to think that the mood could be very predictive, or the facial expression could be very predictive, but on their own they're not enough. We can have any look of any type on our face and still execute a very good tennis shot or a good golf shot or a good penalty kick. They all are one piece of the puzzle, and this is a thing, we can't drill down on one metric only, otherwise it's not going to tell us what we think it might.
Q: Throwing back at you a question that you discussed with one of your guests on podcast because you were outlining a number of technologies in the various sports. What happens if we take the technologies away?
A: It's a moot question because it won't happen, but I think there would be some ramifications of course, I think we would lose some jobs.
If we took the technology away I would try and map the expertise of people who have had success in football and I'm not an advocate of intuition at all I don't subscribe to intuition as a as a theory, and that's a conversation for another day, but I would be very interested in mapping the expertise of people because there's something to be learned from people that have managed athletes for a long period of time and they have not got injured.
So how do we map that expertise without the technology? You know, a pen and a paper, and recording information is technology in and of itself. But taking away a computer and a piece of a sensor, I think we could manage quite well. I think people in sport like they think they're very busy and they have a lot on their plate, but I think technology is giving the illusion of them being quite busy a lot of the time.
Q: To finalize, let's talk about COVID impact on your area of expertiese.
A: I think in general people underestimate the influence of machine learning for improving efficiency. Everyone wants to predict injury or predict performance; this is what performance departments do in sport. But people are spending a lot of time on technology without really knowing what they're getting from it, and I think the best thing that technology and machine learning should do for us is give us more time back. But they're not doing that right now; there's no way they're doing that in sport.
For startups, one of the best things that you could do if you apply to an accelerator and I was on the panel, would be to help organizations become more efficient now. Some people in sport don't know what they don't know and they may not see as much value in that, but I've worked across say 10 professional sports around the world and they all have major inefficiencies. I see people doing 12, 14, 16-hour days with sometimes only about two or three hours of good work.
Now, when I look at what they're spending time on, it's managing technology that really should be managing them back the other way. And when you talk about things around COVID, again, it's how do you make their life easier. And I think sports organizations should ask questions like how to give their people good information that they don't have themselves, how to provide them with information they can directly compare with their own judgments, and how to give it to them in a format where they can act on it straight away? And that's that. Sounds simple, but it's not always the case either.
I'm saying don't try and become a Unicorn idea and do something that's never been seen before. But sometimes we overlook the things that don't look as shiny and look as amazing, and they are quite valuable as well.