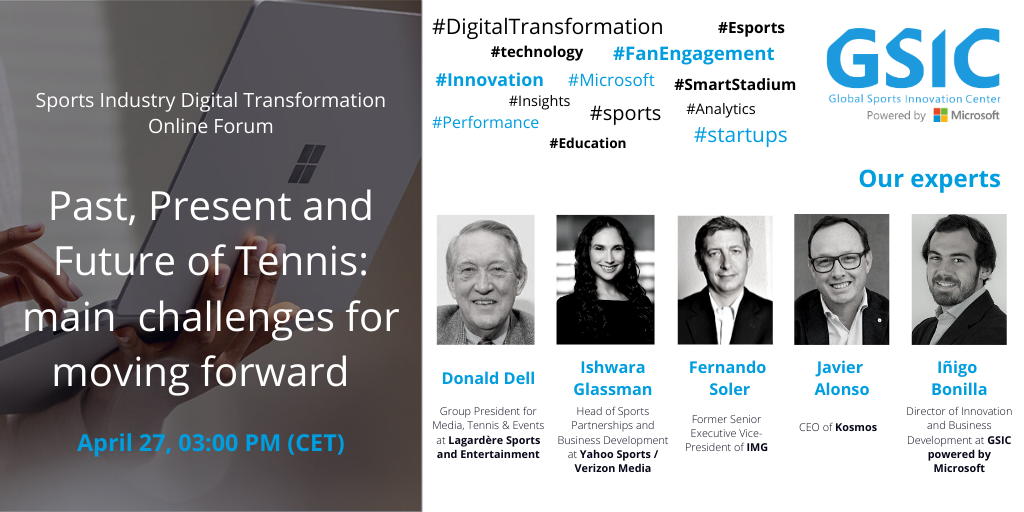 23 Apr

Past, Present and Future of Tennis: main challenges for moving forward – April 27, 2020

At the GSIC powered by Microsoft, we continue improving and developing our content program in order to add you more value and provide useful insight into the sports industry from different branches and perspectives.

That's why on April 27 we are launching our new Sports Industry Digital Transformation Online Forum that will consist of a series of conferences related to sports such as tennis, basketball, motorsport, and football, as well as there will be one session on multisport.

So, we can all explore how the digital transformation is driven by the leading sports entities in these sports, what results they achieve, and what's their plans the future. Within all the 5 sessions we will try to cover important matters starting from these entities' strategic vision and getting to their actual work on smart facilities, fan experience, performance, business insights & productivity, etc.

With this new initiative we aim to contribute to the development and professionalization of the sports industry, and in addition, to bring exceptional content to GSIC members as well as new opportunities to network and facilitate business.

We invite you to attend the first session "Past, Present and Future of Tennis: main challenges for moving forward" which will take place on April 27 at 15:00 (CET).

Register for the session to receive a calendar invite filling in THIS FORM

Or you can access the session directly using THIS LINK

This round table will be moderated by Carlos Cantó, CEO of SPSG Consulting and we will count on the participation of top-notch speakers:

Donald Dell – Group President for Media, Tennis & Events at Lagardère Sports and Entertainment. A former agent of tennis stars such as Arthur Ash, Stan Smith, Jimmy Connors, Ivan Lendl. Dell is considered one of the fathers of sports marketing and the sports agent business along with IMG's Mark McCormack. Co-founder of the Association of Tennis Professionals (ATP) (along with Jack Kramer and Cliff Drysdale). He founded ProServ and signed other athletes' stars such as Michael Jordan and Patrick Ewing. People's Business in 1989 about how to recruit, manage, market, and keep client athletes, and the second book in 2009, Never Make the First Offer. Dell negotiated two of the most successful shoe deals in all of the sports: Michael Jordan's Air Jordan line with Nike and the Stan Smith shoe with Adidas. Dell continues to be involved in tennis, television rights negotiations, and sports marketing consulting.

Ishwara Glassman Chrein is the Head of Sports Partnerships and Business Development at Yahoo Sports / Verizon Media, where she leads their gaming strategy as well as relationships and negotiations with the NFL, NBA, MLB, and NBC, as well as other sports leagues, broadcasters, statistical companies, and technology companies. She began her career at McKinsey & Company and Lehman Brothers, before spending nine years at WME IMG Sports, Entertainment, and Media, most recently as SVP and Global Head of Sales Operations and Strategic Planning. She graduated magna cum laude from Columbia with a degree in economics and political science and received her Master in International Affairs (International Finance) from the Columbia University School of International and Public Affairs. Ishwara is a recipient of the Sports Business Journal's 40 under 40 award.

Fernando Soler – until June 2018, Senior Executive Vice-President of IMG and responsible for the tennis division worldwide of this sports marketing multinational.His connection with this tennis sport has always been very present, as this executive former professional player and came to occupy the 150th position in the ATP ranking. At the age of 24, he decided to leave the professional circuit and began his business career while working at his family's textile firm. In 1987 he joined the team that opened the IMG office as a representative of players of the level of Sergi Bruguera and Carlos Moyá. After holding different positions in the company, in 2006 he was promoted as head of the tennis division for everyone.

Javier Alonso is the CEO of Kosmos, the Gerard Piqué-led holding company that has managed to exploit the Davis Cup for 25 years. The executive took over the management of this tennis-related project after a first year in which he assisted the FC Barcelona footballer in the design of eFootball.Pro, his shared eSports competition with Konami. Before, his entire career was linked to Dorna Sports, where he worked from 1992 to 2016, becoming the fourth most important executive of the MotoGP owner.

Iñigo Bonilla, Director of Innovation and Business Development at GSIC powered by Microsoft. He is dedicated to the international expansion of the GSIC and the development of innovative content for the ecosystem. He has developed his professional career always linked to the sports industry. With more than 5 years of experience working in different sports entities, such as LaLiga where he has been managing and developing the CRM strategy for 2 years.