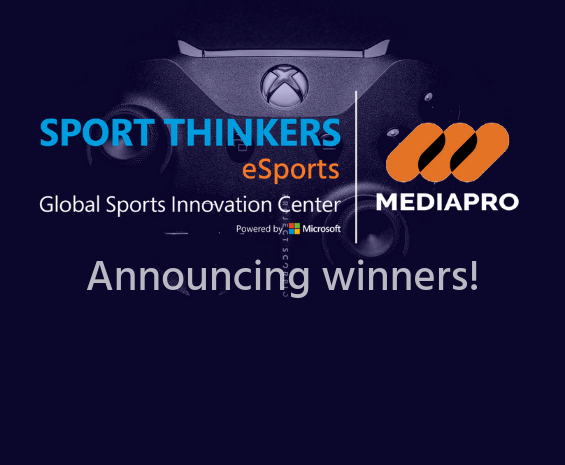 03 Mar

Sport Thinkers eSports – Announcing the winners

On February 1st and 4th, the finalists of Sport Thinkers eSports competition had presented their solutions online to Mediapro and the Global Sports Innovation Center powered by Microsoft (GSIC) and after two intense days of online presentations, the winners of the call are: HERO, Brintia and TTSRTS from Argentina, Spain and Chile.

This competition for technology-based companies had helped Mediapro to identify and select of initiatives that offer:
Development of new business models both in the amateur and professional field of eSports (cross-selling, segmentation, price estimation, etc.).
New modes of monetization of digital assets.
Generation of personalized content (video, image and audio).
Profiling of users, visualization of information and statistics.
Experiences connected to immersive technologies and 360º audio.
Next March 18 to 20, all the three winners will come to Barcelona for the immersion week with Mediapro.
Iris Córdoba, the General Manager of the GSIC commented that: "We are very satisfied with the whole process of the call. It has given us the opportunity to meet innovative companies whose solutions and services can be applied to eSports and thus support an important entity such as Mediapro. Now, 3 of them have the possibility to work with one of the largest audiovisual groups in the world. All the winners will join our ecosystem, taking advantage of the benefits offered by the center during 2019. "
Carmen Fernández, Director of Innovation of the Mediapro Group, added: "From the area of ​​Innovation we need to attract new talent, with disruptive ideas, and above all, work teams with a lot of contact with the ecosystem of the audiences to which we direct. Sport Thinkers eSports project has allowed us to get in touch with a large number of companies and entrepreneurs with whom we are sure we will continue to be in contact in the future. We cannot innovate, without contemplating that talent and with the Group's experience to support them and jointly develop large projects. "
Who are they?
After two intense days of online presentations, the winners of the contest were: HERO, Brintia and TTSRTS from Argentina, Spain and Chile.
HERO (Chile) – It is a social network platform designed by players for players. They have created a unique set of features that will enrich and expand the game experience, regardless of the platform or the game. It is a platform that, based on blockchain and analogously to Battlefy, aims to offer new ways of monetization in eSports, including viewers and gamers of the amateur arenas.
Brintia (Spain) – They offer a real-time, cost-effective and scalable ChatBot solution to help solve and optimize common customer service problems. This bot can be able to integrate different ways of entering queries and conversations (web, app, smart speakers), as well as data sources to generate responses. Applying Microsoft technologies and Artificial Intelligence, it can be used as an automated Customer Service Platform in real time to answer all the frequent questions of its fans, make ticket purchases and marketing, and provide a personalized experience.
TTSRTS (Argentina)- It is a mobile platform of fan engagement and monetization for the sports industry. That SaaS platform of apps incorporates services linked to, among others: geolocation, route mapping and activity in spaces (eg Gamergy) via beacons, data capture and presentation of statistics associated with eSports (analogously to an OPTA). They are the first platform specialized in traditional sports and eSports, which allows not only to collect user data but also monetize them via advertising sales and transactional operations (ticketing, e-commerce, parking, food and drink and digital memberships, among others).