Podoactiva foundation report. The confinement reduces by half the number of daily steps of the Spanish
The confinement of these months has had, as expected, a strong impact on the physical activity of the Spanish population. The restrictions on mobility imposed by the pandemic have caused, among other consequences, a notable decrease in the number of daily steps carried out by the Spanish, which in April was 49% compared to the same month the previous year.
"IN APRIL 2020 WE HAVE AVERAGE SOME 3,829 STEPS EVERY DAY, DIFFERENT FROM THE 7,409 REGISTERED IN APRIL 2019".
This report, prepared by Fundación Podoactiva, analyzes data collected in 11 Spanish provinces from men and women between the ages of 23 and 65.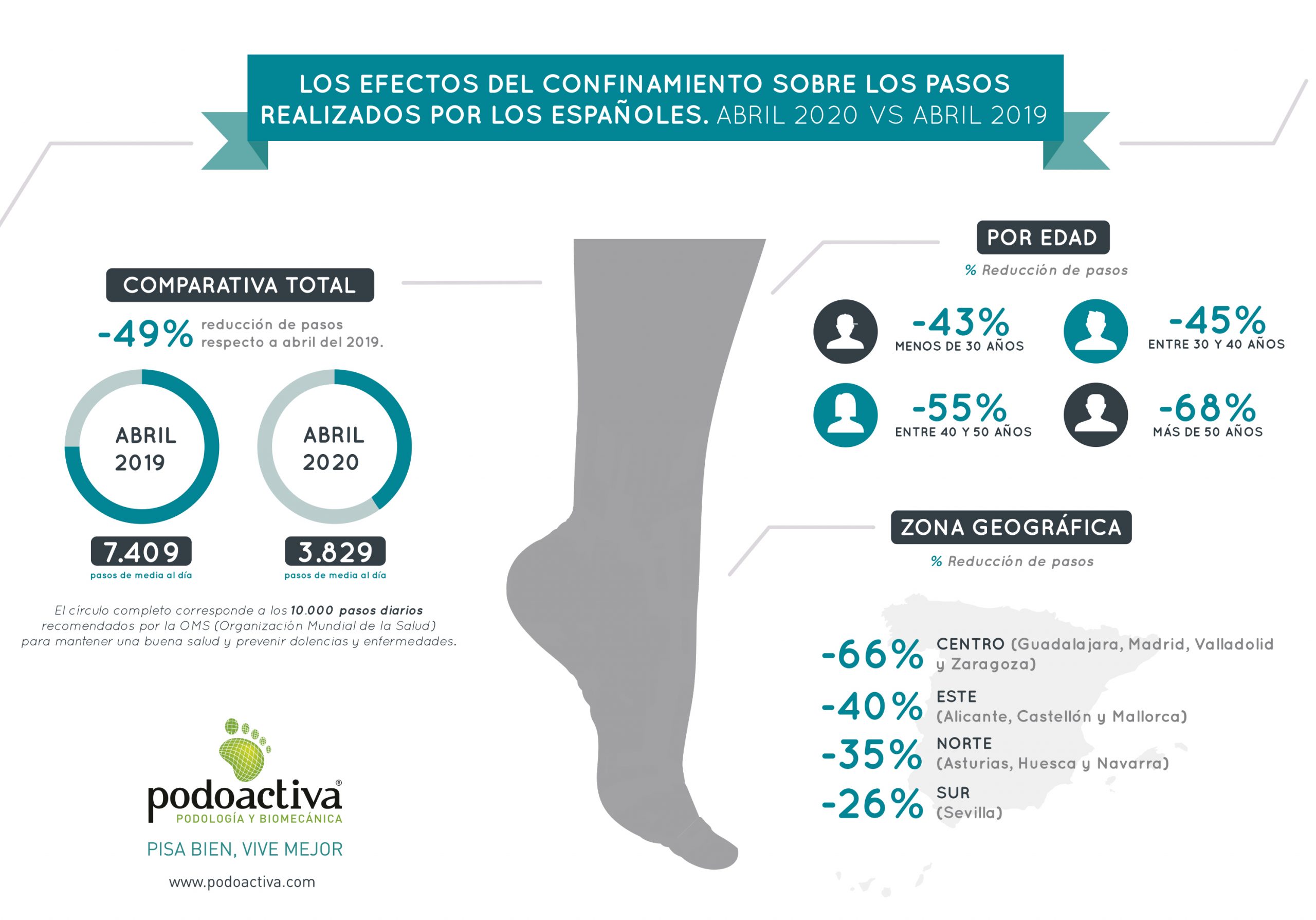 The analysis also reveals that the reduction is more pronounced the older the person is. Thus, people over 50 years of age have decreased their daily volume of steps the most, with a 68% decrease last month compared to April 2019; followed by those between 40 and 50 years old, with 55%; those who are between 30 and 40 years old, with 45% and citizens under 30, with 43%. The data, taken in 11 provinces (Asturias, Huesca, Navarra, Guadalajara, Madrid, Valladolid, Zaragoza, Alicante, Mallorca, Castellón and Seville), also show clear differences between the geographic areas analyzed:
Downtown (Guadalajara, Madrid, Valladolid and Zaragoza): 66% reduction in steps
East (Alicante, Castellón and Mallorca): 40% reduction
North (Asturias, Huesca and Navarra): 35% reduction
Sur (Seville): 26% reduction