01 Dec

T-20 World Cup: Footylight created additional Fan Engagement through Video Widget for Prothom Alo

Footylight partnered with Prothom Alo during T-20 world Cup. Prothom Alo is the largest circulated newspaper in Bangladesh. It has more than 6.6 million daily readerships online. They launched Footylight Widget on their cricket page. The target was to create additional fan engagement through the video contents provided by Footylight.

The Video Widget: Fan Connect Solution
 The widget is a single line code that Prothom Alo inserted on their article pages. It analyzes the page contents and curates relevant videos from Footylight's inventory. Footylight's Cricket Inventory has more than 500k premium videos and connected to 200+ official video channels (Broadcasters, ICC, National Teams etc.) globally. The AI engine constantly curates and indexes the videos from multiple sources and match them with relevant articles.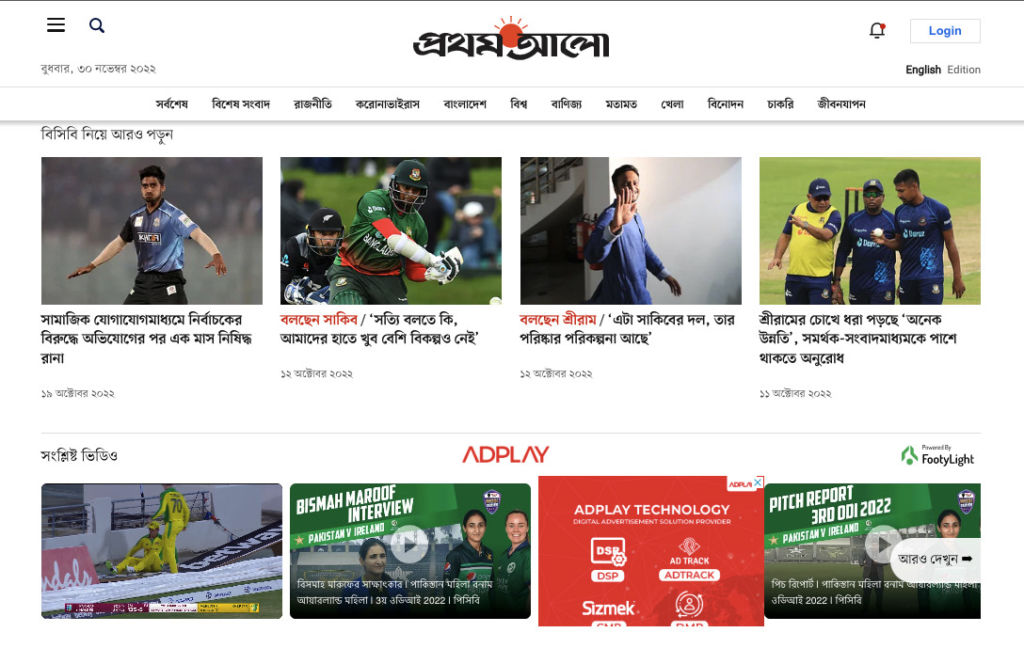 Fan Engagement for Prothom Alo:
The target was to create additional Fan Engagement through the relevant videos within the widget. The video widget created 2 million additional views for Prothom Alo (Publisher) which is 27.8% higher engagement on their sports page. The audience played total 14,870 hours of videos through this widget during T-20 World Cup.

Monetization Opportunity:
The widget created monetization opportunity for Prothom Alo as well. It has In-stream Video Player (with auto-play functionality). Footylight provided Pre-Roll Video ads within the video content and it generated a significant revenue (few thousand USDs) for the publisher. Footylight is connected to top SSPs and Ad agencies globally which ensured good Fill Rate in all GEOs. Prothom Alo integrated Display and Logo sponsorship opportunity which gave them additional revenue.

User Dashboard: Measure Real Time engagement
Footylight provided User and Monetization analytics dashboard to Prothom Alo. It helped them to track key user engagement with Keywords, Widget view count, Retention Time, CTR, CPM and other parameters. Footylight connected these data with the leading DSPs to create targeted campaigns for the user cohorts.

Multiple Language Support:
The widget detects the publisher's language automatically and instantly connect Video contents based on that language. Prothom Alo, being the largest publisher in Bangla language; had most of their articles in Bangla language. Our widget curated Video contents in Bangla which in fact gave the audience a native feel, hence improved the engagement.

One Stop Solution for Sprots Publishers:
The goal of the widget was to help Prothom Alo (publishers) with additional fan engagement and monetization. We had 2 value propositions:
Increase fan engagement through relevant videos matched with their articles
Better monetization through video and display advertisement.
Since, the video widget is simple technical integration, we provided a single line code to Prothom Alo and the Widget was LIVE!

Our partnership with Prothom Alo is a good use case for the Sports publishers to create Fan engagement and generation new Monetization opportunity. Prothom Alo (the largest publisher in Bangladesh) has been benefited through it and so we are offering same technology with a unique touch for the football publishers focusing Qatar World Cup 2022.