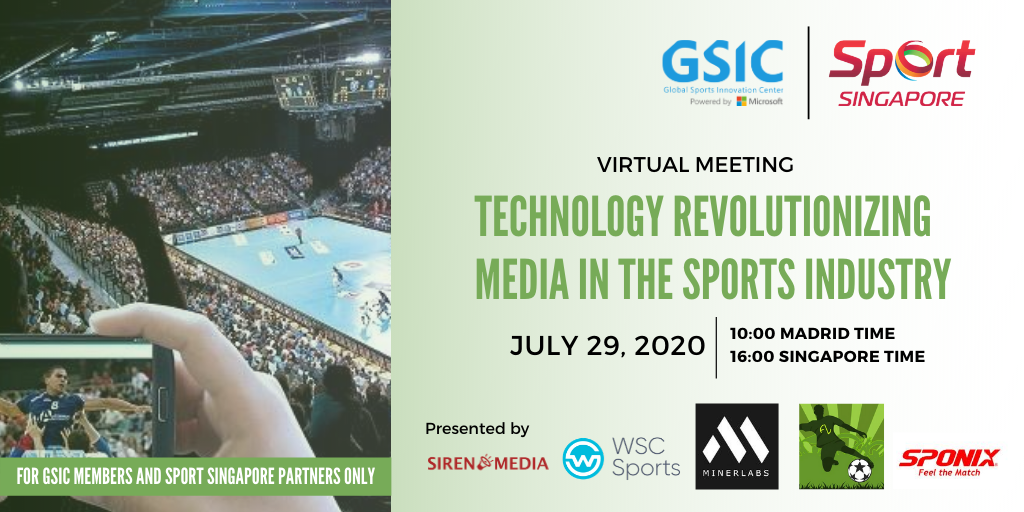 23 Jul

VM – Technology Revolutionizing Media in the Sports Industry
Description
---
Media has always been a fundamental part of the sports industry. Over the last decade, the growth and evolution of technology has changed the way we look at variety of things. Current platforms present new and unique opportunities for engagement and sports entities are looking to captivate their fans and stakeholders in unprecedented ways.
Therefore, on Thursday, July 29 at 10 am (Madrid time) and 16 pm (Singapore time) we invite you for our Virtual Meeting about Technology Revolutionizing Media in the Sports Industry. In this session we are pleased to count with:
Sponix Tech: A technology company that provides solutions and services which helps broadcasters, TV channels and advertisers increase viewers and enhance fan experience. They use the power of video to reach customers, increase brand visibility and create high quality, shareable content, whether in a B2B environment or engaging directly with consumers.
Fottylight: A football platform for digital contents. It´s available on web, iOS & Android platform. FootyLight aggregates contents like news, livescore, statistics, highlights, podcasts, articles among other things from multiple sources and connects them with the right audience.
MinerLabs: A regional digital consultancy that focuses on the evolution of Media and Technology. They lead with proven strategies based on decades of industry experiences – not theories. They bring together the right capabilities and technologies to thrive in the digital age and provide different services like strategic advisory, production services, digital business planning and performance and monitoring.
Siren Media: A digital content and strategy agency serving sport and business. They create recurring content, integrate brands and connect with fans and customers across all channels. They aim to supercharge each client message with quality content marketing, whether it be in video, image or text form.
WSC Sports: A driven platform that analyzes live sports broadcasts, identifies each event that occurs in a game, creates customized video content and publishes to any digital destination. They enable partners to generate and distribute content in large scale to maximize exposure and create monetization opportunities. Some of their clients are: March Madness, WSL, FIBA, NBA, NHL, MLS, Cricket Australia, among others.