29 Sep

FIFA accredits IGOID-Sportec to carry out technical tests on artificial grass pitches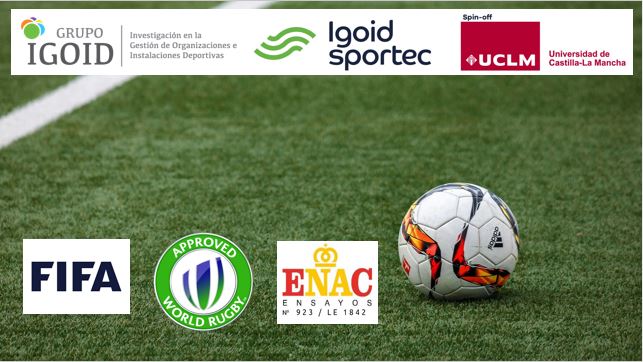 The IGOID-SPORTEC SL company, a spin-off of the University of Castilla-La Mancha, has recently been recognized by the highest authority in world football, FIFA, as an accredited testing institute for conducting on-site technical tests on fields artificial grass soccer field. This new accreditation adds to the renewal of World Rugby accreditation, which places IGOID-SPORTEC S.L. as one of the world's leading companies in the evaluation and certification of artificial grass sports surfaces. The FIFA Quality Program for Football Turf was introduced in 2001 by FIFA itself to regulate the use of artificial turf surfaces in football, constituting the regulatory framework for artificial surfaces in this sport. This initiative is a reference for all those associations, confederations, communities and clubs that intend to use high quality artificial grass playing surfaces both for their competitions and for their training places. This program was replicated two years later by World Rugby, which has since made these two federations world pioneers in the regulation and use of safe artificial surfaces in sport.
Both FIFA and World Rugby issue their own regulations to ensure that artificial playing surfaces meet minimum conditions of quality, performance and durability, and that they provide performance that does not in any way increase the risk of injury to players. Its regulatory documents include a rigorous program of tests through which the interaction of the surface with the ball, the interaction of the surface with the player, the durability and environmental resistance of the products are evaluated, also promoting the continuous improvement of the artificial grass to meet the needs of the game. Thus, any football or rugby competition that takes place under the protection of these federations on artificial turf, at any level of play, must comply with the requirements established in their respective regulations.
From now on, and after having successfully passed a demanding accreditation process, IGOID-SPORTEC S.L. and its specialized technicians will be able to audit the quality of the artificial turf pitches in accordance with FIFA and World Rugby regulations under the guarantee of both federations.
You can see the list of FIFA accredited laboratories at this link: https://football-technology.fifa.com/en/media-tiles/fifa-accredited-test-institutes/
You can view the list of World Rugby accredited laboratories at this link: https://playerwelfare.worldrugby.org/?subsection=70